Private Jet Charter Tulsa
Private Flights to/from Tulsa, Oklahoma, USA
Air Charter Advisors is your source for private jet rentals, helicopter lifts and all things private aviation in Tulsa, located in Oklahoma's Green Country and known as the "Oil Capital of the World".
Chartering a private flight is the most comfortable, convenient and stylish way to arrive at either (TUL) Tulsa International or (RVS) R.L. Jones Riverside Airport, and our team is your comprehensive solution for private aviation in Oklahoma, from on-demand air charter service complemented by a range of luxury concierge services, to private jet management and aircraft acquisition & sales.
Air Charter Advisors offers private jet charter service to/from Tulsa and surrounding areas of Oklahoma and the midwest. We have access to thousands of Wyvern-certified business jets and turboprops to connect you to the perfect aircraft for your trip.
Tulsa Air Charter Advisors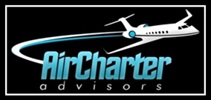 Our company is Wyvern-certified, and all of the aircraft we use for flights to/from OKC are operated by FAR Part 135 (or foreign equivalent) air carriers. Our high standards for safety and service have earned us some of the most distinguished clients, including royal family members, heads of state, celebrities, C-level executives, personal assistants and leisure travelers from around the world.
For every flight we arrange, we review the latest Wyvern PASS reports that detail aircraft maintenance, operator history, and pilot experience, ensuring compliance with our rigorous standards for every client — we never put clients on a flight we wouldn't put our own mothers on, and we'll refuse a flight if it's not operating within our safety parameters. Our safety and due diligence processes take the guesswork out of who you're flying with, giving you peace of mind when arranging your flight with us.
Enjoy working with a jet charter broker who's working for you, and our Tulsa Jet Charter brokers will become your local and global solution for luxury air travel, aircraft acquisition, and private jet management.
Give us a call at 1-888-987-5387 or request a free no-commitment jet charter quote for your private flight. ACA is ready to assist with all of your private aviation needs, from booking private aircraft, arranging in-flight catering and luxury ground transportation, to private jet management, private aircraft sales & acquisitions, and other services – consider our Tulsa Private Jet Charter service your one-stop shop for all things private aviation in Oklahoma.
---
Airport for Private Charter Flights to Tulsa, OK
Private jet travelers can choose from five airports located within 25 miles of downtown Tulsa. International clients can arrive and clear customs at (TUL) Tulsa International, while domestic business and leisure flights can choose private jet hubs in Sand Springs, Okmulgee and Claremore. There are around a dozen smaller airfields and private aviation hubs within 50 miles; see bottom of page for more details.
(KTUL, TUL) Tulsa International Airport
Tulsa, Oklahoma
Runway: 9,999 feet
(KRVS, RVS) Richard Lloyd Jones Jr. "Riverside" Airport
Tulsa, Oklahoma
Runway: 5,102 feet
(KOWP, OWP) William R. Pogue Municipal Airport
Sand Springs, Oklahoma
Runway: 5,799 feet
(KOKM, OKM) Okmulgee Regional Airport
Okmulgee, Oklahoma
Runway: 5,150 feet
(KGCM, GCM) Claremore Regional Airport
Claremore, Oklahoma
Runway: 5,200 feet
Visit Tulsa | Private Jet to Tulsa International (TUL)
Destinations > United States > Oklahoma
Charter a private flight to Tulsa and experience old west charm in a cosmopolitan atmosphere, offering plenty of interesting attractions and accommodations for private jet travelers.
Tulsa is situated in northeastern Oklahoma in the state's Green Country region, at the convergence of the Great Plains and the Ozark Plateau. The city receives enough annual rainfall (40 inches) to break the Oklahoma stereotype of being nothing but a flat, arid dust bowl. Instead, visitors are provided with views of abundant, beautiful rolling terrain.
Summers can get hot, and cold winds blowing across the plains can make it very cold during the winter, although it doesn't tend to last very long and winters here are considered very mild  — the city only receives a few inches of snow a year. Tulsa has over 225 days of sunshine annually, so private flights are suitable pretty much year-round.
Tulsa is the cultural and artistic center of Oklahoma, home to two world-renowned art museums, full-time professional opera and ballet companies, and thanks to an economic boom during the 1920's, one of the nation's most extensive collections of Art Deco architecture.
Today, it's the 47th most populous city in the United States, with a population bordering 400,000 permanent residents as it continues to grow. Book your private flight to Tulsa with Air Charter Advisors, and read on for more details on things to do after your private jet arrives at (TUL) Tulsa International or (RVS) R.L. Jones Riverside Airport.
Attractions and Activities
Charter a private flight to Tulsa, the biggest and most diverse city in Oklahoma. It's great for private flyers that want to enjoy some typical city life while not giving up the central US vibe.
Tulsa used to be known as the "Oil Capital of the World", but now it's becoming a reasonably popular tourism destination. It maintains its status as a major hub in the oil and gas industry, but overall, you'll see an interesting downtown area surrounded by a bit of old town and more suburban areas.
If you're in the area for business and want to unwind after a long workday, there are plenty of bars and lounges where you can wet your whistle and grab a bite to eat — after all, this was once a major stop along the famed Route 66.
Looking for somewhere more upscale to grab a bite to eat after work — and maybe some deliciously crafty cocktails? Then look no further than the locally popular Celebrity Restaurant and Lounge. Boasting some of the finest locally sourced ingredients to be found in the area, it is the city's premier gourmet eating tradition.
Tulsa certainly isn't all about business; it knows how to loosen its tie and hit the town, and it knows how to trade the suit in for some hiking boots for a bit of adventuring.
Tulsa's downtown is surprisingly walkable, and there are lots of dive bars, sports bars, and breweries that make for an excellent pub crawl. Spend the first bit of your night out in James E. McNellie's Public House, and treat your taste buds to some delicious drinks before you head out into the night. One of the city's most popular drinking haunts, their selection of locally-crafted beers is sure to enthrall and delight.
If you're hankering for a bit of outdoorsy fun, Tulsa has you covered. Stop by River Parks and experience the area's most popular attraction for runners, bikers, and picnickers. Whatever you're hoping to accomplish in Oklahoma, whether you have a business meeting or you want to treat the family to a relaxing week in this quiet region of the United States, Tulsa has you covered.
Philbrook Museum of Art
2727 South Rockford Road
800-324-7941
http://philbrook.org/
Gilcrease Museum
1400 Gilcrease Museum Road
918-596-2700
https://gilcrease.org/
The Cave House
1623 West Charles Page Boulevard
918-378-1952
http://www.cavehousetulsa.com/index.html
Center of the Universe
20 East Archer Street
http://www.atlasobscura.com/places/the-center-of-the-universe
Turkey Mountain Urban Wilderness Area
6850 South Elwood Avenue
http://www.turkeymtn.com/
River Parks
11th Street
918-596-2001
http://www.riverparks.org/
University of Tulsa
East 11th Street
918-631-2000
https://utulsa.edu/
Hodges Bend
823 East 3rd Street
(918) 398-4470
http://www.hodges-bend.com/
James E. McNellie's Public House
409 East 1st Street
(918) 382-7468
http://www.mcnellies.com/
Executive Charter Flights
Need to fly private to business meetings in Tulsa, Rogers, Osage, Wagoner, Okmulgee, Pawnee, or Creek County? Air Charter Advisors can arrange the perfect business jet or turboprop for your flight.
ACA works closely with corporate flight departments to connect executive travelers to the right aircraft for their mission. We can arrange business jets in executive configuration complete with Wi-Fi connectivity, and we have access to VIP airliners for business teams and corporate retreats. Skip the hassles of business travel on commercial airlines. Charter a business jet to Tulsa with Air Charter Advisors.
Economy
Tulsa's economy has almost always been driven by its energy sector, after all, it didn't call itself "The Oil Capital of the World" for nothing. The United States Oil and Gas Association, formerly known as the Mid-Continent Oil and Gas Association, was founded in Tulsa in 1917, six months after the United States entered World War I.
Over the years, several large oil companies have based headquartered in the city, including Warren Petroleum (merged with Gulf Oil), Skelly Oil, Getty Oil, and CITGO — ConocoPhillips was headquartered in nearby Bartlesville.
Offshore drilling and industry consolidation threatened the city's status as an oil capital, but new drilling techniques and the rise of natural gas have supported the growth of Tulsa's energy industry. Diversification efforts have also created booing industries in finance, aviation, telecommunications, and technology.
Today, Tulsa is again home to the headquarters for many oil and gas-related, including Williams Companies, SemGroup, ONE Gas, Syntroleum, ONEOK, Laredo Petroleum, Samson Resources, Helmerich & Payne, Magellan Midstream Partners, WPX Energy, and Excel Energy. The Tulsa Port of Catoosa is the most inland river port in the United States with access to international waterways.
Oral Roberts University and the University of Tulsa are the city's two main institutions of higher education, each with sports teams in the NCAA Division I level. Partners for Livable Communities, Forbes, and Relocate America have all recognized Tulsa as one of America's most livable large cities, and it ranked among the top 50 best cities in the United States by BusinessWeek in 2012.
Luxury Hotels
A private charter flight to Oklahoma places you among some of the most beautiful landscapes in the region, and makes for a great bit of R&R. For your trip there, Tulsa is home to a plethora of luxurious and comfortable hotels and bed and breakfasts that are perfect for private jet travelers, whether on business or vacation.
Fly private with your family to the heart of the city and enjoy all that the city has to offer, whether you're interested in nightlife or daytime outdoor activities.
Then after a long day of adventuring or a late night of reveling, retire to the charming and generously appointed Ambassador Hotel, Autograph Collection. Before heading off to sleep, stop by this landmark hotel's award-winning fine-dining restaurant, The Chalkboard. With its extensive wine list, relaxing atmosphere, open kitchen, and deliciously inventive menu, this Tulsa fine-dining tradition is sure to send you immediately into relaxation mode.
While the Ambassador Hotel, Autograph Collection is perfect for private jet traveling business professionals, a vacationing family may feel a bit out of place in its elegant and posh hallways.
A more appropriate option for a family vacation can be found in the Victorian Lady Bed & Breakfast. This incredibly charming and stately bed and breakfast sit within a perfectly restored Queen Anne Victorian mansion built in 1890 by W. W. Graham. With its gourmet breakfast and spacious yet cozy rooms, it makes a great base for families that want to hit the town after a quiet night's rest.
Wherever you decide to stay, the best way to get in and out is via luxury private jet, and Tulsa Private Jet Charter is committed to making it your best private flight yet. With that in mind, we strive to help throughout the trip, from booking to the hotel and back. We know that picking your hotel can be a bit difficult if you don't know the area, so we've compiled a list of the best lodging options in the city for private jet travelers. Keep reading to check it out.
Ambassador Hotel Tulsa, Autograph Collection
1324 South Main Street
(918) 587-8200
http://www.ambassadorhotelcollection.com/tulsa/
The Campbell Hotel
2636 East 11th Street
(918) 744-5500
https://thecampbellhotel.com/
The Mayo Hotel
115 West 5th Street
(918) 582-6296
http://www.themayohotel.com/
Courtyard by Marriott
415 South Boston Avenue
(918) 508-7400
http://www.marriott.com/tulsa-downtown/
Renaissance Hotel & Convention Center
6808 South 107th East Avenue
(918) 307-2600
http://www.marriott.com/renaissance-tulsa-hotel-and-convention-center/
Hard Rock Hotel & Casino
777 W Cherokee St, Catoosa, OK 74015
(800) 760-6700
http://www.hardrockcasinotulsa.com/
Cedar Rock Inn
4501 West 41st Street
(918) 447-4493
http://www.cedarrockinn.com/
Victorian Lady Bed & Breakfast
175 W Main St, Norwalk, OH 44857
(419) 660-9860
http://www.thevictorianladybb.com/
Stone Creek Bed & Breakfast
20510 E 77th St S, Broken Arrow, OK 74014
(918) 520-8291
http://www.stonecreekbb.com/
---
Aircraft Options for Tulsa Private Flights
Air Charter Advisors offers access to the following Wyvern-certified aircraft at a moment's notice. All of the private jets and turboprops we utilize for charter flights are operated by FAR Part 135 or 121 (or foreign equivalent) air carriers, using only veteran pilots in the private jet you're renting.
Our Private Jet Charter Tulsa brokers will provide you with a variety of aircraft options based on the goals and budget of your trip, allowing you to charter a cost-effective aircraft, or the most luxurious, stylish corporate jet on the market. Check out our Aircraft Gallery for more details on all of the aircraft available for your trip.
If you don't see your preferred aircraft listed below, speak to one of our brokers and they will locate one for you.
Piston | Turbo Props
Beech Baron 58
Cessna 340
Cessna Conquest II
Cessna Grand Caravan
Cessna Stationair
Cirrus SR-22
King Air 90
King Air 100
King Air 200
King Air 250
King Air 300
King Air 350
Piaggio Avanti II
Pilatus PC-12
Piper Cheyenne
Piper Malibu
Piper Matrix
Piper Meridian
Piper Navajo Chieftain
Piper Seneca
View all Pistons and Turbo-Props
VLJ | Light Jets | Super Light
Beechjet 400 / 400A
Cessna Citation Bravo
Citation CJ
Citation CJ2 / CJ2+
Citation CJ3 / CJ3+
Citation CJ4 / CJ4+
Citation Encore
Citation M2
Citation Mustang
Citation Ultra
Eclipse 500
Hawker 400XP
Honda Jet
Lear Jet 31 / 31A
Lear 35 / 35A
Lear 40 / 40XR
Lear 45 / 45XR (SLJ)
Nextant 400XT
Phenom 100
Phenom 300 (SLJ)
View all VLJ | Light Jets | Super Light
Mid-Size | Super-Mid Size Jets
Citation Excel / XLS
Citation Sovereign
Citation X (10)
Challenger 300 / 350
Falcon 50 / 50EX
Gulfstream G150 / G200 / G280
Hawker 700
Hawker 800 / 800A / 800XP / 850XPi
Hawker 900 / 900XP
Hawker 1000 / 4000
Lear 55
Lear 60 / 60XR
Legacy 500
View all Mid-Size and Super Mid-Size Jets 
Large | Heavy Jets
Challenger 601 / 604
Challenger 605 / 650
Challenger 850
Embraer Lineage 1000
Falcon 900 / LX
Falcon 2000 / EX / LX / LXS
Global 5000
Gulfstream G450
Gulfstream GIV / G4
Gulfstream GIV-SP / G4 SP
Lear 70 /75 
Legacy 600
Legacy 650
View all Heavy | Large Jets
Ultra-Long Range Jets
Falcon 5X
Falcon 7X
Falcon 8X
Global Express / XRS
Global 6000
Global 7000
Global 8000
Gulfstream GV / G5
Gulfstream G550/GV-SP
Gulfstream G600
Gulfstream G650 / ER
View all Long Range Jets
VIP Jumbo Jet Airliners
Airbus ACJ-318 Elite Corporate Jet
Airbus ACJ-319 VIP
Airbus ACJ-320 VIP
Airbus ACJ-321 VIP
Boeing Business Jet BBJ / BBJ2 / BBJ3
Boeing B-727 VIP
Boeing B-737 VIP
Boeing B-747 VIP
Boeing B-757 VIP
Boeing B-787 Dreamliner VIP
Bombardier CRJ-200
View all VIP Corporate Airliners
---
Airport Information | Tulsa, OK
Air Charter Advisors utilizes the following airports for jet charter Tulsa and surrounding areas of Oklahoma. The airports listed here are all located within 25 miles of the city center — more than a dozen airports are available within 50 miles.
(KTUL, TUL) Tulsa International Airport – Tulsa, Oklahoma
Runway Length: 9,999 feet
(KRVS, RVS) Richard Lloyd Jones Jr. Airport – Tulsa, Oklahoma
Alias: R.L. Jones Airport | Riverside Airport
Runway Length: 5,102 feet
(KOWP, OWP) William R. Pogue Municipal Airport – Sand Springs, Oklahoma
Runway Length: 5,799 feet
(KOKM, OKM) Okmulgee Regional Airport – Okmulgee, Oklahoma
Runway Length: 5,150 feet
(KGCM, GCM) Claremore Regional Airport – Claremore, Oklahoma
Runway Length: 5,200 feet
Additional Airports
The following airports are available for your charter flight, and are located within 50 miles of Tulsa's city center. Airports in Bartlesville, Cushing, and Tahlequah features FBO service for private jet travelers, and Henryetta Airport offers an FBO for executive and leisure flyers chartering a piston or turboprop.
(H68) Hefner Easley Airport – Wagoner, OK
Runway: 3,401 feet | 28 miles E
(H71) Mid-America Industrial Airport – Pryor, OK
Runway: 4,992 feet | 29 miles E
(3F7) Jones Memorial Airport – Bristow, OK
Runway: 3,379 feet | 30 miles SW
(95F) Cleveland Municipal Airport – Cleveland, OK
Runway: 4,000 feet | 30 miles NW
(H92) Hominy Municipal Airport – Hominy, OK
Runway: 3,210 feet | 32 miles NW
(KMKO, MKO) Davis Field – Muskogee, OK
Runway: 7,202 feet | 36 miles SE
(F10) Henryetta Municipal Airport – Henryetta, OK
Runway: 3,501 feet | 40 miles S | FBO: Henryetta Airport
(KSUD, SUD) Stroud Municipal Airport – Stroud, OK
Runway: 3,000 feet | 40 miles W
(KBVO, BVO) Bartlesville Municipal Airport – Bartlesville, OK
Runway: 6,200 feet | 42 miles N | FBO: Phillips Aviation Services
(KCUH, CUH) Cushing Municipal Airport – Cushing, OK
Runway: 5,201 feet | 43 miles W | FBO: Cushing Flight Service
(H76) Pawhuska Municipal Airport – Pawhuska, OK
Runway: 3,200 feet | 43 miles NW
(KTQH, TQH) Tahlequah Municipal Airport – Tahlequah, OK
Runway: 5,001 feet | 44 miles E | FBO: Tahlequah Airport
(0F7) Fountainhead Lodge Airpark – Eufaula, OK
Runway: 3,000 feet | 44 miles S
(F08) Eufaula Municipal Airport – Eufaula, OK
Runway: 3,000 feet | 48 miles S
(KCQB, CBQ) Chandler Regional Airport – Chandler, OK
Runway: 4,000 feet | 49 miles W
(H04) Vinita Municipal Airport – Vinita, OK
Runway: 4,209 feet | 49 miles NE
---
Related Destinations
---
Request a Jet Charter Quote
Request a Quote or give us a call at 1-888-987-5387 to speak with one of our Tulsa Private Jet Charter agents for your next luxury vacation, business trip, or special event.