King Air 350
Charter a Private Flight on the Beechcraft King Air 350 / 350i
The King Air 350 is the flagship turboprop in the Beechcraft fleet, and one of the largest twin-engine propeller aircraft available for charter flights.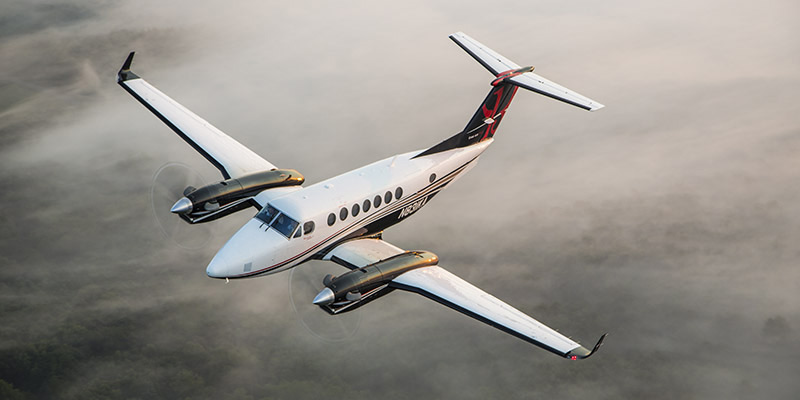 Chartering a King Air 350 allows up to 9 passengers to travel just over 2,000 nautical miles at speeds over 300 mph, even arriving at airports with shorter runways, thanks to exceptional performance from its Pratt & Whitney engines. Superb cabin comfort and economical charter rates have made the Beechcraft King Air 350 one of the world's most popular business turboprops on the market.
Air Charter Advisors offers access to King Air 350s near you. Request a FREE quote and experience end-to-end service from our jet charter brokers, focused on the successful completion of your trip and the lasting experience of your passengers.
Key Features
Seats up to 9 Passengers
Quiet Ride with Reduced Cabin Noise
Excellent Short Runway Performance
Economical Charter Costs
King Air 350 Pricing, Performance, & Specifications
The cost to charter a King Air 350 starts at around $2,000—$2,500* an hour, and the hourly rates will change based on the variant (350i, 350iER, 350iC and 350iCER). The King Air BE350 offers excellent short runway capabilities and has become the world's most cost-effective and reliable VIP turboprop for short distance missions and cargo flights.
Performance
Max Speed: 360 mph
Cruise Speed: 310 mph
Range: 2,336 nmi
Service Ceiling: 35,000 ft
Rate of Climb: 2,731 ft/min
Runway: 3,300 ft (takeoff)
Engines: 2x Pratt & Whitney PT6A-60A engines
Interior Dimensions
Seats: 8
Cabin Height: 4 ft 8 in
Cabin Width: 4 ft 6 in
Cabin Length: 19 ft 6 in
Cabin Volume: 417 cu ft
Baggage Capacity: 71 cu ft
Bathroom: Private Lavatory
Aircraft Details
The largest Beechcraft King Air turboprop, the King Air 350 debuted in 1991 as an improved variation of the King Air 300. Originally designated as the model B300, it was designed with a cabin nearly three feet longer than its predecessor. Charter flights on the King Air 350 comfortably seat 8 passengers, and configurations may be available to seat up to 11 passengers.
Up until 1996, this executive turboprop was known as the Super King Air 350, and like the 200 and 250 before it, variations were created with large rear cargo doors (Model B300C) known as the King Air 350C, as well as an extended range variant known as the King Air 350ER.
Starting in 1998, the the UltraQuiet active noise canceling system by Elliott Aviation was offered as standard equipment, reducing noise throughout the cabin; in 2003, Beechcraft announced all future deliveries of B300 and B300C models would include the Rockwell Collins Pro Line 21 Flight Deck.
The B300 is still in production with the newest model, the King Air 350i, while B300Cs are available via custom order; there were 4 built-in 2007.
Cabin
The King Air BE350 has a pressurized & air-conditioned cabin that's comfortable and roomy, with double club-style seats for 8 passengers, plus up to three single seats. The cabin maintains the best features of its previous model, including a private lavatory and built-in refreshment center.
The stretched fuselage allows for the addition of two windows on each side for a total of 14 compared to 10 windows on the King Air 300. Retracting worktables are available between each pair of seats, and an active noise control system reduces in-flight noise, which helps when flying more than 1,000 miles @ 300 mph. Beechcraft claims noise levels and overall comfort newer offered in its latest models (350i, 350iER, 350iC, 350iCER) rival that of light jets.
Passengers who charter their private flight on the the King Air 350 are often surprised by the amount of cabin room they enjoy; the interior is larger than many Light Jets available for charter, without the private jet price tag.
Performance
The King Air 350 is powered by twin Pratt & Whitney PT6A-60A engines, cruising at speeds of just over 300 mph, and offering a flight range of just over 2,000 nautical miles. The engines, together with aircraft's fowler flaps and rugged dual-wheel main landing gear, allow it to operate on runways as short as 3,300 feet at sea-level, which is outstanding for an aircraft of its size.
Other improvements over the King Air 300 include aerodynamic winglets, and increased maximum takeoff weight. The 350's cockipit was originally equipped with the Rockwell Collins ProLine II avionics suite, replaced by the Rockwell Collins Pro Line 21 avionics suite as of 2003.
King Air 350i
In October 2008, Beechcraft announced the King Air 350i, an updated version of the B300 series featuring a series of improvements to the cabin, including the Rockwell Collins Venue integrated cabin management system, the Beechcraft FlexCabin system for easier cabin rearrangement, and even more reductions to cabin noise, on par with many light jets available for on-demand charter. Deliveries began in 2009.
The interior of the 350i includes controls built into the armrests that dim the LED lights, darken the windows, and control entertainment features, including an iPod dock and a high-definition video monitor. The cabin also includes USB ports, AC electrical receptacles, and fold-out tables for each passenger.
Other Variants
Additional variations include the 350C (also known as the Model B300C) which comes with a large cargo door, and the 350ER (extended range) with further increased maximum takeoff weight, a belly cargo pod, heavy-weight strengthened landing gear, and additional fuel capacity.
Additional photos
Charter, Lease, or Purchase a Beechcraft King Air 350/350i
There are a few variations of this aircraft for sale which include the B350, the King Air 300 and 350i. Please contact us now for a charter quote by filling out the form on the right or calling directly.