Charter flights offers far more flexibility than their scheduled counterparts, serving virtually any destination around the world, with itineraries that are tailored for every flight. They are unscheduled and are not available as part of the regular routing offered by commercial airlines. Instead, the schedule is created around you.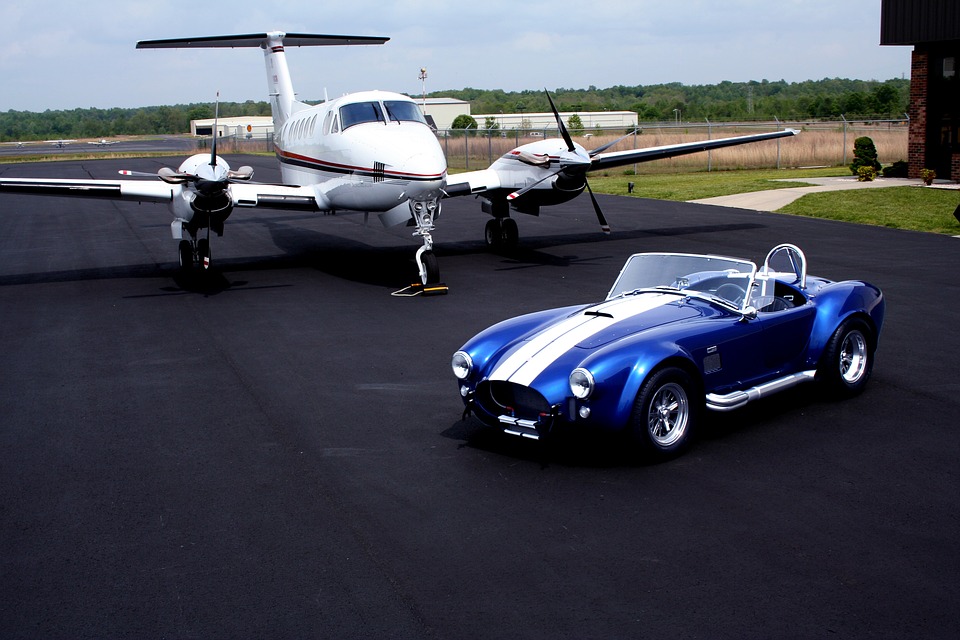 There are many differences between scheduled commercial flight and private jet charters, but for brevity's sake: it's when you rent an entire aircraft, choosing the dates, times, aircraft, and airports used for your flight.
No waiting in line. No security screenings. No baggage claims or malfunctioning carousels. You don't have to arrive hours before your flight, either. Simply choose the date & time you wish to depart, show up 15 minutes before your flight, pass through your local airport's private terminal, and board for takeoff.
And, as seen above, many private airports allow you to pull your car along side your plane on the tarmac.
Flight crew members from the private terminal (FBO) will load all of your belongings on board, along with any amenities, catering, or other prearranged services. All you need to do is sit back, relax, and prepare to experience the best way to fly.
You can choose between renting a large or small plane, and your flight can either be be one-way, or you can arrange for a round-trip. You can book just a private flight, or you can add services including ground/helicopter transportation, catering, and yacht rentals to complement your business trip or luxury vacation.
Types of Charter Flights
Private Charter
Also defined as private jet charter or air charter, it's when an individual rents an entire aircraft (chartering) as opposed to purchasing individual seats on a commercial airline (purchasing a first-class ticket through any major commercial airline). This is the service we provide. Flights can range from individual travel on small planes, to group flights of up to 100 or more passengers using regional and VIP airliners. Also known as single entity, an individual or company must cover the the entire cost of the flight; the cost can be split and collected afterwards accordingly, but the initial payment for these flights must be billed to the individual named on the contract.
Public Charter
These types of flights are frequently offered by air carriers on a seasonal basis, operating on limited schedules (once or twice a week) depending on the time of year. They're popular among European holiday travelers in places like the UK and Germany to reach tropical getaways in Sicily, Sardinia, Malta, and Palma de Mallorca. They can include operators from low-budget airlines to regular scheduled carriers. Public charters may also come from tour operators renting an aircraft, then advertising and selling seats to members of the public, either directly or through a travel agent.
Affinity
The main difference between this and single entity is that although passengers are associated with a business, group, or organization, everyone must still pay for their seats. Passengers may include sports fans traveling to the Super Bowl, or music fans traveling to a major concert. Members of the general public are not able to purchase seats with this type of service.
Cargo
Passengers aren't the only thing private planes are used for. Need replacement parts ASAP? Moving precious cargo? Perhaps your items aren't authorized for commercial travel, or you're conducting a humanitarian mission. Whether your cargo is valuable, perishable, dangerous, or just in large quantities, cargo planes are available to transport anything from currency, antiques, and donated goods, to live animals, blood samples, even human organs.
Benefits of a Private Charter Flight
You Choose When & Where to Fly
Since a private charter flight is unscheduled, you'll depart at the date & time you want. You can also choose which cities & airports you fly to/from, and enjoy direct non-stop flights between any two locations. Private flights provide even more convenience when flying to a city that requires multiple airline connections or layovers before finally reaching your destination.
Depart from a Private Terminal
Privacy is one of the main advantages of chartering a private plane. Unlike a commercial flight, where travelers are herded through a crowded airport, having to undergo an intrusive security screening, passengers on a flying privately depart from a private facility known as an FBO. At most private airports, passengers can pull their cars right up to the plane.
Unparalleled Comfort @ 30,000 Feet
Private charters offer superior comfort, from in-flight meals to Wi-Fi and entertainment. Instead of being tossed a bag of peanuts, you'll have the chance to design your meals, including catering from local gourmet restaurants and deli's. Many private jets offer a variety of entertainment options, from WiFi and high-end stereo systems with iPhone/Android connectivity and/or satellite TV.
It's Not Where You're Going, But Who You're With
One of the biggest benefits of private charters is the ability to travel with whoever you want – bring your family, your friends, your co-workers, even your pets! Once on board your chartered aircraft, you'll have the choice between relaxing in a comfortable cabin, or taking advantage of the privacy needed to conduct your business.
Fly Private Anytime, Anywhere
Our brokers have instant access to thousands of private planes around the world waiting for your flight. Request a FREE no obligation quote at +1-888-987-5387 and receive competitive rates on a variety of aircraft sizes, from Cirrus and Cessna piston planes, to luxury Gulfstreams and VIP airliners.