Pet Friendly Jet Charter
Looking for the best way to fly with your pets? Pet-friendly charter flights are the way to go!
Pet friendly jet charters are the most secure, comfortable, and convenient way to travel with your dog, cat, bird, and other pets! Our experience in the private aviation industry affords us the ability to make accommodations for a wide variety of pets and breeds of different animals.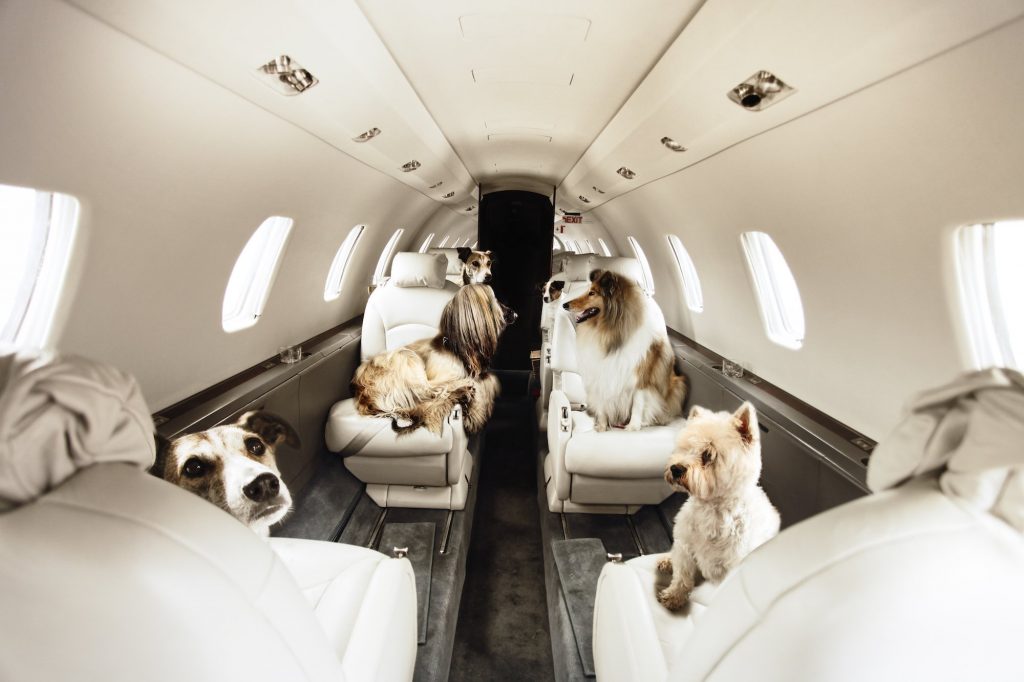 From teacups, large dog breeds, parrots, and kittens, even snakes on a plane; we can help you arrange pet transportation via private jet for your furry, feathered, or scaled loved ones!
We understand that pets are like members of the family, and it is extremely important that their safety and comfort is taken into consideration when using air travel transportation.
Reasons to Charter a Private Flight with your Pet
There are a variety of reasons to charter a private jet with your pets instead of traveling in a commercial airline. Many clients want to fly new pets back home. Some want to bring them on their tropical getaway and book a flight to Hawaii with pets, so fluffy can sink their toes (or nails) in the sand. And, there have been some unfortunate stories using commercial airlines to transport pets.
Pets travel without distractions from other pets and passengers
Choose the time and date of your flight to meet your needs
Depart using the airport you choose
Choose from a variety of aircraft types
Enjoy in-flight catering for both you and your pet
Your pet travels inside the cabin with you
Skip the crowded lines and TSA checks at commercial airports
No restrictions on breed or animal size
Avoid seasonal embargoes and travel with your pet year-round
What are the advantages of pet friendly charter flights?
Private jets are the most luxurious way to travel, whether passengers are walking on four legs or not.
When it comes to pet travel, while it can seem excessively indulgent, there many practical advantages to flying in a jet with your pet.
Comfort
As airline seats continue to shrink, it's more difficult to bring your pet with you inside the cabin of the aircraft. If your pet weighs more then 15 pounds or is taller than 12 inches, it will likely have to travel inside the aircraft's cargo hold, depending on the commercial airline/plane. Although this cargo section is pressurized and temperature controlled, many travelers still have concerns about placing their pet in the cargo area of a commercial aircraft. You're also entrusting the airline to properly handle your pets, and not leaving them in potentially dangerous or life-threatening situations.
Seasonal Embargoes
When summer temperatures exceed 84 degrees F on the tarmac, most airlines won't allow your pet to board and travel in the cargo section. When the thermostat drops below 45 degrees F in the winter, the same rules apply, and airlines won't allow you to fly with your pet.
Number of Pets
Most commercial airlines limit the number of pets you can travel with, and the number is usually one per passenger. If you're traveling with multiple pets, or your pets are flying unaccompanied, they will need to travel as checked baggage or as cargo.
Type of Pet or Breed
Some breeds are denied service by many airlines, including Persian cats, Bulldogs, Pugs and Shih-Tzus as they are prone to breathing problems at high altitudes while inside the cargo hold. Charter flights allow you to bring whoever or whatever you want!
Immigration Requirements
Every country has different requirements regarding documentation, vaccinations, and other requirements. Some countries like like the UK will only allow pets to fly commercially as cargo, and won't be allowed in the cabin. Our team will help you obtain all of the necessary paperwork and documentation for international travel wit your pet.
Peace of Mind
When flying with pets inside a charter plane, you won't have to worry about placing your pet's care in the hands of another. Whether you prefer keeping your pet in a travel crate to keep their claws off the upholstery, or want them to roam the cabin freely and playfully, your pets will be more comfortable, feel more relaxed, and suffer far less stress than commercial pet transportation.
Related: Charter a Private Jet for Relocations
How do I Charter a Private Plane for My Pet?
Provided all the pet documentation is correct and up-to-date, we are able to make all the arrangements for clients who wish to travel with their domestic pets, ensuring the animal's welfare and comfort at all times.
Air Charter Advisors has partnered with PetTravel.com to provide private flyers with all of the necessary information you need to travel in a jet with your pets, including all necessary immigration paperwork and veterinary documentation.
Our instant access to more than 10,000 private aircraft around the world makes finding the right aircraft for your flight simple and easy, and our step-by-step process ensures everything is handled appropriately to ensure your flight goes as smooth as possible.
Please remember that not all private jets allow pets aboard. Make sure to notify your Advisor ahead of booking your jet that you have a need or desire to travel with your pets in the plane. It's also important to note that any damage caused by pets (cleaning fees, repairs, etc) during a flight is billed separately.
Related: How much does it cost to fly private with pets?
Pet-Friendly Charter Flights | 
Request a FREE Quote
Private jets for pets are the best way to travel. Request a quote, and we will find a pet friendly charter jet for your next vacation or relocation. With Air Charter Advisors, you will never have to worry again about leaving your pets at home, or in the hands of commercial airlines!