Destinations > United States > Illinois
Charter a private flight to the Windy City of Chicago, one of the top destinations for leisure and business travel within the United States.
Chicago rests along the shores of Lake Michigan, and its Metropolitan Area is home to a population of nearly 10 million people and an impressive roster of businesses and industries.
Whether you're flying private to Illinois for business in and around Cook County, or to enjoy a leisurely stay at one of the many luxury hotels located around America's "Second City", we're here to make sure it's your best flight yet.
Chicago Air Charter Advisors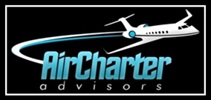 Air Charter Advisors offers on-demand Chicago jet charter service, connecting clients to a variety of private planes at Midway, O'Hare, DuPage and other Chicago-area airports. As the busiest private jet hub in the Midwest, incredible deals are possible whenever Chicago empty leg flights are available. We specialize in executive an corporate air charters, and our private jet charter brokers are Wyvern-certified, meeting safety and due diligence process used by the top business jet fleets in the world.
Every aircraft we arrange for private jet charter flights to Chicago and surrounding areas of the mid-west are operated by FAR Part 135 or 121 (or foreign equivalent) air carriers, and our brokers review the latest reports of every aircraft, pilot and operator to ensure compliance with our safety requirements. With access to thousands of private jets and airliners around the world, ACA can arrange the right aircraft for your flight, whether you're traveling internationally or domestically.
For your next private flight, gain the peace of mind working with a jet charter broker you can trust, and Air Charter Advisors can become your comprehensive source for private air travel, aircraft sales/acquisition, aircraft management and more. We also offer jet cards in 25, 50 and 100 hour memberships in addition to bespoke jet charter, medical air ambulance, air cargo charters and more.
For hourly rates and aircraft availability on Chicago private jet rentals, please call us directly at 1-888-987-5387. You can also request a fee charter quote or send any questions to use via e-mail on our contact page. Our Chicago jet charter brokers are available to you 24 hours a day for ASAP and last minute flights, medical air ambulance, supplemental lift and more. Add a Chicago Air Charter Advisor to your private aviation portfolio in Illinois.
---
Airports for Chicago Jet Charter Flights
Chicago and it's surrounding metropolitan area is home to more than 18 airports for executive and leisure flights, ranging between some of the busiest commercial airports in the world, to small airfields dedicated to business and general aviation.
(KORD, ORD) Chicago O'Hare International Airport – Chicago, IL
Runway: 13,000 feet
(KMDW, MDW) Midway International Airport – Chicago, IL
Runway: 6,522 feet
(KPWK, PWK) Chicago Executive Airport – Wheeling, IL
Runway: 5,000 feet
(KDPA, DPA) DuPage Airport – West Chicago, IL
Runway: 7,570 feet
(KUGN, UGN) Waukegan Regional Airport – Waukegan, IL
Runway: 6,000 feet
(KARR, ARR, AUZ) Aurora Municipal Airport – Sugar Grove, IL
Runway: 6,501 feet
(KGYY, GYY) Gary/Chicago International Airport – Gary, IN
Runway: 13,000 feet
(1C5) Bolingbrook's Clow International Airport – Bolingbrook, IL
Runway: 3,362 feet
(KLOT, LOT) Lewis University Airport – Romeoville, IL
Runway: 6,500 feet
(KRFD, RFD) Chicago Rockford International Airport – Rockford, IL
Runway: 10,004 feet
Follow this link for more information about Chicago-area airports.
---
Related Destinations
---
Aircraft for Private Flights to Chicago, Illinois
ACA has access to the thousands of private jets located in the Chicago area for your private charter flight, and we offer access to Wyvern/ARGUS aircraft when necessary. All of the aircraft we arrange for private flights are operated by FAR Part 135 or 121 (or foreign equivalent) air carriers, and we only select experienced pilots with a wealth of experience as pilot- or second-in-command.
Popular jet rentals for Chicago jet charter include Midsize and Super Midsize Jets (Cessna Citation X, Hawker 800XP, LearJet 60/60XR); Heavy Jets (Challenger 604, Gulfstream GIV, Falcon 2000 EX); and Long Range Jets (Falcon 7X, Global Express, Gulfstream G550). We also offer access to regional and VIP airliners for large group charters for executive groups, business meetings, and special events.
Our Chicago Private Jet Charter brokers will match the goals and budget of your private flight to variety of aircraft options, allowing clients to choose between a cost-effective options, and enjoyable, spacious jet, or the most luxurious, lavish private jet available. Check out our Aircraft Gallery for more details on all of the aircraft available for your trip.
---
Visit the Windy City | Private Jet to Chicago
Destinations > United States > Illinois
"Chicago still remains a Mecca of the Midwest—people from both coasts are kind of amazed how good life is in Chicago, and what a good culture we've got. You can have a pretty wonderful artistic life and never leave Chicago." ~ Harold Ramis
Chicago, known for its iconic skyscrapers and an impressive array of renowned museums, is the jewel of the mid-west, and its location in the heart of the country makes it an important hub for private jet rentals, executive charter flights and corporate jet charters.
From its early beginnings in the mid-19th century, it served as an important transportation hub between the eastern and western United States, thanks to its location between the Great Lakes and the Mississippi River.
The city's first railway was established in 1848, the same year it developed a canal for steamboats and ships to pass from the lakes to the river, creating an economic boom that would influence the U.S. economy for decades to come with a focus on manufacturing, retail and finance.
Today, the Windy City stands as one of the most important cities in the world and an international hub for finance, commerce, industry, technology, telecommunications, and transportation. Book your private flight with ACA Chicago jet charter service, and learn more about the city in the sections below.
Attractions & Events
Chicago's cultural value is also comparable to its impact on the country's economy.
The area has produced artists, writers, poets and performers from a variety of fields and genres, including visual arts, novels, film, theater (primarily improvisational comedy) and music, mainly jazz, blues, soul, gospel and house music; the huge music festival Lollapalooza is held annually at Grant Park every August.
Chi-town has a team in all four major sports (two in baseball), and it's home to some of the most famous (and infamous) teams in the history of professional sports, from Jordan's Bulls of the 90's and the lovable-but-hapless Cubs throughout the entirety of the 20th century, to scandal-ridden Blacksox of the 1919.
Chicago is home to an incredible array of museums and educational attractions, including the Field Museum of Natural History, the Shedd Aquarium and the Adler Planetarium, all located at Chicago's Museum Campus, a 57-acre park along the shores of Lake Michigan. Soldier Field, home to the NFL's Chicago Bears, is also located within the park, along with the Lakeside Center of McCormick Place.
Head slightly north and you'll arrive at perhaps the city's most famous attraction, Navy Pier, a 3,300-foot pier extending out above Lake Michigan. The pier contains several shops, parks, gardens, restaurants, exhibitions and attractions, including the Centennial Wheel, a nearly 200 feet Ferris-wheel offering unparalleled, 360-degree views of Chicago's incredible skyline and the expansive Lake Michigan.
The city is also famous as one of the best gastronomic cities in the country, from culinary staples like authentic, deep-dish pizza, classic Chicago-style hot dogs and Italian Corn Beef Sandwiches, to eclectic, adventurous combinations at some of the finest high-end, Michelin star restaurants in this hemisphere.
Exclusive restaurants including Alinea, Boka, GLongman & Eagle, Sepia and 42 grams are located in and around the loop, and offer incredible fine-dining experiences to luxury and executive jet travelers. Check out more of our recommendations after your private flight to Chicago, Illinois.
Navy Pier
600 E Grand Ave
(312) 595-7437
https://navypier.com/
Shedd Aquarium
1200 S Lake Shore Dr
(312) 939-2438
http://www.sheddaquarium.org/
Willis Tower
233 S Wacker Dr
(312) 875-0066
http://www.willistower.com/
Field Museum of Natural History
1400 S Lake Shore Dr
(312) 922-9410
https://www.fieldmuseum.org/
Lincoln Park Zoo
2001 N Clark St
(312) 742-2000
http://www.lpzoo.org/
Adler Planetarium
1300 S Lake Shore Dr
(312) 922-7827
http://www.adlerplanetarium.org/
Grant Park
337 E Randolph St
(312) 742-3918
http://www.chicagoparkdistrict.com/grant-park/
John Hancock Center
875 N Michigan Ave
(312) 751-3680
http://www.johnhancockcenterchicago.com/
Business and Executive Charter Flights
Chi-town is home to the world's busiest airport, O'Hare International Airport, and the region has the largest number of highways and rail road freight in the United States — it's also one of the most popular destinations in the country for business and executive aviation.
Home to the corporate headquarters to 57 of the Fortune 1000 companies, the Chicago Metropolitan Area was named an alpha global city by the Globalization and World Cities Research Network and ranked seventh overall in the 2014 Global Cities Index. As of 2014, it holds the third largest gross metropolitan product in the United States at $610.5 billion.
Executive Air Charter
Air Charter Advisors is your bet source for executive jet charter service, private jet management and aircraft sales & acquisition in Chicago, Illinois and surrounding areas of Cook, DuPage, Kane, Lake, McHenry, and Will Counties.
Our private jet charter company is Wyvern Certified, using safety standards and due diligence processes that meet and/or exceed requirements Fortune 500 companies apply to their corporate fleets.
We take the privacy, safety, and comfort of our clients very seriously, and our team diligently reviews the details of the most recent Wyvern PASS reports for pilot safety, aircraft maintenance and operator history to give you peace of mind when arranging your executive charter flight to Chicago.
You might not book with us the first time, but when you do, you'll know you have a partner you can work with for every flight you need in the future.
Private Jet Marketing & Management | Corporate Aircraft Sale & Acquisitions
Looking to establish a corporate fleet for your business, or add to a business jet to an existing fleet? Air Charter Advisors can assist executive and corporations in selecting & finding the right aircraft for their upcoming missions.
Planning to fly frequently between regional offices? Are you entertaining prospective clients? Do you plan to charter your aircraft to offset costs? Where is the best place to base your corporate jet? There are some of the questions you need to ask, and we're here to help you find the right answers for your business.
Check out more details about our private aircraft marketing & management services, and contact us detailing your business aviation goals and review the options for business jet sales & acquisitions with an Air Charter Advisor.
Corporate Flight Backup | Supplemental Lift
ACA works with corporations across the country to provide business jet rentals when a company require a flight outside of the capabilities int heir current fleet, or when they have an aircraft scheduled for maintenance or previously scheduled flights.
If you have a private or corporate jet that has a mechanical issue, or you need to arrange simultaneous trips for your business executives, we can arrange a supplemental lift to Chicago in as little as 4 to 6 hours.
Fractional Owners & Jet Cards
ACA offers access to jet card programs in 25, 50, and 100 hour cards for frequent private flyers, and we offer assistance in becoming a fractional aircraft owner in the Chicago area.
Already have a jet card of fractional aircraft? Air Charter Advisors also offers unlimited quotes with zero obligations – members can compare us to their current plan before reserving hours for their next flight! Our hourly rates are some of the most competitive in the industry, all without cutting corners regarding safety or pilot experience.
History
America's economy isn't the only thing shaped by the Windy City – the country's history and landscape would also be defined by the rise of an Illinoisan named Abraham Lincoln. Issues over the spread of slavery propelled Lincoln to the Presidential nomination at the 1860 Republican National Convention in Chicago. His victory over Stephan Douglas and the policies he implemented would go on to set the stage for the American Civil War.
Chicago's influence isn't limited to the United States, either. Despite the Great Fire of 1871 leaving a 4-mile-long section of the city in rubble, most of the city survived, including its railroads and stockyards. New building standards using steel and stone were applied in the rebuilding process, leading to the construction of the world's first skyscraper in 1885, and the largest building boom in our nation's history.
The continued growth of the city and its annexation of surrounding neighborhoods drew thousands of immigrants from Europe and the eastern United States, with over three-quarters of Chicago's population being foreign born as of 1900. This rise in population led to innovative ideas in sanitation and health issues, and the city gained recognition as a leader in public health, creating standards that would be applied in cities across the country.  All of these factors led to 1893, when the city hosted the World's Columbian Exposition at the present-day location of Jackson Park. The event drew over 27 million visitors, and is considered the most influential world's fair in history.
The 20th century saw the city's continual rise, from important cultural events and scientific discoveries to iconic sports teams and mafia origins. A rise in industry thanks to World War I brought a massive migration of workers into the area, creating racial tensions as the African-American community more than quadrupled in population. In 1919, prohibition was ratified as the 18th amendment, ushering in the beginnings of the Gangster Era and introducing America to the likes of Al Capone, Dion O'Banion, Bugs Moran and Tony Accardo. The streets of Chicago transformed into an urban battlefield during this time, with the infamous St. Valentine's Day Massacre taking place in 1929.
Prohibition was repealed in 1933, and while the violence ended in the streets, a breakthrough discovery nearly a decade later would bring unimaginable destruction to the air. In 1942, while working on the top-secret Manhattan Project, physicist Enrico Fermi conducted the world's first controlled nuclear reaction at the University of Chicago, leading to the creation of the first Atomic Bomb used by the United States three years later.
Luxury Hotels
Chicago, the Windy City along the great Lake Michigan, is one of the most important cities in the world and a popular destination for private jet charter flights.
Known also as the "City of Big Shoulders", it's the birthplace of modern skyscrapers and home to one of the most recognizable skylines in the world. Chi-town has a lot to offer private luxury jet travelers, from dynamic architecture, a wealth of museums and an incredible food scene, to some of the finest five-star accommodations in the country.
The premier luxury hotel in the city is the Waldorf Astoria, an upscale Art Deco hotel in the stylish Gold Coast neighborhood located downtown. The hotel provides a spectacular setting for meetings, weddings, and other special events, confirmed by its vote as the 2016 Reader's Choice 'Best U.S. Hotel' by Conde Naste.
The following list of our top choices was created based on factors such as client feedback, location, amenities and online reviews. Once you arrive in Illinois via luxury private jet, our Chicago Jet Charter agents can also arrange ground transportation to/from the hotel of your choice.
Waldorf Astoria
11 E Walton St
(312) 646-1300
http://waldorfastoria3.hilton.com/en/hotels/illinois/waldorf-astoria-chicago-CHIWAWA/index.html
Four Seasons Hotel
120 E Delaware Pl
(312) 280-8800
http://www.fourseasons.com/chicago/
Sofitel Water Tower Hotel
20 E Chestnut St
(312) 324-4000
http://www.accorhotels.com/gb/hotel-2993-sofitel-chicago-water-tower/index.shtml
The Ritz-Carlton
160 E Pearson St
(312) 266-1000
http://www.ritzcarlton.com/en/hotels/chicago
Trump International Hotel & Tower
401 N Wabash Ave
(312) 588-8000
https://www.trumphotelcollection.com/chicago/
The Langham – AMA Plaza
330 N Wabash Ave
(312) 923-9988
http://www.langhamhotels.com/en/the-langham/chicago/
The Peninsula
108 E Superior St
(312) 337-2888
http://chicago.peninsula.com/en/default
The Talbott Hotel
20 E Delaware Pl
(312) 944-4970
http://www.jdvhotels.com/hotels/illinois/chicago-hotels/the-talbott-hotel/
Virgin Hotels
03 N Wabash Ave
(312) 940-4400
https://virginhotels.com
---
Request a Quote
Request a Quote or give us a call at 1-888-987-5387 to speak with one of our Chicago Jet Charter brokers for your next luxury vacation, business trip, or special event.