Airbus ACJ319
Charter a Private Flight on the Airbus 319 Corporate Jet
Air Charter Advisors arrange executive flight and group air charters on the Airbus 319 Corporate Jet, also known as the ACJ319, a corporate jet version of the A319 Airliner.
The Airbus ACJ319 utilizes removable fuel tanks and an increased service ceiling to offer a range of up to 6,000 nautical miles (11,100 km), enough for non-stop flights from New York to Dubai, Hong Kong to Seattle, or Los Angeles to Auckland. Its top speed of 630 mmph (Mach 0.82)  is respectable for a business airliner and ensures you'll reach your destination quickly – however you don't charter an ACJ for its speed.
The cabin is the most appealing aspect of flying in an ACJ 319. Measuring an impressive 78 feet long, 12 feet wide and nearly 7 1/2 ft tall, the standup cabin is incredibly spacious and provides a ton of space for passengers. The total volume of the interior, 5,843 cubic feet, is available to accommodate between 19 and 50 passengers, although it may be configured in a variety of customized layouts.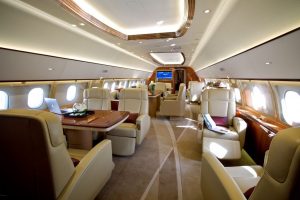 Interior features may include showers, dining rooms, offices, lounges, and bedrooms, each located in their designated cabin zones. High-end entertainment systems and wet galleys are also typically available, although what is available on a specific model will depend on owner/operator.
The A319CJ competes with the Boeing BBJ1, Gulfstream G550, and Bombardier Global Express, although its wider fuselage offers substantially more room than the aforementioned aircraft.
For this reason, the A319CJ has been used for a variety of governmental and official missions around the world, including the transportation for French officials (Escadron de transport, d'entrainement et de calibration) and German officials (Flugbereitschaft of the Luftwaffe); the ACJ has also been utilized as a presidential aircraft in Armenia, Brazil, Czech Republic, Italy, Malaysia, Slovakia, Thailand, Turkey, Ukraine, and Venezuela.
Certificated both European JAA and American FAA, the A319LR is one of the only business jets approved for public transport on both sides of the Atlantic. A total of 73 models were produced; all but 3 of them are still in operation with the majority located in Asia and Europe.
For instant access to Airbus 319 Corporate Jets and other executive aviation services, submit your information for a FREE quote or call us directly at +1 (888) 987-5387
A319CJ Pricing, Performance & Specifications
The hourly cost to charter an ACJ319 starts at $16,500 an hour* and will vary based on the dates & times of your flight, aircraft routing, scheduling, and positioning; passengers/baggage totals, and other factors.
Year of Make: 1999 —
Manufacturer: Airbus
Class: VIP Airliner
MSRP: $92.3 million ($20—45 million preowned)
Hourly Rate: $16,500 and up*
General Details
Crew: 2 pilots + 4 crew seats
Capacity: up to 156 Passengers
Height: 38 ft 7 in
Length: 111 ft
Wingspan: 111 ft 10 in
MTOW: 166,500 lb
Max Payload: 33,070 lb
External Baggage: 202 cu ft
Performance Specifications
Max Speed: 623 mph (542 kts)
Cruise Speed: 540 mph (470  kts)
Range: 6,200 nmi
Ceiling: 41,000 ft
Climb Rate: 3,300 ft/min
Runway: 6,750 ft (takeoff); 4,000 ft (landing)
Engines: 2x CFM International CFM56-5B6
Thrust: 27,000 lbf each
Interior Dimensions
Seating: 14—18 (standard)
Cabin Height: 7 ft 4 in
Cabin Width: 12 ft 1 in
Cabin Length: 78 ft 9 in
Cabin Volume: 5843 cu ft
Additional Photos
Airbus A319 Corporate Jet Charter Services
Submit your details for a FREE quote, or call us directly at 1-888-987-5387 with any questions regarding group air charter services on this and similar VIP airliners.
---
* Average hourly rates vary depending on make, model and year; amenities, routing and scheduling/availability, and do not include fuel, taxes, crew charges, ramp, hangar, FBO, overnights, daily minimums, taxes, international fees, catering, ground transport, or de-icing. If you would like an accurate quote, please call or email. Pictures are for example only. The age, color, interior layout, hourly rates, specifications, dimensions may all vary between aircraft. All images copyrighted and provided courtesy of Airbus SE.