Private Jet Charter Las Vegas
Private Charter Flights to/from Las Vegas, NV
Chartering a private jet is the best way to start off your adventure in Las Vegas – after all, what happens at 30,000 feet, stays at 30,000 feet. Air Charter Advisors offers the best private air charter services in Las Vegas, the Entertainment Capital of the World.
It's one of the most visited destinations year after year, home to mega-hotels and resort casinos that attract visitors from every corner of the globe. Also known as Sin City, Las Vegas knows what you want, and it delivers in spades.
Our team at Air Charter Advisors knows what you want, too – you want a luxurious, comfortable private jet flying full-tilt to complement your lavish getaway, all without going bust. That's why our team offers transparent, competitive rates for on-demand air charters, all while applying the highest standards in private travel.
We have access to thousands of private planes located around the world, from Cessna CJ1's and Hawker 800XP's to Global Express/XRS's and Gulfstream V/G500/G550's, allowing us to connect you with the perfect aircraft at the right cost, whether you're flying internationally or domestically. Call us anytime, anywhere to charter a private jet for your next trip to Sin City.
Las Vegas Air Charter Advisors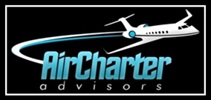 Our company is part of the Wyvern-certified charter broker network, meaning all of the private jets and turboprops we utilize for private flights are operated by FAR Part 135 or 121 (or foreign equivalent) air carriers, and held to the highest standards. Our list of clients has grown to include C-level executives, heads of state and celebrities, as well as personal assistants and leisure travelers. We also specialize in private flights for special events such as honeymoons, bachelor/ette parties, and weddings.
Enjoy the convenience and peace of mind you get from working with a charter company you can trust, and our Las Vegas Air Charter Advisors will become your local and global solution for luxury air travel, aircraft acquisition, and charter plane management.
We'll arrange everything from gourmet in-flight catering and luxury ground transportation, to helicopter lifts and any other amenity you request. Call us at +1 (888) 987-5387 for instant pricing & availability on private charter flights to/from Las Vegas.
Private Jet Airports in Las Vegas, NV
Private airports and private terminals at commercial hubs are the most comfortable, flexible, and secure way to arrive in Las Vegas, and our charter jet services deliver a personal, one-on-one consultative experience for corporate executives, executive assistants, and leisure flyers and high-rollers alike.
If you're a temporary resident traveling during the change of seasons, or you're looking for an extended stay, make sure to ask about our one-way empty leg specials! When using our private aviation services, you can depart or arrive at the following airports in Las Vegas, NV:
(KLAS, LAS) McCarran International Airport – Las Vegas, NV
One of the world's busiest airports, McCarran International (IATA: LAS, ICAO: KLAS, FAA LID: LAS) is the main gateway into Sin City, located just 5 miles south of the Strip, and it ranks 6th overall worldwide in terms of aircraft movements.
After your private jet arrives at McCarran International, we can arrange to have luxury ground transportation to bring you to the resort or casino of your choice. We can also arrange helicopter lifts throughout the city.
All four concrete runways at McCarran have been resurfaced recently, and with its shortest runway (1L/19R) being 8,988-feet long, the airport is capable of servicing private jets and airliners of all sizes. Signature Flight Support and Atlantic Aviation operate the two fixed base operators (FBOs), serving the needs of general aviation passengers outside the main concourse.
(KLAS) McCarran International is also home to the Howard W. Cannon Aviation Museum, chronicling the early history of aviation in Southern Nevada. The museum is located on Level 2 of Terminal 1 above the baggage claim area.
(KHND, HND) Henderson Executive Airport – Henderson, NV
Renting a light jet or mid-size jet for your private flight? We can arrange for you to arrive at Henderson Executive Airport (IATA: HSH, ICAO: KHND, FAA LID: HND), a public airport located 13 miles south of the Strip.
Clients interested in added anonymity can use (HND) Henderson Executive as their arrival or departure airport, skipping the high volume of ground/air traffic at McCarran.
There are two asphalt runways: Runway 17R/35L measures 6,501 feet in length, and Runway 17L/35R is 5,001 feet long. Henderson Executive operates its own FBO.
(KVGT, VGT) North Las Vegas Airport – North Las Vegas, NV
Referred to by Las Vegans simply as Northtown, North Las Vegas Airport (IATA: VGT, ICAO: KVGT, FAA LID: VGT) is Sin City's second busiest airport, and the third busiest in the state of Nevada. It's location of less than 6 miles northwest of the Vegas Strip makes it the primary choice for general aviation in the area.
Several helicopter operators are based at KVGT, including the L.V. Metropolitan Police Department and many scenic tour companies. The airport is also certificated under 14 CFR Part 139, serving as a base for local airsports.
The airport operates its own FBO, offering full services to general aviation, crew, and passengers, making it an ideal alternative to McCarran International and Henderson Executive.
(KBVU, BVU, BLD) Boulder City Municipal Airport – Boulder City, NV
If you're planning on flying closer to the Lake Mead National Recreation Area, we can arrange for your flight to arrive/depart at Boulder City Municipal Airport (IATA: BLD, ICAO: KBVU, FAA LID: BVU, formerly 61B), a public use airport in Boulder City, Nevada, located around 30 minutes driving time from the strip.
(KBVU) Boulder City Municipal features 3 asphalt runways to accommodate turbo-props, light jets and mid-size jets, and Boulder City Aviation Services (BCAS) and BFE operate the two FBOs.
Las Vegas Charter Planes
Private flights are the best way to travel to the Vegas Strip, and our charter brokers offer access to the following private planes, all operated by FAR Part 135 or 121 (or foreign equivalent) air carriers, and many Wyvern Wingman/ARGUS business jets.
Our brokers will provide a wide variety of aircraft rentals based on your goals and your budget, whether you're looking for a cost-effective flight, or the most luxurious plane available. Check out our Aircraft Gallery for more details on all of the planes available for your flight.
---
Private Jet to Vegas, NV | Air Charter Advisors
Private Jet Charter > United States > Nevada
Welcome to your comprehensive solution for all things aviation in Las Vegas, Nevada. Whether you're interested in chartering a flight to the area, own your own aircraft in Nevada, or would like to purchase fractional ownership of a plane, our aviation team has all of the tools and knowledge you need to handle each and every aspect of private aviation.
We'll find you the best deal on a private jet to Vegas, the resort and gaming city in the Mojave Desert known as the "Entertainment Capital of the World". Whether flying private to Clark County for business at a local convention, to roll the dice along the Vegas Strip, or to celebrate a bachelor/bachelorette/birthday party, there's a reason why it's one of the most visited cities in the world. Check out more details below to help plan your trip after you book your flight.
---
Related Destinations
Below are some of the most frequently requested routes for clients flying private to/from Sin City. Search our network of destinations to learn more about private aviation across the United States and around the globe.
---
Request a Quote | Private Jets in Las Vegas, NV
Plan your stress-free charter flight with Air Charter Advisors and enjoy your adventure in Sin City. Give us a call at 1-888-987-5387 to speak with one of our  Las Vegas Jet Charter brokers and review all of the options for your private charter flight.
Enjoy all-inclusive, hourly rate pricing on Wyvern-certified aircraft, loaded with all of your requested amenities, flown by pilots with a wealth of experience in the aircraft type you're chartering. Our charter services can add hours of precious time to your day, all while escaping the hassle of stress-inducing commercial flights.