Cessna Citation CJ4
Charter a Private Flight on the Citation CJ4 Light Jet from Cessna/Textron Aviation
Charter a private flight on the Cessna 525C Citation CJ4, the newest aircraft in Cessna's renowned family of Citation Jets.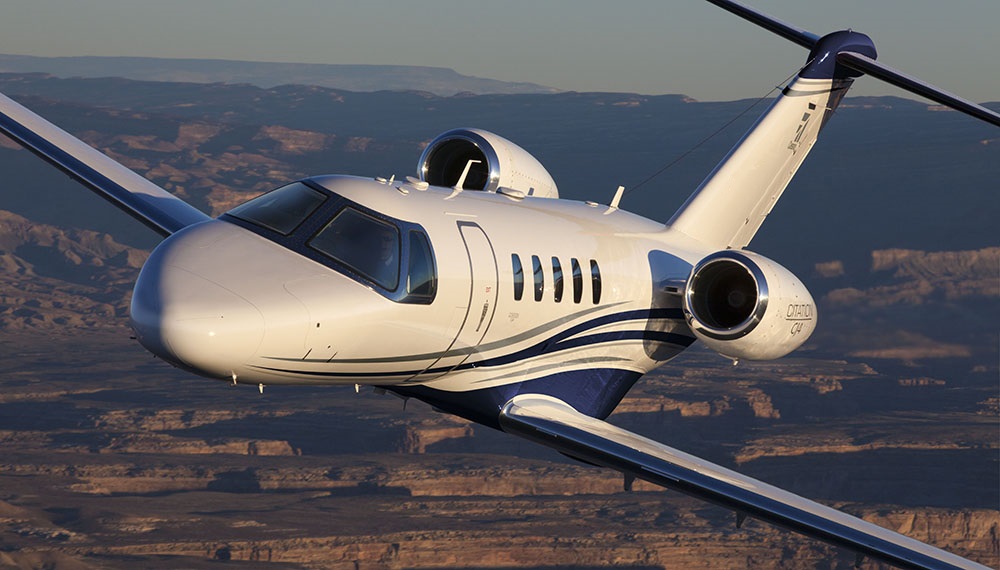 Key Features
Cessna's Newest Citation Jet
Larger, Faster and More Comfortable
Advanced Cabin & Entertainment Amenities
Food Prep Area and Separate Lavatory
Citation CJ4 Photo Gallery
Citation CJ4 Pricing, Performance, and Specifications
The cost to charter a Cessna Citation CJ4 starts at around $3,000 an hour* and will vary based on make/model (CJ4/CJ4+), in addition to aircraft scheduling/positioning, flight routing, passenger totals, and other factors. For all-inclusive pricing without any hidden fees, request a quote or give us a call.
Year of Make: 2010 –
Manufacturer: Cessna
Class: Light Jet
MSRP: $9,195,000
Hourly Rate: $2,875 – $3,500*
General Specs
Crew: 1 or 2
Capacity: 10
Length: 53 ft 4 in (16.26 m)
Height: 15 ft 5 in (4.69 m)
Wingspan: 50 ft 10 in (15.49 m)
Max Takeoff Weight: 17,110 lb (7,761 kg)
Max Payload: 2,220 lb (1,007 kg)
Baggage Capacity: 77 cu ft
Avionics: Rockwell Collins Pro Line 21
ICAO Designation: C25C
Performance
Top Speed: 590 mph (0.77 Mach)
Max Cruise: 518 mph (451 ktas; 835 km/h)
Range: 2,165 nmi (4,010 km)
Service Ceiling: 45,000 ft
Climb Rate: 3,854 ft/min
Runway: 3,410 ft (takeoff); 2,940 ft (landing)
Engines: 2x Williams International FJ44-4A
Thrust: 3,621 lb (16.11 kN) each
Interior Dimensions
Seats: 6 – 8
Cabin Height: 4 ft 9 in
Cabin Width: 4 ft 10 in
Cabin Length: 17 ft 4 in
Cabin Volume: 398 cu ft
Bathroom: Enclosed Lav
Aircraft Details
The Citation CJ4 is a stretched version of previous CJ models, and was introduced at the NBAA conference in the fall of 2006. Its wing design comes from the moderately swept wing of the Citation Sovereign. Powered by Williams FJ44-4A turbofans, it has a maximum range of 2,165 nmi (4,010 km). Its cabin is 21 inches longer than the CJ3 light jet and can seat up to nine persons plus one in the cockpit. This light jet completed its first flight in May of 2008, flying from McConnell AFB in Wichita, Kansas, where Cessna/Textron is headquartered; the first deliveries rolled out in 2010.
Purchase a Citation CJ4
Air Charter Advisors offers private jet acquisition services for individuals and corporate groups interested in purchasing a Cessna 525C Citation CJ4. It's predecessor, the CJ3+, offers nearly the same range while flying slower and seating fewer passengers.
The cost of ownership for the Citation CJ4 carries an annual budget of $665k over 200 hours of flight time, including fixed costs of $345k and variable/operating costs of $320k. The operating costs for the Citation CJ4 comes out to around $1,600 an hour, or approximately $7.95 per mile.
Earlier models are available on the pre-owned market for between $5.5-5.8 million, with later models going for up to over $7 million. Our team offers access to pre-owned business jets both on and off of the market. Give us a call or request more information to buy a Cessna Citation CJ4.
Cessna Citation CJ4 Jet Charter, Sales, and Management
ACA offers a variety of private jet services on the Cessna CE525C Citation CJ4 and CJ4+, the newest light jet from Cessna. For private jet charters, jet card memberships, fractional/individual ownership, and aircraft management, give us a call at 888-987-JETS (5387) or email us for more information.
---
* Average hourly rates vary depending on make, model and year; amenities, routing and scheduling/availability, and do not include fuel, taxes, crew charges, ramp, hangar, FBO, overnights, daily minimums, taxes, international fees, catering, ground transport, or de-icing. If you would like an accurate quote, please call or email. Pictures are for example only. The age, color, interior layout, hourly rates, specifications, dimensions may all vary between aircraft. All images copyrighted and provided courtesy of Cessna / Textron Aviation.