Private Air Charter Service to Daytona Beach, Florida
Destinations > United States > Florida
Fly private to Daytona Beach and experience one of the Sunshine State's premier party destinations.
Whether you're headed down to Daytona for spring break, the Daytona 500 or business within Volusia County, the best way to get there by chartering a private jet or turbo-prop to/from (KDAB, DAB) Daytona Beach International Airport.
Air Charter Advisors was created to offer the most all-inclusive, efficient, and transparent air charter service, and we specialize in private fights to Daytona Beach, a popular destination for business and general aviation along the Atlantic coast.
When booking your private charter flight with us, you'll gain an experienced air charter broker ready to advise and arrange all the details for your flights. You'll also receive our friendly, highly-customizable service at all hours  – a true 24/7, no matter what time zone you're in.
Add an Air Charter Advisor to your Flight Plan
Our South Florida-based jet charter company is Wyvern-certified, using some of the highest safety and due diligence standards in the industry. Although we're located near Fort Lauderdale, we can arrange private flights to any destination around the world!
The relationships we've built with operators in Florida and across the country allow us to connect you with the right aircraft at the right cost, whether you're flying domestically or internationally. Many of the aircraft we use are based in Florida, while others are transient jets passing through the Orlando/Daytona area, potentially reducing your charter rate with an empty-leg flight.
We've worked with C-level executives and government officials heading to Daytona Beach on business, as well as VIP celebrities, personal assistants and affluent travelers chartering a jet for luxurious vacations, spring breaks, yachting events, arts and cultural events and more.
Enjoy the peace of mind you get from working with a jet charter broker you can trust, and let Air Charter Advisors be your local and global aviation solution for luxury air travel, aircraft acquisition and private jet management in Daytona Beach, Florida.
---
Airports for Private Charter Flights to Daytona Beach
From top to bottom, Florida is one of the busiest regions for general and private aviation in the United States, and Daytona Beach is home to several airports for arranging private jet charter service. The airports listed below are all located within 25 miles of Daytona Beach. For more information on additional local airports, check out our airports section at the bottom.
(KDAB, DAB) Daytona Beach International Airport, Daytona Beach – Florida
Longest Runway: 10,500 feet
(KEVB, EVB) New Smyrna Beach Municipal Airport, New Smyma Beach – Florida
Longest Runway: 4,319 feet
(KFIN, FIN) Flagler County Airport, Bunnell – Florida
Longest Runway: 5,000 feet
---
Related Destinations in Florida
Air Charter Advisors is based in South Florida, and our experience in private aviation has allowed us to build relationships to provide our clients with outstanding, upscale travel services for every trip we arrange. Looking to expand your horizons regarding private aviation in Florida? Check out these popular destinations to learn more information about flying private across the Sunshine State:
---

NASCAR's biggest race kicks off the seasons every February in the birthplace of stock car racing. Already a popular business jet route, private aviation soars during the month of February as fans and teams descend upon Daytona International Speedway. Learn more about arranging a private flight to the Daytona 500 with ACA on-demand jet charter service to/from (DAB) Daytona Beach International Airport.
---
Executive Charter Flights to (DAB) Daytona Beach International
Charter a business jet to Volusia County and surrounding areas of Florida's Atlantic Coast with our on-demand executive air charter service. Florida is home to one of the largest private aviation markets in the world, and the route between (DAB) Daytona Beach International and (TEB) Teterboro Airport consistently ranks as one of the most popular routes in business aviation.
Based in Florida, our team at Air Charter Advisors is your comprehensive source for executive jet charter service to/from Daytona Beach. Our company offers the highest standards executive jet charter service, providing a wide range of executive concierge services to complement your flight.
We can arrange the right aircraft for you and your executive team, including essential amenities to help you conduct business, such as Wi-Fi, spacious cabins and gourmet in-flight catering.
We have access to thousands of private aircraft located across the country and around the world ready for your charter flight. Each and every aircraft we arrange are operated by FAR Part 135 or 121 (or foreign equivalent) air carriers, and we only use veteran pilots with a wealth of experience.
No matter what business ventures bring you to Florida, our friendly private aviation team will be available to you 24 hours a day, 7 days a week to to arrange executive jet charter service to Daytona Beach, Florida.
Air Charter Advisors offers:
24/7 Customer Support and Aviation Consultation
Aircraft Acquisition, Management and Marketing
Empty Leg, One-Way and Multi-Leg Routing
On-Demand Availability to Private Aircraft *
Quick and Competitive Jet Charter Rates
VIP Concierge Services
Wyvern Certified Aircraft
* Please note that aircraft availability is subject to change.
---
Visit Daytona Beach | Private Jet to (DAB) Daytona International
Destinations > United States > Florida
Air Charter Advisors is the premier source for private aviation services in Volusia County and the rest of Florida!
People visit the state of Florida from around the world to enjoy it's warm sunshine, tropical beaches, luxurious beach resorts and outlandish nightlife; arts, culinary and music festivals, cultural and sporting events, and a variety of conventions and shows add even more to its allure.
Daytona Beach is located just north of Florida's "Space Coast", the region along the Atlantic home to NASA's Kennedy Space Center in Cape Canaveral. It's about equal distance from NASA as it is from Orlando, allowing for a quick trio over to some of Florida's best theme parks and attractions.
Directly west towards the center of the state is the Ocala National Forest, a massive wooded area home to several trails, and more than 600 lakes, rivers and springs.
Daytona Beach and Volusia County have a lot to offer executive and leisure travelers, so we've put together a list of some of the top attractions, hotels and events to go along with your private air charter service to Daytona Beach, Florida.
---
Aircraft for Charter Flights to Daytona Beach, Florida
Daytona Beach is a popular destination for private/business aviation, and ACA can arrange your charter flight on any of the following Wyvern-certified aircraft. All of the planes we arrange are operated by FAR Part 135 or 121 (or foreign equivalent) air carriers, many of which are based at Volusia County airports.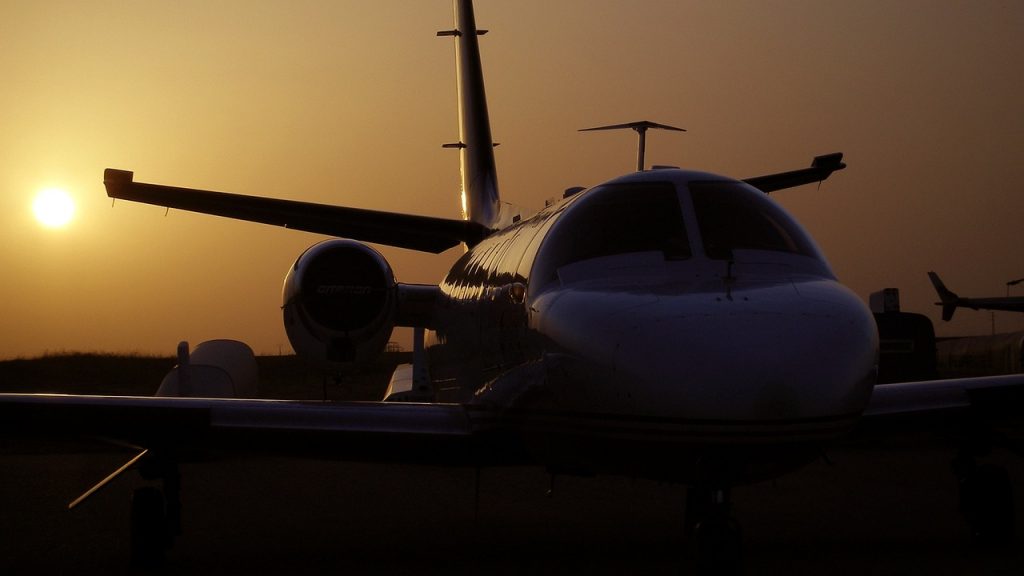 After you request a quote and provide your trip details to us, we'll offer a variety of options based on the goals and budget of your flight, whether you're seeking a cost-effective option, or the most lavish, stylish jet on the market. Check out our Aircraft Gallery for more details on all of the aircraft available for your trip.
If you don't see your preferred turbo-prop or jet listed below, speak to one of our brokers and they will locate one for you.
---
Private Jet Rentals | Hourly Charter Rates | ACA Daytona Beach
The following are examples of hourly rates for private jet, turbo-prop and helicopter rentals in Daytona Beach, Florida. Due to the high-volume of flights along Florida's Atlantic Coast, many operators offer empty leg charter flights, which can greatly reduce the cost of your rental.
Average Hourly Rates*
Pistons
$1,000 – $1,800/hour
Turbo-props
$1,200 – $2,000/hour
Very Light Jets (VLJ)
$2,000 – $2,500/hour
Light Jets
$2,200 – $2,800/hour
Midsize Jets
$2,750 – $3,500/hour
Super Midsize Jets
$3,800 – $4,800/hour
Heavy Jets
$5,500 – $8,500/hour
Long Range Jets
$6,000 – $12,000/hour
VIP Airliners
$9,000 – $12,000/hr
Helicopters
$1,000 – $6,000/hour
* Hourly charter rates vary depending on aircraft make, model and year, as well as amenities, routing and scheduling/availability. 
---
 Local Airports for Daytona Beach Private Flights
Air Charter Advisors arranges private jet charter service to/from Daytona Beach, Florida using the airports below. Our brokers can arrange everything from one-way flights, multi-leg flights, and helicopter lifts.
---
Additional Airports in Florida
Air Charter Advisors can arrange private jet charter service to the following airports located throughout South Florida. Speak to one of our charter brokers about all of the airport and aircraft options available to you arranging your private flight.
(7FL6) Spruce Creek – Daytona Beach, FL
Runway Length: 4,000 feet
FBO: Yelvington Jet Aviation
Private Airport
(KX50) Massey Ranch Airpark – New Smyrna Beach FL
Runway Length: 4,360 feet
FBO: Airpark Aviation
Local Heliports and Helipads
(FL44) Smokey's Heliport – Daytona Beach, Florida
250 x 135 feet (turf)
Private use. Permission required prior to landing.
(29FL) Halifax Hospital Medical Center Heliport – Daytona Beach, Florida
50 x 50 feet (concrete)
Private use. Medical helipad.
(24FD) Budd Darling Heliport – Seville, Florida 
100 x 100 feet (turf)
Private use. Permission required prior to landing.
---
Request a Daytona Beach Jet Charter Quote
Request a Quote or give us a call at 1-888-987-5387 to speak with one of our Daytona Beach Jet Charter Service brokers for your next luxury vacation, business trip, or special event.
We're available 24/7 to assist in all aspects of private aviation, and we offer free, non-committal quotes for all of your upcoming trips.