Learjet 35
Charter Flights on the Lear 35
Charter your next private flight on the Learjet 35, a light jet known across the charter marketplace for offering superb range, smooth handling, and fast cruise speeds.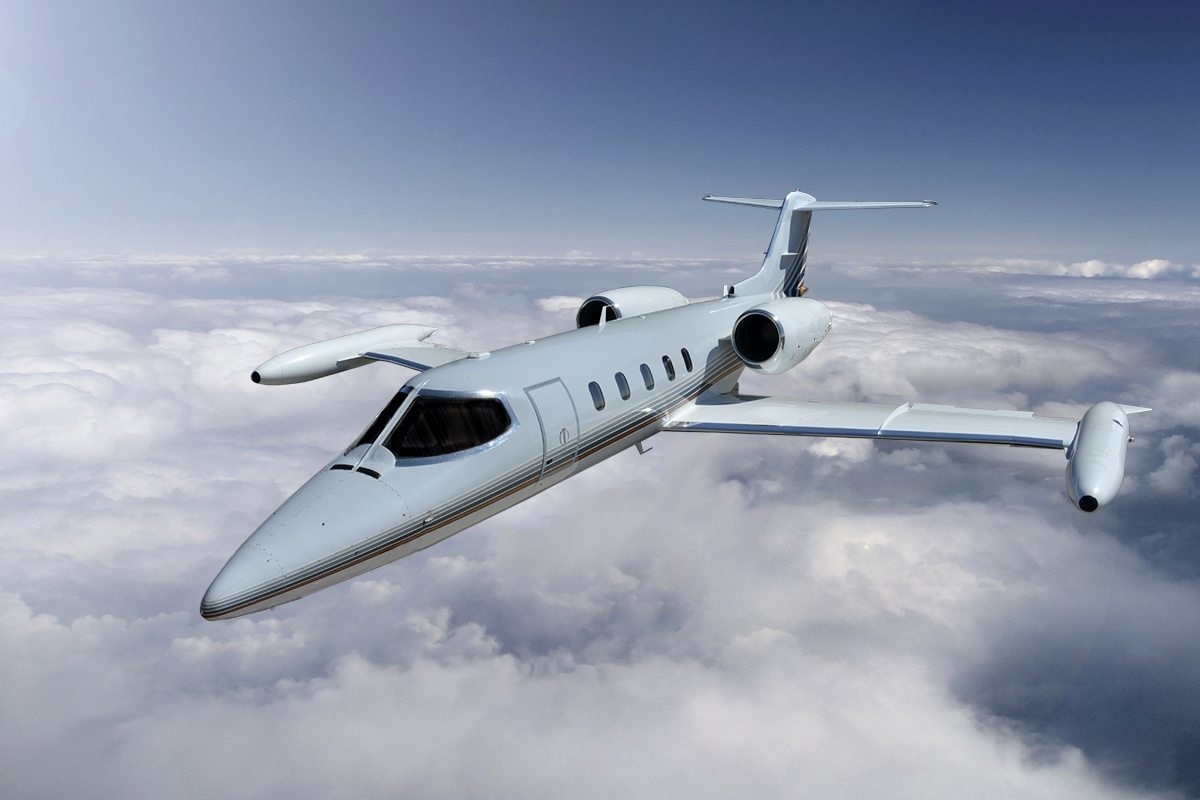 The Learjet 35 / Learjet 35a is one of the most successful light jets ever produced by Bombardier Aerospace, and one of the fastest light jets you can charter. The Lear 35/35a enjoyed a production run that lasted more than two decades, mainly thanks to its superb range, fast speeds, and 6-8 seat cabin; passengers can travel up to 1,800 nmi at cruise speeds up to 530mph, making short work of flights from the Midwest to either coast.
Air Charter Advisors offers instant access to charter planes around the world, including the Learjet 35 light jet. For instant availability and hourly rates, call +1 (888) 987-5387 and request a quote to charter a Learjet 35 near you.
Key Features
Light Jet with Room for 8
Excellent Range
Built-in Lavatory
High Cruise Speeds of mach 0.81
Learjet 35 Photo Gallery
Learjet 35 Pricing, Performance, & Specifications
Hourly rates to charter the Learjet 35 and 35a start at around $3,750* an hour, and will vary based on aircraft positioning, scheduling, routing, and other factors. Call our charter brokers and request a quote for all-inclusive pricing without any upfront costs, membership charges, or hidden fees.
Year of Make: 1976 – 1993
Manufacturer: Bombardier
Class: Light Jet
MSRP: $6 million
Hourly Rate: $3,500-$4,750*
General (LearJet 36a)
Crew: 2
Length: 48 ft 8 in (14.83 m)
Wingspan: 39 ft 6 in (12.04 m)
Height: 12 ft 3 in (3.73 m)
Empty Weight: 9,154 lbs (4,152 kg)
Max Takeoff Weight: 18,000 lbs (8,165 kg)
Performance
Maximum Speed: 542 mph (872 km/h; 471 kts)
Cruise Speed: 481 mph (774 km/h; 418 kts)
Range: 2,857 nmi (3,288 mi; 5,291 km) (4 pax)
Service Ceiling: 45,000 ft
Rate of Climb: 4,525 ft/min
Runway: 4,784 ft (takeoff); 2,884 ft (landing)
Engines: 2x Honeywell TFE731-2-2B turbofans, 3,500 lbs/ft thrust each
Interior Dimensions
Seats: 6-8
Cabin Height: 4 ft 3 in
Cabin Width: 4 ft 9 in
Cabin Length: 12 ft 9 in
Cabin Volume: 257 cu ft
Baggage Capacity: 40 cu ft
Bathroom: 
Learjet 35 | Bombardier | Aircraft Details
The Learjet 35 and 35A originally started as the Learjet 25BGF, a variant of its predecessor, the Learjet 25. The plan was to power the new aircraft with twin Garret Fan engines – where the GF came from – and to stretch the plane for an additional 13 inches of length. Test flights showed increased power and reduced noise from the newer engine, and improvements to the design resulted in its own model, the 35.
The Learjet 35 would become best known for its speed and range, both of which are high for the light jet segment. The Lear 35 can travel nonstop across much of the United States. The first model was delivered in 1976, 64 base-model 35s built, while more than 600 models of the 35a variant were delivered until 1993.
Additional variations were built (Learjet 36 and Learjet 36a), offering an additional fuel capacity for longer range at the expense of 18 inches of passenger space. Several countries also use variants for the 35 labeled as the C-21A for military and VIP transportation.
The Lear family of business jets are known for their range, speed and overall performance, and both the Lear 35 and 35A were key models in developing the Learjet reputation.
Cabin
The slightly longer cabin of the Learjet 35 measures 12'9″ long, 4'9″ wide, and 4'3″ tall, providing room for up to 6-8 passengers. Seating is typically arranged in a double club layout, and the seats offer plenty of room to swivel and recline. The cabin features 10 windows with 5 along each side.
One of the coolest and most unique features on the Lear 35 is its mini-bar located in the middle of the cabin. There's also 40 cubic feet of storage available, allowing passengers to bring around 8 standard suitcases.
Taller passengers will find the cabin's small size to be a drawback. However, for groups of 6 or less or passengers under 6 feet tall, the cabin is more than suitable when taking into consideration the speed and distance you're able to travel.
Performance
Offering a flight range of 1,800 nautical miles and speed of over 500 mph, the Learjet 35 offers the incredible performance that travelers have come to expect from the Learjet line of business jets. The Learjet 35/A is powered by two Honeywell TFE731-2-2B engines, offering low fuel burn, high cruise speeds, and meeting FAR part 36 noise standards.
The Lear 35 was also also equipped with new avionics systems compared to its predecessors, with autopilot, color weather radar, tactical air navigation systems, and 3 radios of different frequency ranges adding to the safety to the Learjet 35's operations.
Learjet 35A
The Model 35A was introduced in 1976 as the upgraded version of the 35, offering a higher fuel capacity to increase the range to 2,789 miles. Refueling was also moved to ground level through tanks on the wingtips. Over 600 were built, with serial numbers ending in 677.
In 1996, a Learjet 35a broke the world-record for around-the-world flight, finishing in a record time of 49 hours, 21 minutes, and 8 seconds. This record was still standing as of 2015, and the aircraft used for the flight is in on display in in Terminal C of the Denver International Airport.
Purchase a Bombardier Learjet 35
Air Charter Advisors can help make the purchase or sale of a pre-owned Learjet 35 go as smoothly as possible. We offer aircraft sales & acquisition services that cover all private aircraft, including access to used planes both on and off the market.
The cost of ownership for the Learjet 35 carries an annual budget of $790k for 200 flight hours, including $310k in fixed costs and $480k in operating/variable costs. The operating costs for the Lear 35 come out to around $2,400 an hour, or approximately $9.50 per mile.
The price of a pre-owned Learjet 35/35A ranges between $500,000 and $900,000 USD. Our team can help with every step of the process, from acquiring or selling your private plane to having it managed and marketed for on-demand charter. Contact us for more information about purchasing a Bombardier Learjet 35.
Additional Photos
Learjet 35 / Learjet 35a Charter, Jet Cards, and More
Whether you're interested in chartering a Learjet 35, purchasing a jet card for light jets such as the Lear 35, looking to buy or sell a Lear 35a, or need management services for your private/corporate owned Learjet 35 – Air Charter Advisors is your source for comprehensive services on the Bombardier Learjet 35. Call us at +1 (888) 987-5387 or click for a free quote anytime, anywhere.
---
* Average hourly rates vary depending on make, model and year; amenities, routing and scheduling/availability, and do not include fuel, taxes, crew charges, ramp, hangar, FBO, overnights, daily minimums, taxes, international fees, catering, ground transport, or de-icing. If you would like an accurate quote, please call or email. Pictures are for example only. The age, color, interior layout, hourly rates, specifications, dimensions may all vary between aircraft. All images copyrighted and provided courtesy of Bombardier Aerospace unless noted otherwise.