Falcon 50
Charter a Dassault Falcon 50 Private Jet
Air Charter Advisors offers private charter flights on the Falcon 50, the revolutionary tri-jet business aircraft from Dassault Aviation.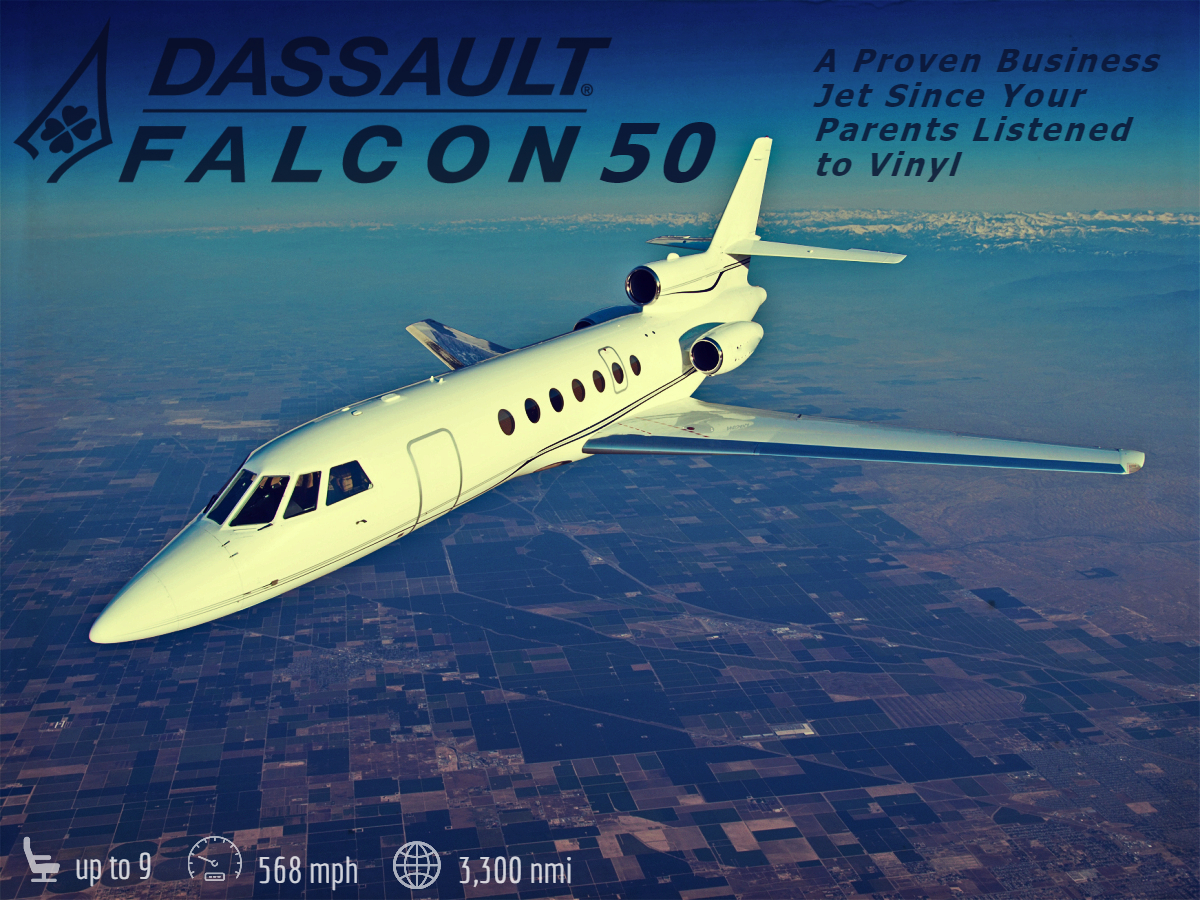 This high-performance super-mid is ideal for flights across the US, as well as transoceanic flights from Chicago to Paris, or New York to London.
Air Charter Advisors offers access to a global fleet of Dassault Falcon 50 / 50EX owned by private individuals, corporate flight departments, and charter operators around the world. We also offer assistance in individuals and corporations in sales & acquisitions of business jets like the Falcon 50, along with Part 135 and 121 charter management services and aircraft marketing.
For availability and hourly rates/pricing on Dassault Falcon 50 jet charter services, or for more details about our 25/50/100 hour jet card programs, call us at 1-888-987-5387 or submit a request for more information.
Key Features
Dassault's Tri-Engine Design
Spacious Baggage Compartment
Seating for 8-10 Passengers
Fully Enclosed Lavatory
Impressive Flight Range
Falcon 50 Pricing, Performance & Specifications
The cost to charter a Falcon 50 starts at around $5,250 an hour*. Pricing and hourly rates vary depending on the year of make/model, dates & time of your flight, scheduling and routing, passenger/luggage totals, and other variables. We can also connect you to 50/50EX private jets available for sale, purchase, or through fractional ownership, and we offer private jet card programs to lock in your time on similar super midsize business jets.
Hourly Charter Rates: $5,175 – $5,950*
MSRP: $21,250,000
Avg. Cruising Speed: 459 knots (528 mph)
Maximum Speed: 568 mph (0.74 mach) | 652 mph (0.85 mach) (EX)
Maximum Range: 3,300 nautical miles
Interior Details
Typical Seating Configuration: 8
Maximum Possible Seating: 9
Interior Cabin Height: 5'11"
Interior Cabin Length: 23'5"
Interior Cabin Width: 6'1"
Total Baggage Space: 115 cu ft.
Bathroom Specs: Equipped with Enclosed lavatory
Amenities: Flight attendant may be available, Wi-Fi / Flight Phone / Air-Show may be available, Aircraft has a partial galley
Falcon 50 Photo Gallery
Aircraft Details
Striking the right balance between range, runway capabilities, and performance, the Dassault Falcon 50 / 50EX super mid-size jet is one of the most versatile business aircraft in its class, and a pioneer in high-performance, highly-modified business aviation.
Offering a 3,300 nautical mile range (4,025 statute miles), this super mid-size jet was designed to offer a high-end business jet option for transoceanic flights to Europe, but has proven to be just as successful with domestic mission, with the 50EX able to fly 8 executives non-stop at Mach 0.80 with a range of 3,075 nm.
Many clients enjoy renting this plane for their private jet charter thanks to its speed, range, and comfort. Its cabin is typically configured for 8-10 passengers, while modifications have allowed up to 16 in some instances. A fully-enclosed lavatory is there to provide the utmost privacy during your flight.
Measuring 23'5″ long x 6'1″ wide x 5'9″ tall, passengers can enjoy 700 cubic feet of room to freely move around and stay fresh during long flights. It features both internal and external storage, with an external compartment large enough to accommodate objects 8 feet long, ideal for surfboards, ski/sporting gear, photo & video equipment, instruments/DJ equipment/shellcases, firearms, and a variety of unique, yet essential items.
Pilot's and corporate flight departments enjoy its incredible three-engine performance, and it's proven track record as a workhorse with decades of reliability and dependability. Several military variants have far exceeded its operational specifications, pushing the envelope and squeezing more and more potential out of this amazing jet.
In fact, the knowledge and experience gained by Dassault from the Falcon 50's years of success was incorporated into future models, including the 900, 2000, and 7X, which in turn inspired upcoming additions to the Falcon family, the 8x and 9x.
Falcon 50
The original 50 made its debut in 1976, and features the same fuselage cross-section and similar capacity as the earlier twin-engine Falcon 20, but offers an overhauled design that is area ruled, includes improvements using a supercritical wing design, and utilizes a trijet layout with an S-duct air intake for the central engine.
Many of the Falcon 50s on the charter market have undergone significant upgrades and refurbishments to match the aesthetics to it's continued, superb performance, and it's a popular model in the used aircraft market.
This Super Midsize Jet is extremely versatile. It is known to be a fast plane (with three engines), and able to land on shorter runways than other aircraft of similar size/category. With the largest cabin in its class, bring your friends and tons of baggage as it boasts 115 cu ft of storage.
Falcon 50EX
Updated in 1996 as the Falcon 50EX, the newer model flew higher, faster and even farther than the already long-flying 50, continuing the platform's success well into the 21st century.
The Falcon 50EX features Dassault's trademark tri-jet design with new AlliedSignal TFE 731-40 engines, increasing thrust, improving fuel consumption with a 7% reduction, and lowering overall maintenance costs. The range is increased to 3,260 nm at Mach 0.75, and avionics are modernized with Collins Proline 4 systems, which was upgraded to Pro Line 21 by StandardAero at the 2011 Aircraft Interiors Expo in Hamburg, Germany.
Performance, range, and efficiency are further enhanced thanks to the addition of High Mach, blended winglets manufactured by Aviation Partners, Inc. Although the final model was built in late 2007 and delivered early the following year, it continues to serve as a prestigious business jet for private and corporate enterprises.
Purchase a Dassault Falcon 50
Air Charter Advisors offers private jet sales & acquisition services for individuals and business groups looking to sell or purchase a Dassault Falcon 50.
The cost of ownership for the Falcon 50 with 200 hours of flying carries an annual budget of around $1,160,000, including fixed costs of around $515k, and operating/variable costs of around $645k. The operating cost comes out to around $3,325 an hour.
The Falcon 50EX shares similar fixed costs, but enjoys a slightly lower operating cost at around $3,025-$3,075 an hour. Original models are available on the pre-owned market for up to $1.8 million, while the updated 50EX is listed for around $3 million.
Whether you're looking to buy, sell, or lease a new or pre-owned business jet, we can assist with everything from sales/acquisitions to charter sales and aircraft management. Call or email us for more information on buying or selling a Dassault Falcon 50.
Popular Flight Requests
Outstanding takeoff and landing performance allow it to utilize short, high-elevation runways, even at high temperatures, without having to sacrifice performance by reducing weight or fuel loading. Once you're in the sky, you'll enjoy a smooth ride at 551 mph and 4,025 statute mile range, flying you from coast-to-coast in a matter of hours, with a maximum of approximately 7 hours flight time over 3,123 nm.
Similar Aircraft
Falcon 50 Services | Charter, Sales, and Management
Need to book a Falcon 50 for a business meeting, vacation, or special event? Interested in acquiring a private aircraft or becoming a fractional owner? Maybe you're interested in access to similar midsize jets by purchasing a private jet membership? No matter what you're looking for, Air Charter Advisors is your comprehensive source for jet charter services on the Falcon 50 and 50EX. Call us directly at 1-888-987-5387 or contact us via e-mail with any questions or requests.
---
* Average hourly rates vary depending on make, model and year; amenities, routing and scheduling/availability, and do not include fuel, taxes, crew charges, ramp, hangar, FBO, overnights, daily minimums, taxes, international fees, catering, ground transport, or de-icing. If you would like an accurate quote, please call or email. Pictures are for example only. The age, color, interior layout, hourly rates, specifications, dimensions may all vary between aircraft. All images copyrighted and provided courtesy of Dassault Aviation unless noted otherwise.