Citation X / 10
Charter a Cessna Citation X, the World's Fastest Private Jet
Delivering unmatched performance and style, the Cessna Citation X was the fastest business jet in the world until the introduction of its slightly faster successor, the Citation X+, and it remains a favorite among many in the private jet charter industry.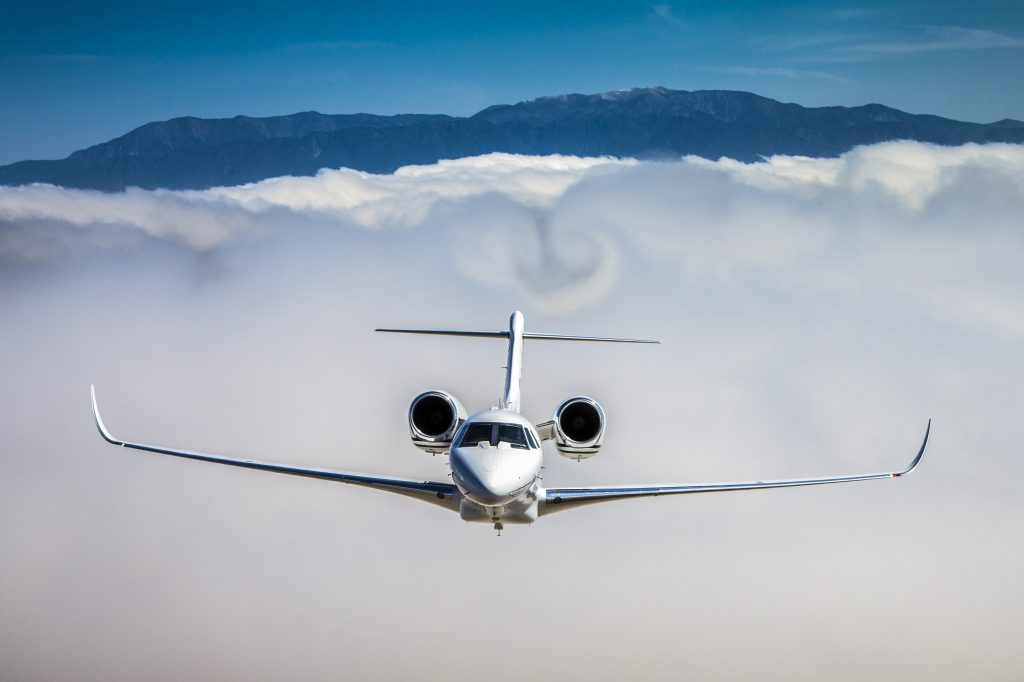 Powered by two Rolls-Royce engines with performance up to Mach .90 (690 mph), and offering a flight range of 3,700 miles at normal cruising speeds of 525 knots (600 mph), the Citation X is the fastest way for private flyers to reach domestic and intercontinental destinations, traveling approximately one mile every six seconds.
In addition to its incredible speed and range, this super mid-size jet offers a luxurious, well-appointed cabin with executive seating for up to 8 passengers. Its plush interior is highlighted by polished wooden finishes and exceptional headroom with enough space to allow passengers to stand up and move around the cabin comfortably mid-flight.
Additional amenities include a spacious lavatory, a full galley, and a pressurized & heated 72 cubic foot baggage compartment for your luggage, golf clubs, ski equipment, or whatever else you're bringing along.
Gain instant access to Citation 10s around the world for on-demand charter. For pricing & availability, please submit a request or call us at +1 (888) 987-5387
Key Features
Fastest Private Jet You Can Charter
Seating for up to 8 Passengers
Built-In Lavatory and Dressing Room
Luxurious Interior Cabin
Citation X 
Photo Gallery
Citation X Pricing, Performance & Specifications
The cost to charter a Cessna Citation X starts at around $6,500 an hour* and will vary based on scheduling, routing, date & time, passengers total, luggage amounts, and other factors. Request a free quote for exact, all-inclusive pricing.
General Details (X+)
Crew: 2 pilots
Capacity: up to 8 passengers
Height: 19 ft 3 in
Length: 73 ft 7 in
Wingspan: 69 ft 2 in
External Baggage: 82 cu ft
MTOW: 36,600 lb
Max Payload: 2,375 lb
Performance Specifications
Max Speed: Mach 0.935 (717 mph; 536 kn; 993 km/h)
Cruise: 607 mph (978 km/h; 528 kn)
Range: 3,460 nmi (6,410 km)
Climb Rate: 3,650 ft/min
Ceiling: 51,000 ft
Runway: 5,280 ft (takeoff); 4,693 ft (landing)
Engines: 2x Rolls-Royce AE3007C2
Thrust: 7,034 lbf (31.29 kN) each
Interior Dimensions
Seats:  8
Cabin Height: 5 ft 7 in
Cabin Width: 5 ft 5 in
Cabin Length: 23 ft 9 in
Cabin Volume: 538 cu ft
Bathroom: Fully Enclosed Lavatory
View the Official Brochure: https://cessna.txtav.com/
Aircraft Details
Aircraft > Super Midsize Jets > Citation X
Although its record has been eclipsed by the improved Citation X+, which raised peak performance from Mach .90 to Mach .935, the Cessna Citation X, also known as the 10, is still faster than any other jet in its class, offering incredible speeds of up to 690 mph, cross-continental range, and transatlantic flight capabilities.
Despite its staggering, record-setting performance, it's also one of the most fuel-efficient midsize jets in the world, and after the aircraft's debut in 1996, Cessna was awarded the prestigious Collier Trophy in honor of its advances in aviation and aerospace technology.
Although it gained a lot of attention for its speed and performance, Cessna didn't neglect the interior, designing a luxurious, comfortable cabin to offer the complete package for business and executive travelers.
Standard seating configurations include eight executive seats (extra-large, extra comfortable seats with full reclining capacity) and a fully equipped galley. A bathroom large enough to double as a dressing room is located at the rear of the private jet and a closet large enough to store garment bags is within reach.
Cessna Citation X For Sale | Buy a Citation 10
Air Charter Advisors can guide you through every step of the process for HNWI's & executive flight groups looking to buy a Cessna Citation 10 or list their Cessna Citation X for sale.
The cost of ownership for the Citation X with 200 hours of flight time carries an annual budget of around $1.1-$1.3 million, including fixed costs of around $500k-$600k, and operating/variable costs of around $615k-$755k. The operating cost for the Citation X comes out to around $3,075-$3,775 an hour.
The updated variant, the Citation X+, debuted with an MSRP of $23.4 million, aggressively priced against its super midsize competitors such as with the Gulfstream G280 listed at $24 million and Bombardier Challenger 350 listed for the $26 million. Today, pre-owned Cessna 750 Citation models are listed with a price of between $2,995,000 and $4,995,000.
Our advisors offers comprehensive services for clients interested in purchasing or selling a new or pre-owned business jet, including access to on and off market aircraft, charter sales, aircraft management and more. Call or email us for more information to buy, sell, or lease a Cessna Citation X.
Popular Flight Requests
Comfortably cruising at speeds of 525 mph and offering a flight range of nearly 3,000 nautical miles, the Citation X can reduce flight times from New York to Los Angeles or Seattle to Miami by as much as 35 minutes compared to other midsize jets.
Comparable Aircraft
Contact a Citation X / 10 Jet Charter Broker
Whether you're searching for bespoke jet charter, interested in acquiring or selling a Citation X, or would like to purchase a jet card for a super mid-size jet such as the Citation 10, our team of Air Charter Advisors is your source for comprehensive aviation services. Call us directly at 1-888-987-5387 or contact us via e-mail with any questions or requests regarding the Cessna Citation 10.
---
* Average hourly rates vary depending on make, model and year; amenities, routing and scheduling/availability, and do not include fuel, taxes, crew charges, ramp, hangar, FBO, overnights, daily minimums, taxes, international fees, catering, ground transport, or de-icing. If you would like an accurate quote, please call or email. Pictures are for example only. The age, color, interior layout, hourly rates, specifications, dimensions may all vary between aircraft. All images copyrighted and provided courtesy of Cessna/Textron Aviation unless noted otherwise.