Fastest Private Jets in the World
Looking to get from here to there in the fastest way possible? Chartering a private jet is the way to go.
Private charter flights allow you to go where you want, when you want. You don't have to arrive at the airport two hours before your flight. You won't have to stand in long security lines and getting frisked by TSA. There's also no baggage claims, or making your way through crowded terminals.
When flying privately, you choose the date & time of your flight; where it departs from, and where it arrives; which airports are used for your flight – all the way to the type of food and drinks are served during your flight.
Private flights also utilize private terminals at both major and smaller airports, offering the most discreet, anonymous, and fastest way to board your aircraft.
There are more than 15,000 private planes out there available to be chartered. Each offers different capabilities, from size, range, and speed, to comfort and amenities onboard. So which private jet will get you to where you need to go the fastest?
Let's take a look at the world's fastest private jets.
Dassault Falcon 900LX
Top Speed – Mach 0.87 
The tri-jet Falcon 900LX is powered by three Honeywell engines, each providing 5,000 pounds of thrust. Once it reaches altitude, the 900LX is capable of reaching a maximum speed of 667 mph, while delivering a range of 4,750 nautical miles. And, like all Falcon models, it doesn't carry any speed limitations in turbulence, meaning you'll enjoy riding at full throttle no matter what you're flying over.
Gulfstream G500
Top Speed – Mach 0.885
The wide-cabin G500 from Gulfstream is powered by twin Rolls Royce engines for a max speed of 679 mph. A variant of the Gulfstream V, it was actually the fastest jet Gulfstream offered, however, the soon to be mentioned G650 eclipsed its MMO (Maximum Mach Operating Speed). Still, the G-500 is an impressive aircraft, available for purchase with a price tag of $43.5 million. The newer G500 (GVII) debuted last year and reaches the same speed as the G650.
Global 5000/6000
Top Speed – Mach 0.89
Next up, we have a pair of private jets from the same platform – the Global 5000 & Global 6000 from Bombardier. Powered by beefy Rolls Royce BR710 turbofans producing more than 14,000 ft/lbs of thrust each, both the 5000 and 6000 can reach max cruise speeds of up to 682 mph. They also offering incredible range, able to fly their model numbers in nautical miles at 5,200 nmi and 6,170 nmi, respectively.
Dassault Falcon 7X
Top Speed – Mach 0.90
One of only two tri-jet aircraft available for charter (the other being the aforementioned Falcon 900), the Falcon 7x from Dassault Aviation offers maximum speeds of up to 690 mph. Dassault also designed this long-range jet to directly compete with Gulfstream and Bombardier, tying nearly any city pair together with a single stop with an impressive range of nearly 6,000 nmi.
Global 7500
Top Speed – Mach 0.925
Bombardier's Global series is known for flying fast and far, and the all-new Global 7500 carries on the tradition. Entering service at the end of 2018, the 7500 is powered by new General Electric Passports, delivering 18,920 lbf of thrust to reach speeds of 710 mph. Bombardier's new flagship long-range business jet also delivers an industry-leading flight range of up to 7,700 nautical miles.
Gulfstream G650
Top Speed – Mach 0.925
One of the most luxurious, renowned, and exclusive private planes in the world, the Gulfstream G650 travels at just over 92% the speed of sound, or 710 mph. However, you won't be bothered by roaring engines at 51,000 feet thanks to a quiet cabin. Also called the G6, this long-range jet carries a range of 7,000 miles, offering quick cross country flights or expedited arrivals overseas.
Cessna Citation X+
Top Speed – Mach 0.935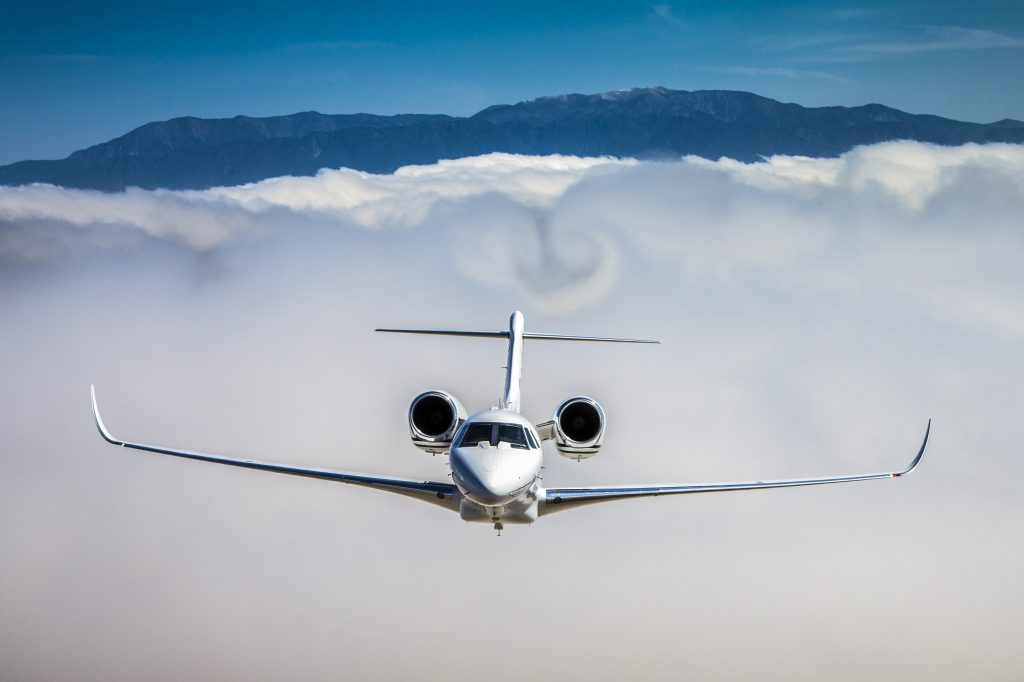 Meet the fastest private plane in the world, and the 3rd fastest civilian aircraft ever produced. – the Cessna Citation X Plus. Based on the previous title holder, the original Citation 10, the X+ bumps the MMO up from Mach 0.92 to 0.935 – that equals to 717 mph, or 1,153 km/h for all you landlubbers. Cessna ended production of their 750 Model in 2018, however, a total of 338 planes were delivered over its 22-year production run (314 X's; 24 X+'s), creating plenty of opportunities to charter one of your next flight.
Honorable Mention
Aerion AS2
Top Speed – Mach 1.6
While not available until a projected date of sometime in 2023, the AS2 is a supersonic business jet currently under development by Aerion. The project has included Airbus, Lockheed Martin, and Boeing, and is powered by three General Electric Affinity engines developed specifically for the AS2, delivering 18,000 lbf (80 kN) thrust each, with a target of 1,227 mph. This 12-passenger supersonic jet will offer a projected range of around 4,750 nautical miles, and costs a cool $120 million.