The gold standard in luxury aviation offers unparalleled speed, style, and comfort.
The Gulfstream G650 is one of the most exclusive private jets in the world. Also known as the G6, this long range jet travels at more than 92 percent the speed of sound, delivers an incredible range of 7,000 nautical miles, and offers a quieter, roomier cabin loaded with advanced technology and adaptability.
Incredible speed, range, and comfort, along with the ability to use most private jet airports and Gulfstream's proven platform & reliability, make the GVI a popular choice for long range private jet charter, corporate/individual aircraft ownership, and military/government applications.
The G650ER (extended range) provides an additional 500 nautical miles of range thanks to Gulfstream's unique aerodynamic improvements, and is the new flagship business jet in the Gulfstream G series.
Air Charter Advisors offers a variety of private jet services on the Gulfstream G650/G650ER, including on-demand and bespoke jet charters, executive flights, and empty legs; jet card memberships, fractional ownership programs, and individual and corporate aviation services including sales & acquisitions, supplemental lift, aircraft management, and charter marketing.
World-class luxury, style, and performance — Gulfstream's flagship aircraft once again stands atop the world of luxury aviation. Call one of our jet charter brokers at 1-888-987-5387 for the latest pricing and availability on G6 plane rentals around the world.
Key Features
The Most Advanced Business Jet in the World
Incredible Range of 7,000+ Nautical Miles
Seating for 19 Passengers; Sleeps up to 10
Outstanding Runway Performance for its Size
One of the Highest Reliability Ratings in the Industry
Photo Gallery
Gulfstream G-650 | Pricing & Performance
Gulfstream G650 hourly charter rates will vary based on factors including model (650/650ER), year of make, flight routing, aircraft scheduling, passenger amounts and more. G650 empty legs may reduce the cost of your flight, although empty leg availability on a G6 is scarce and often booked quickly.
Hourly Charter Rate: $15,000 – $17,500 *
MSRP: $66,610,000 | $68,680,000 (G650ER)
Avg. Cruising Speed: 566 knots (652 mph)
Maximum Speed: 710 mph (0.925 mach)
Maximum Range: 7,000 nautical miles | 7,500 nm (G650ER)
Interior Dimensions
Interior Cabin Height: 6 ft 5 in
Interior Cabin Length: 53 ft 7 in
Interior Cabin Width: 8 ft 6 in
Baggage Capacity: 195 cu ft
Bathroom: Fully Enclosed
Amenities: Full Galley, Divan, Flight Attendant
Wi-Fi Capable: Yes
Aircraft Details
The first Gulfstream G650 private jet was delivered on December 20, 2012, and since then, over 200 Gulfstream G6's have been delivered to billionaires, corporations, and charter companies around the world.
While the majority are based in the United States, G650's are located in almost every corner of the globe, from Russia, Germany, and the UK; to UAE, Saudi Arabia, and Bahrain; to China, Singapore, and New Zealand.
This long range jet competes favorably against the Global Express, Airbus Corporate Jet, and Boeing Business Jets, and it was named the 2014 winner of the Collier Trophy, an annual aviation award given by the U.S. National Aeronautic Association.
Performance
This long range jet provides outstanding speed and performance delivered by Rolls-Royce Deutschland BR725 turbofan engines, producing 16,100 pounds of thrust each.
The engines together with smooth aerodynamic enhancements offer the best in class fuel economy and the smoothest ride, able to flying non-stop from Singapore to Seattle, Los Angeles to Sydney, or Dubai to Miami.
Since this private jet weighs less than 100,000 pounds, utilizing smaller airports is no issue, helping to avoid airport congestion and heavy fees at international hubs.
Like most airliners, aircraft controls are completely fly-by-wire, the second fly-by-wire business jet after the Dassault Falcon 7X. The cockpit also shares its yokes and column with the G550 in an effort to receive a common type rating.
Comfort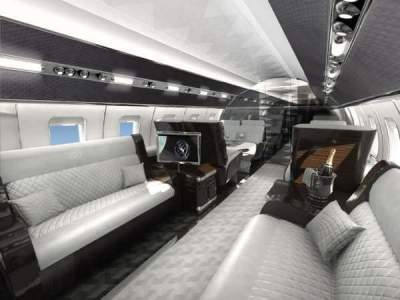 Everyone knows about the G6's stunning exterior, but its cabin provides the ultimate combinations of form and function.
Gulfstream's new cabin design is longer, wider and taller than any other long range jet, allowing for a variety of flexible and creative configurations for productivity, entertainment, and relaxing.
Standard features include digital audio and high-definition video, 26-inch widescreen televisions, 195 cubic feet of luggage capacity, and a variety of connectivity options. Classic Gulfstream oval-shaped windows offer a birds-eye view of the world below, with 16 of them enhance the space of the cabin with natural lighting.
Wide, reclining seats, generous aisle spaces, and a spacious cabin height of 6'5″ and width of 8 1/2 feet allow between 12-19 passengers to travel comfortably, while fold out beds are available to sleep 10.
The G-650 also offers a lower cabin pressure altitude than any business jet and replenishes 100% fresh air every two minutes, allowing you to arrive refreshed and ready for meetings, conferences, and special events.
Additional amenities include a convection oven, over-sized ice containers, and fitted storage for flatware and crystal for meals during long flights; connectivity options include Wi-Fi, multi-channel satellite communications systems, and wireless local networks for in-flight printing and phone service.
Safety
The flight deck contains the Gulfstream PlaneView II, one of the most advanced avionics systems in the world.
Streamlined displays help pilots stay focused while nearing the speed of sound; Cursor Control Devices (CCDs) place a variety of data at your pilot's fingertips; side-mounted cursor controls allow pilots to browse and select data on the multi-function displays.
Enhanced Vision System (EVS) II offers detailed images of airports and surrounding terrain at night and in low-visibility conditions, and pilots can route EVS images to a Head-Up Display (HUD). All of these features help improve information ownership and increase the situational awareness of the flight crew.
Gulfstream G650ER
Extending the range of the world's leading long-range business jet, the Gulfstream G650ER (Extended Range) received certification in 2014, and carries a price tag of $66-68 million.
Maximum takeoff weight is also increased by 4,000 pounds, as well as an equal increase to fuel capacity, capable of flying to 7,5000 nautical miles at Mach 0.85. That enough to cover land distances of 8,600 miles, or 13,900 kilometers. The 650ER's modifications to its fuel system are available to existing G-650 aircraft owners as part of a $2 million retrofit.
Time-Saving Travel
The world becomes incredibly smaller inside a G650, traveling internationally all in a day's work. Enjoy an outstanding non-stop flight range of 7,000 nautical miles with 8 passengers on-board while cruising at speeds of just over 650 mph — compared to other large-cabin business jets, the G6 flies from Los Angeles to London 30 minutes faster, and from New York to Tokyo in an hour's less time. The G650ER extends its range by an additional 500 nautical miles.
Contact Us | Gulfstream G650 Charter, Sales, and Management
Air Charter Advisors is your comprehensive source for both on-demand private aviation services and long-term aircraft marketing and management solutions for your G6.
For hourly charter rates and availability on the G650/G650ER, please submit your request via our contact form, or speak with one of our brokers directly about sales, purchase, and jet card options by calling us 24/7 at +1-888-987-5387 (JETS).
---
* Average hourly rates vary depending on make, model and year; amenities, routing and scheduling/availability, and do not include fuel, taxes, crew charges, ramp, hangar, FBO, overnights, daily minimums, taxes, international fees, catering, ground transport, or de-icing. If you would like an accurate quote, please call or email. Pictures are for example only. The age, color, interior layout, hourly rates, specifications, dimensions may all vary between aircraft. All images copyrighted and provided courtesy of Gulfstream Aerospace.