Premier 1A
Charter a Private Flight on the Beechcraft Premier 1 / 1A
Air Charter Advisors arrange private jet charter services on the Premier 1, a 6 passenger light business jet aircraft manufactured by Hawker Beechcraft designed to compete with the Cessna CitationJet series.
Originally designed by Raytheon in 1994 as their first business jet, the Premier (Model 390) was created to offer a high-performing business jet with low acquisition and operating costs. Production was later taken over by Beechcraft Hawker, and in 2001, it became the first composite fuselage business jet to gain FAA certification.
In 2006, the Premier 1A was certified as the world's largest single-pilot business jet featuring improved avionics and brakes, and a redesigned cabin over the original.
For instant pricing & availability on Premier 1/1As and similar light business jets near you, give us a call at +1 (888) 987-5387 or request a quote for more information.
Key Features
Lightweight, Composite Fuselage
6 Passenger Cabin
Impressive Performance
Low Operational & Charter Costs
Photo Gallery
Pricing, Performance & Specifications
The cost to charter to Beech 390 Premier 1 / 1A starts at around $3,250 an hour* and will vary based on year of make and model; aircraft routing, scheduling, positioning; passenger and baggage totals, and other factors. Please request a free quote for all-inclusive charter costs, and lock in guaranteed rates with a private jet card.
Year of Make: 2001 — 2012
Manufacturer: Hawker Beechcraft
Class: Light Jet
MSRP: $7.1 M (1A 2012); $1.2 to 2.4M (preowned)
Hourly Rate: $3,105 — $4,325*
General Details (1A)
Crew: 1 or 2 (single-pilot certified)
Capacity: up to 6 passengers
Height: 15 ft 4 in
Length: 46 ft
Wingspan: 44 ft 6 in
MTOW: 12,500 lb (5,670 kg)
Max Payload: 1,400 lb (635 kg)
Avionics: Rockwell Collins Pro Line 21
Performance Specifications
Top Speed: 523 mph (454 kn; 841 km/h)
Range: 826 nmi (951 mi; 1,530 km)
Max Range: 1,485 nmi (1,709 mi; 2,750 km)
Typical Range: 900 nm
Climb Rate: 4,000 ft/min
Ceiling: 41,000 ft (12,500 m)
Runway: 4,650 ft (takeoff); 3,177 ft (landing)
Engines: 2x Williams FJ44-2A
Thrust: 2,300 lbf (10.23 kN) each
Interior Dimensions
Seats: 6
Cabin Height: 5 ft 6 in
Cabin Width: 5 ft 5 in
Cabin Length: 13 ft 6 in
Cabin Volume: 285 cu ft
Internal Baggage: 23 cu ft
Bathroom: Private Aft Lavatory
More Photos and Information | Beechjet Premier I / IA
The Premier I was designed by Raytheon/Hawker to be a unique business jet, utilizing an advanced lightweight fuselage (graphite/epoxy laminate and honeycomb composite), rather than an aluminum airframe.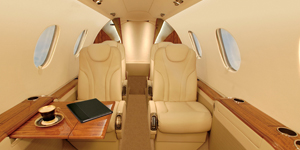 This weight reduction provides exceptional fuel efficiency, and the swept wings, originally designed by Raytheon, minimizes drag while increasing speed and high-altitude performance.
The composite design also creates a huge cabin (315 cubic feet) that can accommodate up to 6 passengers with 4 fully-adjustable club seats and two fixed seats in the rear of the cabin. A combined total of 77 cubic feet of storage is available between the interior and exterior, and twin Williams FJ44-2A engines make sure this light jet is as fast as it is comfortable.
The Premier IA debuted in 2008 and is essentially the same aircraft as the original, with upgrades to the avionics systems, brakes, and cabin.
A total of 292 were built during its 12-year production run with 163 Premier IA models built during its 5 years on the market. The price to acquire a pre-owned model ranges from $1 million to $2.4 million.
Purchase a Premier I/IA
Air Charter Advisors offers private jet acquisition services for individuals and business team interested in purchasing a Beechcraft Premier 1/1A. This light jet from Raytheon/Hawker Beechcraft debuted in 2001, enjoying an 11 year production run which included the Premier IA.
With 200 hours of flight time, the Premier 1/1A cost of ownership carries an annual budget of $692k, with fixed costs accounting for $473k and operating/variable costs around $219k. The operational cost for the Premier 1/1A comes out to around $1,250-$1,450 per hour, or approximately $7.15 per mile.
Pre-owned models from 2003 to 2011 are typically priced at between $1.25 million and $2.5 million. Our team offers access to used aircraft both on and off the market. Give us a call or request more information to buy a Beechcraft Premier 1.
Beechcraft Premier 1/1A Jet Charter Services
Our brokers offer a variety of private jet charter services on the Premier 1/1A, including on-demand flights, jet cards, fractional/individual ownership, and more. Call our advisors at +1 (888) 987-JETS (5387)or request a free quote for more information.
---
* Average hourly rates vary depending on make, model and year; amenities, routing and scheduling/availability, and do not include fuel, taxes, crew charges, ramp, hangar, FBO, overnights, daily minimums, taxes, international fees, catering, ground transport, or de-icing. If you would like an accurate quote, please call or email. Pictures are for example only. The age, color, interior layout, hourly rates, specifications, dimensions may all vary between aircraft. All images copyrighted and provided courtesy of Hawker Beechcraft / Textron Aviation.