Citation M2
Charter a Private Flight on the Citation M2
Charter the Cessna Citation M2, the modernized version of the Model 525 CitationJet (CJ1) and successor of the Citation Mustang very light jet.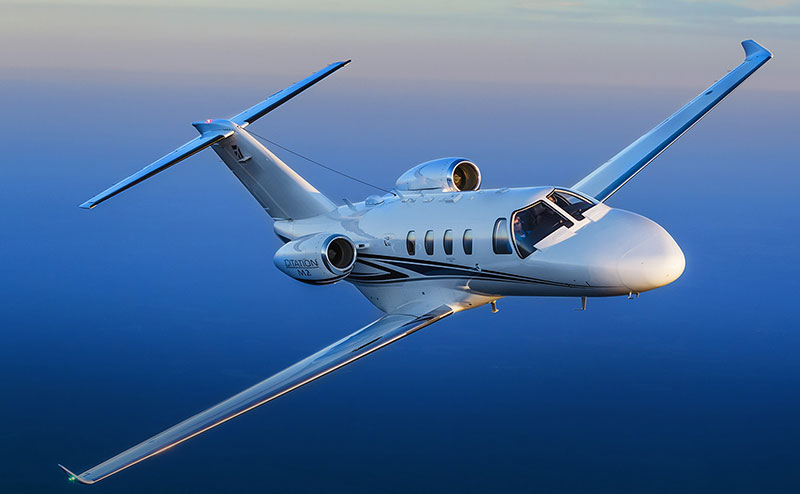 The M2 offers 10 to 15% more thrust during cruise and up to 5% more hot-and-high thrust over the original CJ thanks upgraded William FJ44 engines. The flight deck has been modernized to, replacing the Rockwell Collins Pro Line 21 with Garmin G3000 avionics.
Air Charter Advisors offers instant access to Citation M2's and similar very light jets at local airports in your area. Give us a call anytime, anywhere at +1 (888) 987-5387 for availability and hourly charter rates on the Cessna Citation M2.
Key Features
Superb Range for a VLJ
6 Passenger Cabin
Outstanding Short Runway Capabilities
Built-in Lav Seat
Citation M2 Photo Gallery
Citation M2 Pricing, Performance, & Specifications
The cost to charter a Cessna Citation M2 starts at around $2,500 an hour*. The hourly rates will vary based on aircraft routing, scheduling, positioning, and other factors. Please call one of our advisors or request a quote for all-inclusive pricing. We can also assist with those interested in buying a pre-owned or new Citation M2.
Year of Make: 2013 –
Manufacturer: Cessna
Class: Very Light Jet
MSRP: $4.7 million
Hourly Rate: $2,300 – $3,250*
General Specifications
Crew: 1-2 (single pilot certified)
Capacity: 4-5 passengers
Length: 42 ft 7 in (12.98 m)
Height: 13 ft 11 in (4.24 m)
Wingspan: 47 ft 3 in (14.40 m)
Wing Area: 240 sq ft (22.3 sq m)
Max Takeoff Weight: 10,700 lbs
Max Payload: 1,410 lbs
Performance
Max Cruise Speed: 404 ktas (748 km/h)
Max Speed: 0.71 Mach (0.71 Mach)
Range: 1,550 nm (2,871 km)
Service Ceiling: 41,000 ft (12,497 m)
Climb Rate: 3,698 ft/min
Runway: 3,210 ft (takeoff); 2,590 ft (landing)
Engines: Williams International FJ44-1AP-21
Thrust: 1,965 lb (8.74 kN) each
Avionics: Garmin G3000
Interior Dimensions
Seats: 5
Cabin Height: 4 ft 9 in
Cabin Width: 4 ft 9 in
Cabin Length: 13 ft 1 in
Cabin Volume: 318 cu ft
Baggage Capacity: 46 cu ft
Bathroom: 
Aircraft Details
Designed as a replacement for the incredibly successful Citation 510 Mustang, the Cessna Citation M2 is technically considered an entry level jet, although there isn't much 'entry-level' about it – the M2 offers some of the highest speeds and one of the largest maximum ranges in its class.
Just like with automobile preferences, there are a lot of Mustang fans in private aviation. If you've enjoyed chartering the Cessna 510 Mustang in the past, then you'll love the M2. It offers many of the same benefits in a newer, more spacious interior.
In fact, the Citation M2 is actually $800,000 cheaper than the Mustang. There have been more than 150 produced since its introduction in 2013, and has filled entry-level void left after Mustang production ceased in mid-2017.
Even if you're a first time charter passenger, the Cessna Citation M2 is an ideal charter jet for individuals and small groups looking for outstanding comfort out of a light jet.
Cabin
Although the cabin of the M2 can accommodate up to 6 passengers, it's comfort is optimized for 4 or 5 people. The 11 foot long cabin was designed to maximize space throughout the interior, with 4 large leather club seats and an additional seat in most layouts, and 8 large windows illuminating the cabin.
The M2 Citation also features a belted lavatory seat, fold-away tables, fully adjustable seats, and Clarity Wireless, Cessna's connectivity system for the Citation family, which provides Wi-Fi to keep you entertained or productive while you fly.
Performance
The design of the M2 incorporates an aluminum frame with optimized aerodynamics, and two Williams FJ44-1AP-21 engines, reaching speed of up to each speeds of 400 knots while offering a maximum of up to 1,550 nautical miles.
Private flights carrying 4 passengers and two pilots offers a range of just over 1,050 nmi, making it an ideal charter jet to connect Miami and New York, Seattle and Denver, or Las Vegas to anywhere across the United States.
The cockpit of the M2 is equipped with the Garmin G3000 avionics suite, with touchscreen technology that provides precise and ergonomic controls for a smoother, more efficient flight experience.
Purchase a Cessna Citation M2
Air Charter Advisors can assist with private jet sales & acquisitions for individuals and corporate groups interested in purchasing a Cessna Citation M2. This VLJ debuted in 2015 as the successor to the Citation Mustang, carrying an MSRP of around $4.7 million to $4.9 million USD. Pre-owned models go for just over $3 million on average.
When flying 200 hours annually, the cost of ownership includes an annual budget of $456k, with fixed costs around $208k and variable costs of $248k. The cost to operate the Citation M2 is around $1,250-$1,300 per hour.
Our team offers assistance with pre-owned aircraft sales & acquisitions through our network of pre-qualified buyers, with access to aircraft both on and off market. Contact our brokers for more information about buying or selling a Cessna Citation M2.
Cessna Citation M2 Jet Charter Services and Jet Cards
Air Charter Advisors is your source for private jet charter services and jet card memberships on the Citation M2 very light jet. We can also assist with sales & acquisitions for individuals and business groups looking to purchase a Citation M2. Call us directly at 1-888-987-5387 or contact us via e-mail with any questions or requests regarding your private aviation.
---
* Average hourly rates vary depending on make, model and year; amenities, routing and scheduling/availability, and do not include fuel, taxes, crew charges, ramp, hangar, FBO, overnights, daily minimums, taxes, international fees, catering, ground transport, or de-icing. If you would like an accurate quote, please call or email. Pictures are for example only. The age, color, interior layout, hourly rates, specifications, dimensions may all vary between aircraft. All images copyrighted and provided courtesy of Cessna/Textron Aviation unless noted otherwise.