Dassault Falcon 8x
Charter the Dassault Falcon 8x Long Range Jet
The Dassault Falcon 8x was announced during EBACE 2014 in Geneva, Switzerland as the newest aircraft in the Falcon family of long-range jets, allowing executive and luxury travelers to fly farther in greater comfort and with even more efficiency.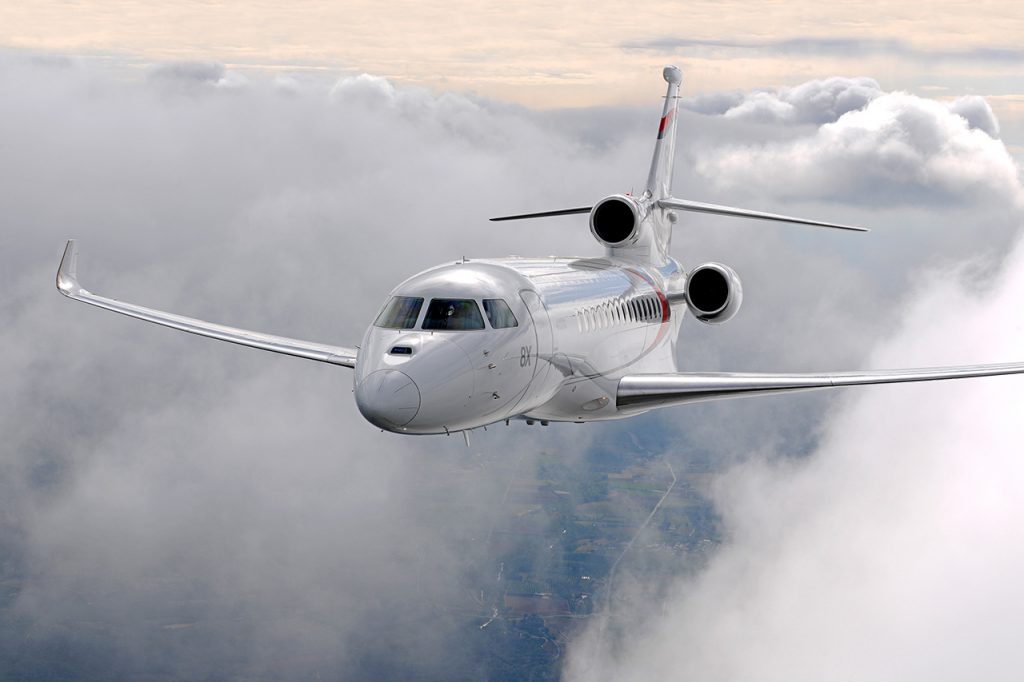 This large-cabin, long-range, triple-engine business jet from French aerospace manufacturer Dassault Aviation is an improvement upon the already popular 7x, extending the aircraft's maximum range by 500 nautical miles to 6,450 nm thanks to modified engines, aerodynamic improvements, and increased fuel capacity.
The cabin is the longest of all Falcon aircraft, and Dassault's Falcon 8x is designed to meet your exact requirements with the most flexible, customizable cabin in the industry, offering more than 30 unique configurations for private jet travelers and corporate flight departments. Call ACA at 1-888-987-5387 to learn more about chartering a Falcon 8x.
Key Features
Seating for up to 18 Passengers
High Speed and Incredible Non-Stop Range
Short Runway Operations
Superior Cabin Comfort
Photo Gallery
Falcon 8x Pricing, Performance & Specifications
The cost to charter a Falcon 8x starts at around $14,000 an hour*. The hourly charter rates will vary based on a variety of factors including scheduling, routing, date & time, passengers total, luggage amounts, and more. Request a free quote or call us directly for all-inclusive pricing.
Year of Make: 2016 —
Manufacturer: Dassault
Class: Long Range Jet
MSRP: $59,300,000
Hourly Rate: $13,800 – $15,500*
General Details
Crew: 2 pilots + 1 crew
Capacity: 12 to 16 Passengers
Height: 26 ft 1 in
Length: 80 ft 3 in
Wingspan: 86 ft 3 in
MTOW: 73,000 lb
Max Payload: 4,900 lb
Avionics: EASy III Flight Deck
Performance Specifications
Max Speed: Mach 0.90 (690 mph; 600 kts; 1,111 km/h)
Cruise: Mach 0.8 (459 kn; 850 km/h)
Range: 6,450 nmi
Ceiling: 51,000 ft
Climb Rate: 2,055 ft/min
Runway: 6,000 ft (takeoff); 2,150 ft (landing)
Engines: 3x Pratt & Whitney Canada PW307D
Thrust: 6,722 lb (29.9 kN) each
Interior Dimensions
Seats: 8 + 2 divans
Cabin Height: 6 ft 2 in
Cabin Width: 7 ft 8 in
Cabin Length: 42 ft 8 in
Cabin Volume: 1,695 cu ft
Internal Baggage: 140 cu ft
Bathroom: Fully Enclosed Lav
Visit the Official Website: https://www.dassaultfalcon.com/en/Aircraft/Models/8X/
Aircraft Details
Whether you're flying for business or for pleasure, the Falcon 8x offers an incredibly comfortable ride, with high air quality and low noise and cabin altitude.
Two bathrooms, a galley area, and a spacious mid-cabin storage area offer passengers an extremely comfortable flight, seating can also be converted into 5 flatbeds for long-distance flights, and passengers can bring plenty on board with a 1,695 cubic foot baggage capacity.
Many Falcon 8x planes are equipped with the FalconCabin HD+, a cabin management system that allows passengers to control their entertainment and productivity from anywhere in the cabin using their own devices.
The 8x is also a great choice for corporate flight departments and executive travelers, with direct operating costs as much as 35% lower compared to other planes in its class.
Improvements to wing design and upgraded Pratt & Whitney Canada PW300 engines result in performance with up to 35% more fuel efficiency than competing jets, and, with its optimized airliner-type MSG-3 maintenance program, inspections are due at 800 hours or 12 months, helping to maximize the operations of your private business aircraft.
Buy or Sell a Dassault Falcon 8x
Air Charter Advisors offers comprehensive private jet services for personal and business travel, including sales & acquisition services for individuals and corporate flight departments interested in buying or selling a Dassault Falcon 8x.
The cost of ownership for the Falcon 8x over the course of 200 flight hours per year carries an annual budget of around $1.4 million, including fixed costs of around $660k-$750k, and operating/variable costs of around $750k-$800k. The operating cost for the Falcon 8x comes out to around $3,750-$3,800 an hour.
The 8x's cost per hour is substantially lower than Gulfstream and Global Express long range jets, with costs similar to Falcon 7x and the Embraer Legacy 600/650 midsize jet.
A new Dassault Falcon 8x is available with a price tag starting at $58 million USD, with limited availability in the pre-owned market starting at around $39 million. Our advisors offer access to new and used aircraft, including on and off market private jets. We also offer aircraft management and charter sales for new aircraft owners. Give us a call or email us for more information to buy or sell a Dassault Falcon 8x.
Popular Flight Requests
Not only does the 8x offer impressive range and performance for intercontinental flights, but its triple-engine performance also allows for takeoffs utilizing surprisingly short runways; it's the only ultra-long-range business jet that can depart London City Airport using its diminutive 3,934-foot runway.
Falcon 8x Jet Charter Services | Request a FREE Quote
Whether you're in the market for on-demand private jet charter, interested in purchasing a Dassault Falcon 8x ultra long-range jet, or require a jet card on a comparable aircraft, our team of Air Charter Advisors are here to assist with all aspects of your private aviation. Call us directly at 1-888-987-5387 or contact us via e-mail with any questions or requests regarding the Falcon 8x.
---
* Average hourly rates vary depending on make, model and year; amenities, routing and scheduling/availability, and do not include fuel, taxes, crew charges, ramp, hangar, FBO, overnights, daily minimums, taxes, international fees, catering, ground transport, or de-icing. If you would like an accurate quote, please call or email. Pictures are for example only. The age, color, interior layout, hourly rates, specifications, dimensions may all vary between aircraft. All images copyrighted and provided courtesy of Dassault Aviation unless otherwise noted.