Private Jet Charter Kansas City
Private Flights to Kansas City, Missouri
Charter a private flight with our Kansas City Air Charter team, your comprehensive private aviation service for jet rentals and helicopter charters in Missouri.
Hiring a private jet is the most luxurious way to travel to Kansas City, and there are 10 major airports within 30 miles offering plenty of arrival/departure options for private jets.
Kansas City Air Charter Advisors
Air Charter Advisors offers on-demand private air charter service to/from Kansas City, and with access to thousands of private aircraft around the world, we're confident we can arrange the right aircraft for your trip, whether you're flying for business or leisure, both internationally and domestically.
Wyvern-certified, our aviation team maintains some of the most stringent safety standards in the industry. All of the private aircraft we use for charter flights are operated by FAR Part 135 (or foreign equivalent) air carriers, and our transparent booking service will ensure you get exactly what you expect on flight day.
Give us a call or request a quote for your charter flight to Kansas City, Missouri. Our team can assist with all of your private aviation needs, from booking your private jet to arranging gourmet in-flight catering or meeting any other requests you may have – consider our Kansas City Jet Charter service your one-stop shop for all things private aviation in the Midwest.
---
Airports for Private Charter Flights to Kansas City
Choose between any of the following airports when arranging your private charter flight to/from Kansas City. All of the airports listed are within 20 miles of the city center. Many of the regional and municipal airports offer potential savings compared to larger airports, and allow clients to arrive closer to their destination.
(KMKC, MKC) Charles B. Wheeler Downtown Airport – Kansas City, MO
Longest Runway: 6,827 feet
(KMCI, MCI) Kansas City International Airport – Kansas City, MO
Longest Runway: 10,801 feet
(KLXT, LXT) Lee's Summit Municipal Airport – Lee's Summit, MO
Longest Runway: 4,016 feet
(KOJC, OJC) Johnson County Executive Airport – Olathe, KS
Longest Runway: 4,098 feet
(K3GV) East Kansas City Airport – Grain Valley, MO
Longest Runway: 4,507 feet
---
Visit Kansas City | Private Jet to Missouri
Destinations > United States > Missouri
Kansas City is a major midwestern city bordering the states of Missouri and Kansas, with downtown located along the confluence of the Kansas and Missouri rivers.
Most of the city lies in Jackson County, and its famous for its variety of neighborhoods and districts, as well as its delicious barbecue scene. It's also a hidden mid-American beauty; not many people are aware that Kansas City has more boulevards than Paris, and more fountains than Rome.
If you live in or around Kansas City, our on-demand air charter service is available to you 24 hours a day, 7 days a week with quick response times and competitive charter rates.
Whether you prefer leaving from (KMKC) Kansas City International Airport, or an airport closer to home, our team is standing by and ready to help.
Attractions & Activities
Charter a private flight to Kansas City and enjoy some iconic Midwestern lifestyle with a metropolitan backdrop. A very jazzy place, the whole area exudes a sense of "it'll get done when it gets done", and visitors love it.
A drive through the interior accents the hills, outcroppings, and lack of traffic that locals and visitors enjoy. A stroll through the downtown makes you realize just how deeply jazz is ingrained in the local culture. And a search for the perfect coffee shop lets you know that big chains haven't the hold on KC that they have on New York and San Diego; the small entrepreneur still wins in this city.
So, whether you're looking for a second property in a relaxing town, have business in the area, or need a weekend getaway with the family, Kansas City is a great location. And the best way to get there is by chartering a luxury jet for a private flight.
If you're looking for something more exciting after your private flight, then Oceans of Fun waterpark has enough thrill rides to keep you soaking wet and hollering for more all day; it's also the perfect place to bring the kids.
Are you heading to the city for business, but don't want to end up going straight home after a long day? Don't worry, there are enough bars to ensure that you find one similar to your local haunt. Fans of craft cocktails can slide into a booth at Julep while beer lovers take their seats in the ever-popular Boulevard Brewing Co. Tantalize your senses with Julep's "London Calling" vodka soda, or toss back Boulevard Brewin Company's refreshing KC Pilsner.
Whatever you decide to do while you're there, whether it's outdoorsy fun or a pub crawl through downtown, Kansas City Jet Charter can make your trip there as comfortable and relaxing as possible. Available 24/7, our jet charter brokers can arrange multiple aspects of your trip. Request a quote or call to arrange your private charter flight to Kansas City, Missouri.
Arrowhead Stadium
1 Arrowhead Dr
(816) 920-9300
http://www.chiefs.com/arrowhead/
Kauffman Stadium
1 Royal Way
(816) 921-8000
http://kansascity.royals.mlb.com/kc/ballpark/index.jsp
National World War I Museum and Memorial
100 West 26th Street
816-888-8100
https://www.theworldwar.org/
Nelson-Atkins Museum of Art
4525 Oak Street
816-751-1278
http://www.nelson-atkins.org/
Arabia Steamboat Museum
400 Grand Boulevard
816-471-1856
http://1856.com/
Liberty Memorial
100 West 26th Street
(816) 888-8100
https://www.theworldwar.org/
Oceans of Fun
4545 Worlds of Fun Avenue
(816) 454-4545
https://www.worldsoffun.com/
Kansas City Zoo
6800 Zoo Drive
(816) 595-1234
https://www.kansascityzoo.org/
Boulevard Brewing Co
2501 Southwest Boulevard
(816) 474-7095
http://www.boulevard.com/
18th and Vine-Downtown East
Internationally recognized as the modern day cradle of jazz music. A stroll through this historic area will expose you to jazz in its truest form.
https://en.wikipedia.org/18th-and-Vine-Downtown/
Kauffman Center for the Performing Arts
1601 Broadway
816-994-7200
http://www.kauffmancenter.org/
Q39
1000 West 39th Street
816-255-3753
https://q39kc.com/
Culture in KC
From world class jazz clubs and barbecue to a relaxing atmosphere set to gorgeous surrounding, there are plenty of reasons to fly private jet charter to Kansas City.
Its nature as a city comes from a rather calm history that's allowed it the chance to grow and expand at a steady pace. You'll notice that many of the original buildings, constructed as early as 1830, are still standing. Each neighborhood maintains a historic vibe while offering their own flavor to visitors.
The people are friendly, and family's thrive among the quaint charm of the city's suburbs. However, its calm and relaxed vibe will never hinder a good time or a night out. There are tons of things to do whether you're a morning person or a night owl.
If you land early and feel like taking in the sites, there are tons of nature preserves to trek and museums to peruse. Spend the better part of your day walking through history at the National World War I Museum and Memorial, or follow your eyes through the visual delicacies that await you in the Nelson-Atkins Museum of Art.
Executive Charter Flights
Air Charter Advisors offers clients a wide variety sleek and efficient business aircraft. We have years of experience working with a wide range of clientele, providing exceptional service to heads of state, celebrities, and top business executives. If you're planning on flying private to the Kansas City area, our private jet charter brokers can arrange the perfect flight for your needs with our direct access to thousands of luxury private jets and aircraft.
Efficient light jets such as a Phenom 300 are ideal for departures from smaller airports in the region, especially at popular business jet hubs such as (KMKC) Charles B. Wheeler Airport, (KGPH) Midwest National Air Center, (KIXD) New Century Air Center or the (KOJC) Johnson County Executive Airport. When departing from these local airports, private jets can reach a variety of major cities in under 2 hours, including Denver, Minneapolis, Indianapolis, Atlanta, Dallas and Houston.
Our private travel and luxury concierge services give you the flexibility and the tools make the most out of your charter flight. The most requested aircraft choices for private jet charter service to/from Ontario include light jets (Learjet 35, Cessna Citation II), midsize jets (Hawker 700/750XP, Cessna Citation III), and long-range jets (Challenger 605, Falcon 2000).
No matter which aircraft type you prefer, our friendly private aviation agents will be available to you 24/7 to help plan your upcoming executive charter flight to Kansas City, Missouri. Our team will look into available empty legs and potential one-way routing to offer the most competitive quotes possible.
Corporate Charter Flights
Many of the companies we've worked with have a fleet of corporate jets, and they call our team when their aircraft experiences a mechanical issue on the ramp. We've even helped private aircraft owners and charter operators fulfill their aircraft and flight needs.
If your aircraft is grounded, or you need to arrange simultaneous trips for your business executives and require an aircraft with added range or capabilities, we can arrange a supplemental lift to Kansas City in as little as 4 to 6 hours. Air Charter Advisors also offers unlimited quotes with zero obligations – fractional owners and jet card members can compare us to their current plan before reserving hours for their next flight!
Luxury Hotels
No stranger to business professionals and vacationing visitors, Kansas City is well equipped to ensure your comfort throughout your visit. Private flyers have the pick of the litter when it comes to lodging options in the area. Boutique B&B's, lavish luxury resorts, contemporary business hotels; you name it and KC's got it.
For a business trip, it's hard to go wrong with one of The Westin's best loved locations right in the center of the city. Finished with your work for the day? The Westin's H Bar makes it easy to kick back with a cocktail and forget the stresses of the day.
A weekend with the significant other? Look no further than the Hawthorne B&B. This charming historic mansion boasts a quaintly designed interior with no shortage of European influences, while honoring its antebellum roots. Its atmosphere is stately yet homely, and will have you in relaxation mode the minute you walk through the front door.
These are just a few of the many options available, so whether you're visiting family or just passing through, you'll have no problem finding the perfect place for you. However, with this many options, picking that right one can get a little bit tricky. Using our experience in the luxury private travel industry, we've compiled a list of the best hotels in the area for private jet travelers. Based on Kansas City Jet Charter customer feedback, online reviews, and amenities offered, this list is sure to have a hotel that tickles your fancy.
The Westin Crown Center
1 East Pershing Road
(816) 474-4400
http://www.westincrowncenterkansascity.com/
The Fontaine
901 West 48th Place
(816) 753-8800
http://www.thefontainehotel.com/
Intercontinental At The Plaza
401 Ward Parkway
(816) 756-1500
http://www.kansascityic.com/
Hotel Phillips
106 W 12th Street
(816) 221-7000
http://www.hotelphillips.com/
The Raphael Hotel
325 Ward Parkway
(816) 756-3800
http://www.raphaelkc.com/
Southmoreland on the Plaza
116 East 46th Street
(816) 531-7979
http://www.southmoreland.com/
Hawthorn, A Bed and Breakfast
1 Hawthorne Place
(816) 252-2607
http://www.hawthornbb.com/
Jefferson House Bed and Breakfast
1728 Jefferson Street
(816) 673-6291
http://jeffersonhousekc.com/
Main Street Inn
504 Main Street
(816) 272-9750
http://www.mainstreetinnparkville.com/
Loose Mansion
101 East Armour Boulevard
(816) 960-6501
http://www.loosemansion.com/
---
Private Airport for Charter Flights to Kansas City
Arrange your KC private jet charter flight on any of the following aircraft, all operated by FAR Part 135 operators (or foreign equivalent). We review third-party safety audits before arranging every plane and pilot, giving you peace of mind working with a charter broker you can trust.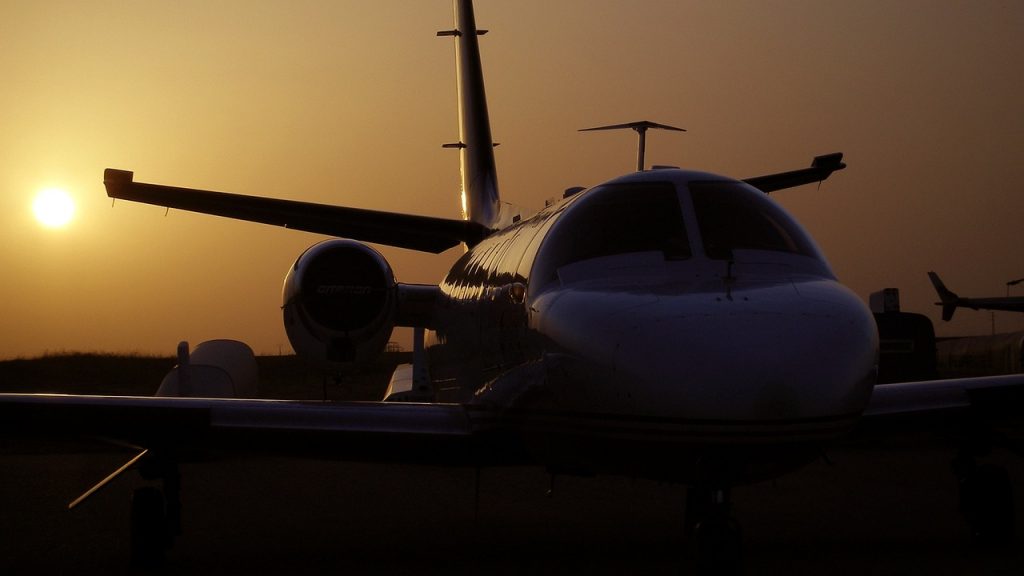 Each plane is designed to perform specific missions, and depending on your trip, different aircraft may or may not make sense. Speak with your broker about the private aircraft options for your charter flight, and let us know if you don't see your preferred make/model plane listed below.
Piston | Turbo Props
Beech Baron 58
Cessna 340
Cessna Conquest II
Cessna Grand Caravan
Cessna Stationair
Cirrus SR-22
King Air 90
King Air 100
King Air 200
King Air 250
King Air 300
King Air 350
Piaggio Avanti II
Pilatus PC-12
Piper Cheyenne
Piper Malibu
Piper Matrix
Piper Meridian
Piper Navajo Chieftain
Piper Seneca
View all Pistons and Turbo-Props
VLJ | Light Jets | Super Light
Beechjet 400 / 400A
Cessna Citation Bravo
Cessna Citation CJ
Citation CJ2 / CJ2+
Citation CJ3 / CJ3+
Citation CJ4 / CJ4+
Citation Encore
Citation M2
Citation Mustang
Citation Ultra
Eclipse 500
Hawker 400XP
Honda Jet
Lear Jet 31 / 31A
Lear 35 / 35A
Lear 40 / 40XR
Lear 45 / 45XR (SLJ)
Nextant 400XT
Phenom 100
Phenom 300 (SLJ)
View all VLJ | Light Jets | Super Light
Mid-Size | Super-Mid Size Jets
Citation Excel / XLS
Citation Sovereign
Citation X (10)
Challenger 300 / 350
Falcon 50 / 50EX
Gulfstream G150 / G200 / G280
Hawker 700
Hawker 800 / 800A / 800XP / 850XPi
Hawker 900 / 900XP
Hawker 1000 / 4000
Lear Jet 55
Lear 60 / 60XR
Legacy 500
View all Mid-Size and Super Mid-Size Jets 
Large | Heavy Jets
Challenger 601
Challenger 604 | 605
Challenger 850
Embraer Lineage 1000
Falcon 900 / LX
Falcon 2000 / EX / LX / LXS
Global 5000
Gulfstream G450
Gulfstream GIV / G4
Gulfstream GIV-SP / G4 SP
Lear 70 /75 
Legacy 600
Legacy 650
View all Heavy | Large Jets
Ultra-Long Range Jets
Falcon 5X
Falcon 7X
Falcon 8X
Global Express / XRS
Global 6000
Global 7000
Global 8000
Gulfstream GV / G5
Gulfstream G550
Gulfstream G600
Gulfstream G650 / ER
View all Long Range Jets
VIP Jumbo Jet Airliners
Airbus ACJ-318 Elite Corporate Jet
Airbus ACJ-319 VIP
Airbus ACJ-320 VIP
Airbus ACJ-321 VIP
Boeing Business Jet BBJ / BBJ2 / BBJ3
Boeing B-727 VIP
Boeing B-737 VIP
Boeing B-747 VIP
Boeing B-757 VIP
Boeing B-787 Dreamliner VIP
Bombardier CRJ-200
View all VIP Corporate Airliners
---
Additional Airports
These airports are located 20+ miles outside of Kansas City, allowing clients to depart/arrive closer to their hometown.
(KGPH, GPH) Midwest National Air Center – Mosby, MO
Longest Runway: 5,504 feet
(KIXD, IXD) New Century AirCenter Airport – Gardner, KS
Longest Runway: 7,339 feet
(KFLV, FLV) Sherman Army Airfield – Fort Leavenworth, KS
Longest Runway: 5,318 feet
(K34) Gardner Municipal General Airport – Gardner, KS
Longest Runway: 3,237 feet
(KLWC, LWC) Lawrence Municipal Airport – Lawrence, KS
Longest Runway: 5,700 feet
---
Request a Kansas City Jet Charter Quote
Request a Quote or give us a call at 1-888-987-5387 to speak with one of our Kansas City Private Jet Charter agents for your next luxury vacation, business trip, or special event.
Air Charter Advisors can help arrange the right aircraft and flight itinerary that best suit your needs. We believe in providing private flyers with a one-on-one consultative service experience that exceeds every expectation. Your time, privacy, flight preferences and most of all, safety, are all extremely important to us.
Our Kansas City Air Charter Service representatives are available for you by phone and email 24 hours a day, 7 days a week, and when using our private jet charter service, you can expect quick response times and an easy, hassle-free booking process.
Our jet charter representatives can arrange everything from multi-leg private flights with in-flight catering to luxury ground transportation and private helicopter lifts – whatever makes your trip the best yet. Request a quote or call us to arrange your private flight to Kansas City, Missouri.