Private Jet Charter Knoxville
Private Flights to Knoxville, TN
Charter a private jet and fly to Knoxville, a city on the Tennessee River in eastern Tennessee, and the seat of Knox County.
Whether you're chartering a private business jet to McGhee Tyson Airport (TYG) to conduct business within Knox County, or turboprop to Knoxville Downtown Island Airport (DKX) to enjoy the city's vibrant downtown area and great outdoors activities, we can help arrange the right aircraft and flight itinerary that best suit your needs.
Air Charter Advisors arranges private jet charter service to/from any destination around the world with instant access to a global fleet of private planes, connecting you to the right aircraft at the right cost. We offer the highest levels of service in private aviation, along with no-obligation quotes and competitive rates on every flight.
Knoxville Air Charter Advisors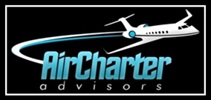 Safety is our top priority when arranging a private flight to Knoxville for you, your family, and your friends. Every plane we utilize is operated by Part 135 or 121 (or foreign equivalent) air carriers, and many of them are Wyvern Wingman/ARGUS platinum. We also use two veteran pilots, and never cut costs by using recent flight school graduates. We also review third-party safety and maintenance audits to eliminate aircraft that don't meet our criteria.
Provide us with the details of your trip, and we'll match you to the best aircraft options available, including one-way routing and potential empty leg charter flights. Once you're booked, we'll be available every step of the way, following your flight until you arrive safely at your destination. upon arrival, we can arrange for a variety of luxury concierge services including ground transportation, helicopter charters, yacht rentals and more.
Our private aviation services extend around the world, and our team can be reached 24 hours a day, 7 days a week no matter where you're flying to or from. We specialize in private medical air transportation, executive jet rentals, air cargo, jet card memberships, empty leg private jets, aircraft management, and airliner rentals for large groups.
Call us for a free, no commitment quote at 1-888-987-5387 or e-mail us with your trip details or any questions and book your charter flight to Knoxville, Tennessee.
---
Airports for Private Charter Flights to/from Knoxville, TN
Clients chartering a private jet can arrive in Knoxville using (KTYS) McGhee Tyson Airport, featuring a private terminal and a long runway to accommodate any private jet. Turboprops and pistons can opt to arrive/depart using (KDKX) Knoxville Downtown Island Airport, centrally located just 4 miles from the city center. Gatlinburg-Pigeon Forge (GKT) is available for any plane looking to arrive 30 minutes southeast in the city of Sevierville, TN.
(KDKX, DKX) Knoxville Downtown Island Airport – Knoxville, Tennessee
Runway: 3,499 feet | Distance: 4 miles
(KTYS, TYS) McGhee Tyson Airport – Knoxville, Tennessee
Runway: 8,997 feet | Distance: 14 miles | FBO: Tac Air
(KGKT, GKT) Gatlinburg–Pigeon Forge Airport – Sevierville, Tennessee
Runway: 5,506 feet | Distance: 20 miles
Visit Knoxville | Private Jet to Tennessee
Destinations > United States > Tennessee
Travelers to Knoxville can enjoy a wide variety of architecture, from early settlements and antebellum Americana to civil war sites and industrial era buildings.
Knoxville was once a major wholesaling and manufacturing center. After the textile industry collapsed to foreign competition during the 1950s, the city switched focus to a service based economy, which served it well over the coming decades.
The nation's largest public power provider, the Tennessee Valley Authority (TVA), is a federally owned corporation headquartered in Knoxville. Movie theater chain Regal Entertainment Group is also based in Knoxville, the only Fortune 1000 company headquartered in the area.
That doesn't bother the private sector, though, who continues to thrive in a variety of industries. Two of the biggest private players in the local economy are Pilot Flying J, the country's largest truck stop chain and sixth largest private company, and the H. T. Hackney Company, the country's fourth-largest wholesale grocer.
---
Private Aircraft for Knoxville Charter Flights
When you book your private flight to Knoxville with ACA, you'll enjoy access to any of the following private jets, turboprops, pistons, and airliners. You can also enjoy zero-commitment quotes with competitive rates on all your flights, and a hassle-free booking process.
Private planes are designed to perform different missions based on distance, fuel, passenger amounts and more. Having an Air Charter Advisor working on your Knoxville charter flight removes any guesswork, connecting you to the best planes for your trip. If you don't see you preferred plane listed here, speak with one of our brokers.
---
Additional Airports
There are a variety of additional airport located between 20 and 40 miles outside of Knoxville, TN. Ask your broker about the options available for your charter flight to eastern Tennessee.
(KJAU, JAU) Campbell County Airport, Jacksboro – Tennessee
Longest Runway: 4,000 feet | Distance: 23 miles
(KMOR, MOR) Morristown Regional Airport, Morristown – Tennessee
Longest Runway: 5,717 feet | Distance: 26 miles | Formerly: Moore–Murrell Airport
(KMNV, MNV) Monroe County Airport, Madisonville – Tennessee
Longest Runway: 3,643 feet | Distance: 38 miles
(KRKW, RKW) Rockwood Municipal Airport, Rockwood – Tennessee
Longest Runway: 5,000 feet | Distance: 40 miles
---
Related Destinations
---
Request a Quote | Private Jet Charter Knoxville, TN
Request a Quote or give us a call at 1-888-987-5387 to speak with one of our Knoxville Jet Charter representatives for your next luxury vacation, business trip, or special event in eastern Tennessee.