Private Jet Airports in Dallas, TX
Destinations > United States > Texas > Dallas
Private jet airports are scattered all across the Dallas-Fort Worth Metroplex, and ACA utilizes the following airports and private jet hubs to arrange flight in Dallas, Texas and neighboring areas.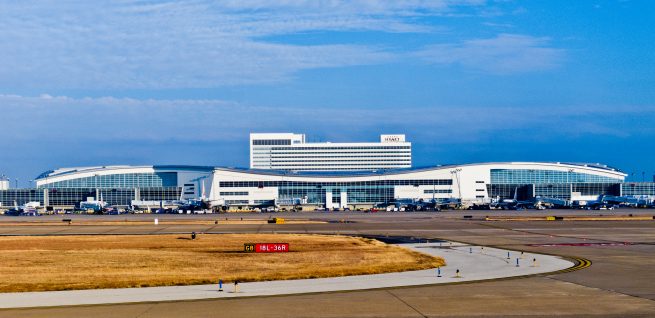 If you don't see your preferred airport listed below, please contact us with your trip details or call to speak with one of our flight support specialists to review the options for your flight.
(KDAL, DAL) Dallas Love Field – Dallas, TX
Dallas Love Field (IATA: DAL, ICAO: KDAL, FAA LID: DAL) is located just 6 miles northwest of downtown Dallas, and served as was the city's main airport until Dallas/Fort Worth International Airport (DFW) opened in 1974. The airport offers seven FBOs for our private jet clientele, including Landmark, Signature Flight Support and Business Jet Center, as well as general aviation services including fuel, maintenance and hangar rentals.
(DAL) Dallas Love Field features two concrete runways for business jets ranging from light to long-range. The airport's Main Terminal was modernized in 2009, replacing the terminal with a new 20-gate concourse. The Legend Terminal also available, and is where passengers will find the U.S. Customs and Border Protection facility. Call ACA and book your private jet flight to Love Field.
(KRBD, RBD) Dallas Executive Airport – Dallas, TX
Located southwest of the city's center, Dallas Executive Airport (IATA: RBD, ICAO: KRBD, FAA LID: RBD) is a general aviation airport. The executive airport mostly services private jet traffic, and is listed as a reliever airport for Dallas Love Field. Originally, it was named Redbird Airport until 1999, after the city took control of the airport following year's of under investment. The name was then changed to (RBD) Dallas Executive in an effort to attract more business jets.
Featuring two asphalt/concrete runways, we can arrange for your turbo-props and light to mid-size jets to arrive here with luxury ground transportation standing by. Dallas Executive is currently undergoing major runway improvements to service long-range corporate jets, which will encourage more air traffic to and reduce the number of refueling stops.
(KADS, ADS) Addison Airport – Addison, TX
One of the premier private jet airports in the Dallas-Fort Worth Metroplex, Addison Airport (IATA: RBD, ICAO: KRBD, FAA LID: RBD) is the one of the busiest general aviation airports in Texas. Conveniently located just 14 miles outside of the city and alongside the North Dallas Tollway, the airport is the preferred choice for our executive and business flights, allowing them to get where they're going quickly and easily.
Addison Airport features a 7,202-foot concrete runway for business jets such as a Challenger, Global Express or a Gulfstream IV. Two fixed-base operators are available at Dallas Addison Airport, both offering luxurious passenger terminals, meeting rooms and waiting areas. Atlantic Aviation offers hangaring services for heavy jets up to a G550; Million Air Dallas' hangar facility can also accommodate most business jets.
The Cavanaugh Flight Museum is also located at (RBD) Addision Airport, featuring an incredible display of antique military aircraft from World War I, the Korean War and the Vietnam War.
(KHQZ, HQZ) Mesquite Metro Airport – Mesquite, TX
Mesquite Metro Airport (ICAO: KHQZ, FAA LID: HQZ) is a public use airport located about 20 miles east of Dallas on the border of Kaufman County. Private funding helped build the airport in 1975, and the city of Mesquite purchased the airport 8 years later using grant money from the FAA.
In 1992, the runway was refurbished and extended by 1,000 feet to service larger aircraft as Dallas became a popular destination for private flights and business jets. Most of the airports located in the United States use the same three-letter location identifiers for the FAA and IATA, however, (HQZ) Mesquite Metro Airport is assigned HQZ by the FAA, but it does not have a designation from the IATA.
(KDFW, DFW) Dallas/Fort Worth International Airport – Fort Worth, TX
One of the busiest airports in the world, Dallas-Fort Worth International Airport (IATA: DFW, ICAO: KDFW, FAA LID: DFW) ranked 10th overall for total passengers in 2013, and 3rd overall for total aircraft movements. The airport equipped with 5 terminals and 7 runways, and is the primary hub for the Dallas-Fort Worth area. Although commercial traffic is its staple, DFW also services a significant amount of private jet and business jet traffic through its dedicated corporate jet terminal.
The corporate aviation facility includes a spacious lounge, catering, two conference rooms with Wi-Fi access and transportation between terminals. If you're arriving at (DFW) Dallas-Fort Worth for meetings, Terminals C and D offer two full-service hotels, the Hyatt Regency and Grand Hyatt hotels, respectively, allowing business travelers to stay on-site if preferred. The Hyatt Place Hotel also recently opened, and is located just south of the Rental Car Center.
(KGPM, GPM) Grand Prairie Municipal Airport – Grand Prairie, TX
Located about 20 minutes away from both downtown Dallas and downtown Fort Worth, Grand Prairie Municipal Airport (ICAO: KGPM, FAA LID: GPM) is ideally located only 20 minutes from both Dallas and Fort Worth. The airport is ideally situated along many of the area's major roadways, allowing clients to quickly make their way around the metropolitan area. Grand Prairie is also the nearest airport to AT&T stadium and Ranger Ballpark, making it the preferred arrival airport for major sporting events in Dallas.
(GPM) Grand Prairie Municipal offers a 4,001-foot concrete runway to accommodate turbo-props and light jets. There are two FBOs at the airport: One is a private jet passenger terminal operated by the airport authority that includes a passenger waiting lobby, an on-site restaurant; it also offers self-serve fueling for both piston and jet engine aircraft, as well as ramp parking. Aviator Air operates the other terminal, exclusively catering to private aviation with an expansive lobby, conference room, pilot lounge and pilot shop, and hangaring services.
(KGKY, GKY) Arlington Municipal Airport – Arlington, TX
Not to be confused with the airport in Washington State of the same name, Arlington Municipal Airport (ICAO: KGKY, FAA LID: GKY) is a city-owned general aviation airport located just four nautical miles south of Arlington's central business district. The airport serves as a reliever airport for both Love Field and DFW International.
The airport was originally completed in 1962 after the city purchased the land and received a grant from the FAA. The runway was extended and improvements were made around the airport in the 1980s. Today, (GKY) Arlington Municipal offers a single 6,080-foot concrete runway to service light jets, mid-size jets and some heavier aircraft. Many companies operate their aviation services on-site, including the Bell Helicopter division of Textron.
(KTRL, TRL) Terrell Municipal Airport – Terrell, TX
Terrell Municipal Airport (IATA: TRL, ICAO: KTRL) began its journey as a grass field used by a local flying club in the 1940's. The airport was then leased by the British, who signed a deal to make Terrell Municipal the top British Flight Training School in the Royal Air Force. Terrell is located around 30 miles east of downtown Dallas.
The RAF had left by the mid-40s, but not before expanding and improving the facility to include dual 3,000 foot asphalt runways. Today, (TRL) Terrell Municipal sits along British Flying School Blvd and operates flights using both runways; Runway 17/35 was extended following the war, and measures 5,006-feet in length to accommodate light and mid-sized business jets.
(KLNC, LNC) Lancaster Regional Airport – Lancaster, TX
Arrive via private jet at Lancaster Regional Airport (ICAO: KLNC, FAA LID: LNC), a city-owned, public-use airport located 2 nautical miles (4 km) south of the central business district of Lancaster, in Dallas County, Texas. The airport was formerly known as Lancaster Airport, and it is included in the National Plan of Integrated Airport Systems and categorized as a general aviation reliever airport.
---
Additional Airport Options
The surrounding area is home to several airports for your flight, with many of them focusing on private and business aviation
Airfields Within 25 miles
(F69) Air Park-Dallas Airport – Dallas
Rwy: 3,080 feet
(T56) Eagle's Nest Estates Airport – Midlothian
Rwy: 3,216 feet
(F46) Ralph Hall/Rockwall Municipal – Rockwall
Rwy: 3,373 feet
(T31) Aero Country Airport – McKinney
Rwy: 4,352 feet
(KJWY, JWY) Mid-way Regional – Midlothian/Waxahachie
Rwy: 6,500 feet
(KTKI, TKI) McKinney National Airport – McKinney
Rwy: 7,002 | FBO: McKinney Air Center
(52F) Northwest Regional – Roanoke
Rwy: 3,500 feet
(F41) Ennis Municipal – Ennis 
Rwy: 3,999 feet
(KFTW, FTW) Fort Worth Meacham Intl – Ft. Worth
Rwy: 7,502 feet | FBO: American Aero – Cornerstone Air Center – Texas Jet
(KAFW, AFW) Fort Worth Alliance – Ft. Worth
Rwy: 11,010 feet | FBO: Alliance
(KFWS, FWS) Fort Worth Spinks – Ft. Worth
Rwy: 6,002 | FBO: Harrison Aviation
(KDTO, DTO) Denton Municipal – Denton
Rwy: 7,002 ft | FBO: Business Air Center – US Aviation
Airfields Between 30 – 50 miles 
(9F9) Sycamore Strip Airport | Forth Worth | 3,375 ft
(7F3) Caddo Mills Municipal | Caddo Mills | 4,000 ft
(T67) Hicks Airfield | Fort Worth | 3,740 ft
(16X) Propwash Airport | Justin | 3,000 ft
(4T2) Kenneth Copeland Airport | Forth Worth | 5,943 ft
(KCPT, CPT) Cleburne Regional | Cleburne | 5,697 ft
(KGVT, GVT) Majors Airport | Greenville | 8,030 ft
(50F) Bourland Field | Fort Worth | 4,049 ft
(76F) Van Zandt County Regional | Willis Point | 3,230 ft
(KINJ, INJ) Hillsboro Municipal | Hillsboro | 3,998 ft
(KLUD, LUD) Decatur Municipal | Decatur | 4,200 ft
(7F5) Canton-Hackney Airport | Canton | 3,750 ft
---
Dallas Private Airports | Contact Us
Have questions regarding the private jet airports in the Dallas-area for your upcoming flight? Call us at 1-888-987-5387 to speak with one of our brokers and discuss all of the available airport options for your flight.