Private Jet Charter Fort Lauderdale
Private Charter Flights to/from Fort Lauderdale, Florida, USA
Welcome to your hometown source for private aviation in the city of Fort Lauderdale! Air Charter Advisors is headquartered in Tamarac, just minutes away from (FLL) Fort Lauderdale International and (FXE) Fort Lauderdale Executive Airports, with around the clock services available at both airports.
Our private air charter company is Wyvern-certified, meaning all of the aircraft we use for charter flights are operated by FAR Part 135 or 121 (or foreign equivalent) air carriers and held to the highest standards. Although we're located in Fort Lauderdale, we can arrange private flights anywhere in the world!
Fort Lauderdale Air Charter Advisors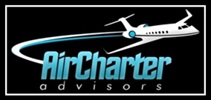 We're not limited by any fleet, either – our team has access to thousands of sleek, modern private jets located around the world, from Cessna III's and Hawker 700/750XP's toChallenger 604's and Gulfstream V/G500/G550's, even Boeing Business Jets (BBJ) and other airliners for executive and VIP flights. Many of these planes are based in South Florida, or are transient through the region, and have the potential to create savings with empty leg flights.
Our list of clients has grown to include top executives, elected officials, and VIP celebrities, as well as personal assistants and leisure travelers heading to Broward County on vacations, spring break, yachting events and more.
We also specialize in private flights for honeymoons, bachelor/ette parties, and weddings. The relationships we've built with operators not only in South Florida but across the country as well, allow us to connect you with the perfect aircraft at the right cost, whether you're flying internationally or domestically.
Gain peace of mind knowing you're flying with a local company you can trust, and our Fort Lauderdale Air Charter Advisors will become your solution for luxury air travel, aircraft acquisition, and private jet management in South Florida. Call us at +1 (888) 987-5387 for private charter flights to/from Fort Lauderdale, FL.
Private Jet Airports in Ft. Lauderdale, FL
ACA can arrange your flight to any of the following airports in Broward County, Florida. Our office is located around 15 minutes from (FXE) Fort Lauderdale Executive Airport, 20-30 minutes from (FLL) Fort Lauderdale/Hollywood International, and within an hours drive of virtually every other airport in South Florida.
If you're planning on flying through one of these So Fla aviation hubs, we'd be happy to meet and personally send you off for your private flight!
(KFLL, FLL) Fort Lauderdale–Hollywood Intl Airport – Fort Lauderdale, FL
Runway Length: 9,000 feet | 8,000 feet
FBO Service: Jetscape | National Jets | Sheltair Aviation | Signature Flight Support FLL
Customs: Yes ; Tel: +1 954 634 1907
Immigration: Yes ; Tel: +1 954 634 1931
http://www.broward.org/airport/
(KFXE, FXE) Fort Lauderdale Executive Airport – Fort Lauderdale, FL
Runway Length: 6,002 feet | 4,000 feet
FBO Service: Banyan Air Service | Sano Jet Center | W Aviation | World Jet
Customs: 08:00 – 24:00 EST; Tel: +1 954 491 5647
Immigration: N/A
http://www.fortlauderdale.gov/fxe-fort-lauderdale-executive-airport
(KHWO, HWO) North Perry Airport – Hollywood, FL
Runway Length: 3,350 feet | 3,260 feet | 3,255 feet | 3,240 feet
FBO Service:
Customs & Immigration: N/A
http://www.broward.org/northperryairport/
(KPMP, PMP) Pompano Beach Airpark – Pompano Beach, FL
Runway Length: 4,918 feet | 4,001 feet | 3,502 feet
FBO Service: Sheltair
Customs & Immigration: N/A
http://pompanobeachfl.gov/airpark
(KBCT, BCT) Boca Raton Airport – Boca Raton, FL
Runway Length: 6,276 feet
FBO Service: Atlantic Aviation | Signature Flight Support BCT
Customs & Immigration: N/A
http://bocaairport.com/
Additional Airports
South Florida is home to a variety of private jet airports that can accommodate your charter flight to areas of Broward, Dade, and Palm Beach counties.
(KOPF, OPF) Miami-Opa Locka Executive Airport – Miami, FL
Longest Runway: 8,002 feet
(KMIA, MIA) Miami International Airport – Miami, FL
Longest Runway: 13,016 feet
(KPBI, PBI) Palm Beach International Airport – West Palm Beach, FL
Longest Runway: 10,000 feet
(KTMB, TMB) Miami Executive Airport – Miami, FL
Longest Runway: 5,999 feet
(KF45, F45) North Palm Beach County General Aviation Airport – West Palm Beach, FL
Longest Runway: 4,303 feet
Fort Lauderdale Charter Jets
Private jets are a popular way to travel to/from the Fort Lauderdale area, and South Florida is a major hub for private aviation. Our team has access to the following Wyvern-certified aircraft, many of which are based at FXE and operated by FAR Part 135 or 121 (or foreign equivalent) air carriers.
We'll provide you with a variety of options based on your goals and budget, allowing you to charter a cost-effective aircraft, or the most luxurious private jet on the market. Check out our Aircraft Gallery for more details on all of the aircraft available for your trip.
If you don't see your preferred jet or turbo-prop listed below, speak to one of our brokers and they will locate one for you.
Piston | Turbo Props
Beech Baron 58
Cessna 340
Cessna Conquest II
Cessna Grand Caravan
Cessna Stationair
Cirrus SR-22
King Air 90
King Air 100
King Air 200
King Air 250
King Air 300
King Air 350
Piaggio Avanti II
Pilatus PC-12
Piper Cheyenne
Piper Malibu
Piper Matrix
Piper Meridian
Piper Navajo Chieftain
Piper Seneca
View all Pistons and Turbo-Props
VLJ | Light Jets | Super Light
Beechjet 400 / 400A
Cessna Citation Bravo
Cessna Citation CJ
Citation CJ2 / CJ2+
Citation CJ3 / CJ3+
Citation CJ4 / CJ4+
Citation Encore
Citation M2
Citation Mustang
Citation Ultra
Eclipse 500
Hawker 400XP
Honda Jet
Lear Jet 31 / 31A
Lear 35 / 35A
Lear 40 / 40XR
Lear 45 / 45XR (SLJ)
Nextant 400XT
Phenom 100
Phenom 300 (SLJ)
View all VLJ | Light Jets | Super Light
Midsize | Super Midsize Jets
Citation Excel / XLS
Citation Sovereign
Citation X (10)
Challenger 300 / 350
Falcon 50 / 50EX
Gulfstream G150 / G200 / G280
Hawker 700
Hawker 800 / 800A / 800XP / 850XPi
Hawker 900 / 900XP
Hawker 1000 / 4000
Lear 55
Lear 60 / 60XR
Legacy 500
View all Midsize and Super Midsize Jets 
Large | Heavy Jets
Challenger 601
Challenger 604 | 605
Challenger 850
Embraer Lineage 1000
Falcon 900 / LX
Falcon 2000 / EX / LX / LXS
Global 5000
Gulfstream G450
Gulfstream GIV / G4
Gulfstream GIV-SP / G4 SP
Lear 70 /75 
Legacy 600
Legacy 650
View all Heavy | Large Jets
Ultra-Long Range Jets
Falcon 5X
Falcon 7X
Falcon 8X
Global Express / XRS
Global 6000
Global 7000
Global 8000
Gulfstream GV / G5
Gulfstream G550
Gulfstream G600
Gulfstream G650 / ER
View all Long Range Jets
VIP Jumbo Jet Airliners
Airbus ACJ-318 Elite Corporate Jet
Airbus ACJ-319 VIP
Airbus ACJ-320 VIP
Airbus ACJ-321 VIP
Boeing Business Jet BBJ / BBJ2 / BBJ3
Boeing B-727 VIP
Boeing B-737 VIP
Boeing B-747 VIP
Boeing B-757 VIP
Boeing B-787 Dreamliner VIP
Bombardier CRJ-200
View all VIP Corporate Airliners
Private Jet to 
Fort Lauderdale | FXE & FLL
Destinations > United States > Florida
South Florida is a premier destination for domestic and international tourists year-round. Executives love flying to Fort Lauderdale because the weather's as beautiful as the people, and money flows like the waters of the intracoastal.
Fort Lauderdale is often referred to as the "Yachting Capital of the World", and given its huge maritime industries and its glamorous, beach-loving culture, it's hard to argue – the annual Fort Lauderdale International Boat Show is one the largest yachting conventions in the United States, welcoming over 100,000 guests and creating a spike in private jet traffic at KFLL and KFXE leading up to event.
While parts of the city can be a little mild in comparison to South Beach and Miami, don't let it fool you – it can get just as wild as it's southern neighbor. And, although the Latin population here doesn't compare to that of Miami's, Fort Lauderdale still features a wealth of Hispanic influences given its proximity and its Spanish history, and the music, architecture, and cuisine are reflected in the city's cultural confluence.
Our hometown has a lot to offer executive and luxury travelers, and we've put together a list of some of the best things to do after your private charter flight to Fort Lauderdale, Florida.
Attractions & Events
Not limited to maritime and yacht culture, Ft Lauderdale has diversions for private jet flyers no matter their interest.
Shopaholics might run out of space in their private jet before running out of stores to choose from, foodies may run out of room in their stomachs before running out of cuisines to try;  beach fanatics sometimes run out of energy before the sun goes down, and golfers often run out of arm-strength before making it to the 19th tee.
We may be exaggerating a little, but the point is that private flyers will be hard-pressed to find a more diverse list of attractions than in Ft. Lauderdale. Everyone can enjoy the Ft. Lauderdale Intracoastal Waterway, where you'll find a ton of waterfront restaurants and bars packed into a relatively small strip.
Close to the intracoastal is, of course, the Ft. Lauderdale Beach. You'll see locals enjoying the weather and running along the boardwalk at almost all hours. If maritime lifestyle isn't really up your alley, then take a day and check out the local museums and other academic attractions.
The Bonnet House Museum and Gardens attracts visitors and locals alike. With evidence of habitation from over 4,000 years ago, the grounds of this important building have seen their fair share of Florida history. The Bonnett House isn't the only option either. The museum of Art Fort Lauderdale boasts exhibits featuring early Italian high fashion and photography by Chuck Close, and is well worth checking out.
If you like to do some shopping, Downtown Los Olas, Riverwalk, and Wilton Manors are all excellent and well known for their specialty boutiques and interesting niche retailers. Aside from the shopping districts, the Galleria Mall is well known for its upscale retail options and attracts a more affluent crowd than regular shopping malls.
Air Charter Advisors wants to help you sift through everything and pick exactly what will stimulate you the most, so make sure to read our posts on yachting, golfing, and luxury hotels as well.
Intracoastal Waterway
The Intracoastal Waterway is a long, 3,000 mile body of water stretching through the Atlantic and Gulf Coasts. It's common to see people doing some sightseeing here, or enjoying the view from one of many restaurants on the waterfront.
http://riverfrontcruise.com/
Port Everglades
954-765-4604
Many clients charter a flight to connect with cruise lines heading into the Caribbean and into Latin America. Port Everglades is the home port for some of the largest ships offered by cruise-lines such as Norwegian, Royal Caribbean, and Carnival. Our team can arrange for your flight to arrive at a private terminal at KFLL airport, with luxury transportation ready to bring you over to the port.
http://www.porteverglades.net/cruising/

Fort Lauderdale Beach
Along A1A from Sunrise Blvd to Las Olas
The beach isn't very large, but its surrounding area offers plenty of entertainment. There are small shopping plazas, a galleria, tattoo shops, bars, restaurants, and much more. Just walk along the sidewalk, and you'll find plenty to do.
https://www.sunny.org/beaches/
Las Olas Boulevard
Las Olas Boulevard is the place to go to while visiting Fort Lauderdale. There are plenty of great places to eat, grab a drink, or find some entertainment. If you're a fan of the nightlife, it's the perfect place to bar hop.
http://www.lasolasboulevard.com/
Executive Charter Flights
Looking to charter a business jet to (FLL) Fort Lauderdale International or (FXE) Fort Lauderdale Executive Airport? You've come to the right place! South Florida consistently ranks as one of the top regions for private aviation worldwide, and Air Charter Advisors is your home-grown source for business jet charters to/from Broward County.
Our company was created to offer the highest standards in executive air travel, offering on-demand executive jet charter service to/from Fort Lauderdale, Florida. We have access to thousands of private planes in the area that are certified for charter flights, and we're confident we will arrange the ideal aircraft at the right cost, whether your business has you flying internationally or domestically.
There's no better place to rent a long-range jet such as a Gulfstream G650 than along the actual Gulfstream, reaching destinations such as New York in just under 3 hours. The hourly rates for long-range jets can range between $6,500 – $9,000 per hour, depending on a variety of factor – learn more about the cost to charter a private plane.
If you're flying within Florida or to the Caribbean, we can arrange for an efficient light or mid-size jet at one of South Florida's general aviation airports, including popular jet hubs such as (KFXE) Fort Lauderdale Executive Airport.
No matter which type of aircraft you prefer, our friendly private aviation agents will be available to you 24/7 to help plan your upcoming executive flight to Fort Lauderdale, Florida.
Golf
Although not synonymous with the sport itself, Fort Lauderdale's lush landscape and fertile water-table fueled lands make for some of the best golfing around. And with the money that flows through the area, there are world-famous courses designed by some of the biggest and brightest names in golfing; think Joe Lee, Bruce Devlin, and Raymond Floyd.
The exclusive and sought-after Ft. Lauderdale Country Club boasts one of the most popular courses in South Florida for players of every skill level. The various stratified membership levels come with member experiences unique to what the discerning client expects. Stop at the Jacaranda Golf Club for a refined and challenging course with a full 36 holes, or check out the non-private Coral Ridge Country Club and enjoy the traditional course design by Robert Trent Jones.
For those who prefer to enjoy the sport as a spectator, there are tons of PGA and other various opens and open championships that take place throughout the year. If you happen to be here at the right time of the year, make sure you check out the PGA Fort Lauderdale Open or the Jeb Bush Florida Classic.
Luxury Hotels
A trip to Ft. Lauderdale is exciting for anyone. With its vibrant nightlife, gourmet eateries, and posh and stylish hotels, this intracoastal hideaway can be whatever you want it to be. Our team at Air Charter Advisors wants to help make your private flight and trip as flawless as possible, so we've compiled a list of the best luxury accommodations in and around our hometown of Fort Lauderdale.
The Ritz-Carlton and Hilton Beach Resort are your best beachside choices to enjoy Florida's sunny weather, and private jet travelers may also want to look into staying at The Atlantic, which is coveted for its breathtaking ocean views. Spend a day enjoying the full service in-room spa treatment, in-house sauna and steam room, heated pool, and gourmet room service.
If these two staples of maritime lodging don't strike your fancy, there are plenty of other options like the world-renowned Lago Mar Resort, and The Pillars Hotel Fort Lauderdale. Or if you'd prefer, enjoy some of the best blackjack, poker and gaming in Florida at the Seminole Hard Rock Hotel & Casino. Regardless of preferences, private flight travelers are sure to find a hotel that fits all of their needs in sunny Ft. Lauderdale, Florida.
Yachting & Sailing
As the yachting capital of the world, Ft. Lauderdale is synonymous for yacht clubs, events, bars, and yacht culture. Any private jet traveler interested in maritime lifestyle can find something to enjoy in this intracoastal city known as "The Venice of America".
The bars along the waterfront are strongly aligned with yacht culture and yacht clientele desires. Many have docks that all for patrons to simply drive up and dock at their restaurant of choice. This allows yacht owners and guests to not worry about leaving their boat in order to go eat; instead they can eat with their boat insight, and enjoy the ocean breeze wafting by along with other boaters.
Some of the more notable restaurants and bars with these features include the Chart House, Kaluz Restaurant, and Coconuts. All will be serving fresh seafood as their specialties, and offer drink specials after five on most days. Aside from the everyday haunts frequented by Ft. Lauderdale boaters, private flight travelers can enjoy the most prolific yacht club scene in the world.
Until you find one that you'd like to call home, check out one of the following clubs. Try out Lauderdale Yacht Club, which is a strongly family oriented private club that locals tout as perfect for any occasion. Coral Ridge Yacht Club offers gourmet dining options for boaters with a more discerning palate, and Grand Yacht Club is the smallest and most exclusive of the 3 and offers improved anonymity along with exquisite comfort and amenities.
---
Related Destinations
Our company is based in South Florida, and our experience in the industry has allowed us to form relationships, partnerships and other local connections to provide outstanding, upscale travel services for our clientele. Looking to expand your horizons when it comes to South Florida private aviation? Check out these destinations in South Florida:
---
Request a FREE Quote | Private Jet Charters in Fort Lauderdale, FL
Request a Quote or give us a call at 1-888-987-5387 to speak with one of our Fort Lauderdale jet charter brokers for your next luxury vacation, business trip, or special event. Our team is available 24 hours a day, 7 days a week to assist you in all aspects of private aviation. We offer free, non-committal quotes with some of the highest standards in private aviation.