Executive Jet Charter
Private Air Charter Services for Executives, Business Teams, and Corporate Groups
Our private aviation company has nearly a decade of experience locating and dispatching private jets and arranging executive jet charter flights and assisting in executive travel for organizations ranging in size, working with organizations with less than 5 employees, to corporate travel for some of the top Fortune 500 companies.
Nothing is more vital to the success of business than being able to conduct business anytime, anywhere in the world. Private air charters help to do just that, using private jets and helicopters to reach remote locations, or to hop from one meeting to the next across state or country lines.
We exclusively arrange private aircraft that are operated by FAR Part 135 (or foreign equivalent) operators, providing the most competitive quotes for every client without compromising the safety or quality of your executive jet charter flights.
Our Business Aviation Services Include:
24/7 Customer Support and Aviation Consultation
Aircraft Acquisition, Sales, and Management
Access to ARGUS Platinum/Wyvern Wingman Planes
On-Demand Availability to Private Aircraft *
Free Quotes with Competitive Rates
VIP Concierge Services
Wyvern-Certified Safety Standards
* Please note that aircraft availability is subject to change.
---
Business Jet Rentals & Executive Charter Flights
Our brokers are Wyvern-certified, utilizing safety standards and due diligence processes that exceed those set by the FAA. Only 75 out of more than 4,000 brokers worldwide have earned this accreditation, one of the highest available in private aviation. We've taken these extra steps to give executive travelers and corporate groups additional peace of mind when arranging their flight.
Our standards also meet the requirements many Fortune 500 companies apply to their corporate fleets. Our team takes the privacy, safety, and comfort of our clients very seriously, and we diligently review details in the most recent Wyvern PASS reports for pilot safety, aircraft maintenance, and operator history when arranging your executive charter flight.
Executive Travel Assistant
Need to arrange a corporate flight for executive travel? ACA can become your organization's private flight department. We understand that while it may come down to the bottom line, it is equally important in forming a relationship with a company you can place trust in when arrange private flights.
That's why our team is standing by to answer all of your private aviation questions. Our goal is to provide each and every one of our clients with a transparent, one-on-one consultative experience when arranging private fights. You might not book with us the first time, but when you do, you'll know you have a partner you can work with for every flight you need in the future.
Supplemental Lift & Executive Jet Back-Up
Many companies already own a corporate jet, or even an entire fleet or them. However, what happens if a business jet experiences a mechanical issue on the runway? Or what if you need to arrange simultaneous trips for executive travel and are short one aircraft? You may also require an aircraft able to perform a mission outside the capabilities of a company's current fleet.
ACA can step in and become a reliable back-up flight department for your corporate team, arranging supplemental aircraft in as little as 4 hours (or less). We offer unlimited quotes with zero obligations, so don't hesitate to call us in the event you need a back-up plan, or want to compare the cost of on-demand aircraft rentals to owner operated flight costs. Learn more about why your company or organization can benefit form a supplemental lift program.
Why Choose ACA? Safety, Privacy, and Comfort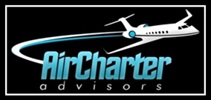 When flying private to business meetings within the United States or around the world with ACA, our company prioritizes safety, privacy, and comfort above every aspect of your flight. We perform strict safety due diligence processes, and never cut corners with unqualified pilots or using aircraft operators with poor safety standards. This includes the overall charter cost, as we refuse to present our clients with poorly maintained aircraft or pilots with limited experience in an effort to reduce cost or win business. It's just not worth the risk when flying high-net worth individuals and business groups.
Privacy means that passenger identities and charter flight itineraries are only shared on a need to know basis. Outside of the direct parties involved in the operations of your flight, executives can freely travel with the highest levels of discretion and anonymity.
Furthermore, the comfort of your corporate group is extremely important to us, using the time spent traveling to relax, refresh, and prepare for upcoming meeting. From in-flight catering with special dietary requests and flight attendants on-board, to helicopter lifts, luxury ground transportation, and more, we always go the extra nautical mile to accommodate corporate air travel needs.
We've assisted small business groups in super light or midsize jets, all the way to entire office groups on 100+ passenger regional and VIP airliners. Whatever your company's needs, our Advisors are working every hour of the day on call, 24/7, 365 days a year. We offer competitively priced and reliable charter aircraft through our approved vendor network of over 10,000 business jets around the world, many of which carry substantial insurance policies. Risk mitigation and cost savings can also be addressed by renting multiple aircraft instead of one larger plane.
Request a Corporate Air Charter Quote
Request a Quote or give us a call at 1-888-987-JETS (5387) to speak with one of our executive jet charter brokers and book your next business jet rental, discuss options for corporate flight back-up, arrange last-minute supplemental lift, or any aspect of executive jet travel.