Private Jet Charter Rio De Janeiro
Private Flights to/from Rio de Janeiro, Brazil
Air Charter Advisors arranges private jet charter services in Rio de Janeiro, a huge seaside resort city in Brazil. Most famous for its Copacabana and Ipanema beaches and its epic Carnaval festival, Rio is also home to Christ the Redeemer, perched atop Mount Corcovado, and Sugarloaf Mountain, a granite peak with cable car rides to its summit.
Chartering a private jet to Rio de Janeiro and arriving at Galeão International Airport (SBGL, GIG) is the most comfortable, convenient, and stylish way to arrive, and our team offers the highest standards in executive and leisure travel.
Enjoy the best on-demand private jet charter flights to/from Rio de Janeiro, Brazil when you fly with Air Charter Advisors. We offer instant access to thousands of private planes around the world, allowing us to find the best deals for your flight, whether you're traveling internationally or domestically.
For instant pricing & availability on aircraft rentals in Rio de Janeiro, Brazil or anywhere around the world, please submit a request or call us directly at +1 (888) 987-5387.
Rio de Janeiro
Airports for Private Jets
Rio de Janeiro is home to Galeão International Airport (SBGL, GIG), also simply known as Rio de Janeiro International, making it easy to reach via private jet. There are 13 ground handling companies at the airport, including 5 FBO providers for discreet VIP and business travel.
The airport was built by the Brazilian Air Force in 1923 and is the largest airport in the city. After World War II, international flights were relocated here from Santos Dumont Airport, leading to the opening of a new passenger terminal in 1952. By 1977 another terminal was built to meet growing travel demands, creating the (SBGL) Rio de Janeiro International Airport in the process.
Rio de Janeiro International Airport (ICAO: SBGL, IATA: GIG)
Alias: Galeão International, Antonio Carlos Jobim International, RIOgaleão – Tom Jobim International
Runway: 13,123 feet
FBO & Handlers: 13 available
Additional airports
Santos Dumont Airport (SBRJ, SDU) 
Runway: 4,341 feet
Santa Cruz Air Force Base (SBSC, SNZ)
Runway: 8,986 feet
Jacarepaguá Airport (SBJR) 
Runway: 2,953 feet
Afonsos Air Force Base (SBAF) 
Runway: 6,565 feet
Rio de Janeiro Charter Planes
Enjoy instant access to private charter jets near you, including planes based at RIOgaleão – Tom Jobim International Airport, throughout all areas of Brazil, and around the entire world when you request your private flight from Air Charter Advisors.
All of the business jets we arrange for private charter flights to and from Rio de Janeiro, Brazil are operated by FAR Part 135 or 121 (or foreign equivalent) air carriers, and we review third-party reports detailing the maintenance, history, and performance of every plane, pilot, and operator.
Call or request a quote and we'll source a custom list of aircraft rentals, from light aircraft and business jets to luxury VIP airliners. Check out our Aircraft Gallery for specifications, photos, and hourly rates.
Visit Rio de Janeiro
Private Jet Charters > South America > Brazil
The lush mountains and golden beaches in Rio de Janeiro create some of the most beautiful landscapes on the planet. Whether you're riding a cable car up Sugarloaf Mountain to check out the Cristo Redentor or basking in the sun across from the Dois Irmãos mountains, the sights are inspiring and dramatic.
However, it's the sounds that provide a wild and create vibe – Rio de Janeiro is the home of Samba, which led to the creation of Bossa Nova, blending with other genres such as Choro, Sertaneja, Pagode to create a distinctly unique soundtrack for life in Brazil, one that is over 500 years in the making.
The perfect blend of these sights and sounds is achieved every February during the biggest party in the world, the Carnival.
Rio de Janeiro Air Charter Advisors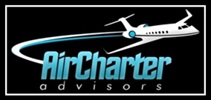 Wyvern-certified, our company carries some of the highest standards for safety and due diligence in the aviation industry. All of the private planes we use for private flights to Brazil and surrounding areas of South America are operated by FAR Part 135 (or foreign equivalent) air carriers.
Enjoy the peace of mind you get from working with a company you can trust, and Air Charter Advisors will become your aviation solution for luxury air travel, aircraft acquisition, and private jet management in Brazil, South America, and around the world.
Call us at 1-888-987-5387 or request a quote for your upcoming charter flight to Rio de Janeiro. Our team is here to help you with all of your private aviation needs, from booking your private airplane and creating its flight itinerary to arranging gourmet in-flight catering, luxury ground transportation or meeting any other requests you may have – consider our Rio de Janeiro Air Charter Advisors your one-stop shop for all things private aviation in Brazil.