Private Jets with the Longest Range
Private jets have approached the sound barrier for the past decade, flying within 50 knots of reaching supersonic speeds.
While the cruising speeds of private jets in this class already rival or outperform their commercial counterparts, manufacturers have shifted development towards maximizing efficiency, increasing the range in a race to tie the two most distance city-pairs together with the longest non-stop flights.
Long Range Jets are essentially VIP airliners in smaller form factors, covering more than 5,000 nautical miles at speeds between 550-700mph, with luxurious cabins and seating for 12-19 passengers.
Top 10 Longest Range Private Jets in 2022 Available for Charter
Here is a list of the longest range private jets available in 2022, with most available today and some currently in production.
The Global 7500 features an industry-leading 7,700 nautical mile range and a top speed of up to 710 mph. This was the first business jet to perform non-stop flights from New York to Hong Kong and Singapore to San Francisco.
It also completed a coast-to-coast flight from Van Nuys Airport to Teterboro Airport in just 3 hours and 54 minutes to complete, beating the previously held record by sustaining a maximum speed of Mach 0.925 for more than two hours.
Performance is just part of the allure – the Global 7500 offers the biggest interior in its class, with 4 distinct living spaces, dual lavatories, a full-size kitchen, and luxurious appointments throughout its 19 passenger cabin.
The Gulfstream G700 will hit the market as the most spacious business jet on the market, blending Gulfstream's proven range, speed and performance with new flight-deck innovations and cutting-edge cabin technologies to offer an unprecedented flight experience.
The G7 delivers an impressive range of 7,500 nautical miles with speeds similar to the Global 7500, however, the cabin on the G700 will be slightly larger than the Global 7500, with up to 5 cabin areas and seating for 19 passengers.
Despite flight deck issues on the Gulfstream G500/G600 in May, deliveries of the much-anticipated G700, which shares similar cockpit features, remain scheduled for 2022 after completing its maiden flight in February.
The G700 is likely another win for Gulfstream, considering the huge demand for its predecessor, which ranks next on our list.
The iconic Gulfstream G650 has been a crown jewel in luxury aviation for over a decade now, with more than 400 in service in nearly every corner of the globe.
The G6 was the first business jet to offer a range of 7,000 nautical miles, flying non-stop from Singapore to Seattle, Los Angeles to Sydney, or Dubai to Miami.
Gulfstream extended its capabilities with the G650ER, an extended range variant providing an additional 500 nautical miles of range. That's enough range to cover land distances of 8,600 miles, or 13,900 kilometers.
The G6's stunning exterior is matched by its cabin, providing the ultimate combinations of form and function.
The Gulfstream G550 (also known as the GV-SP) is an upgraded version of the Gulfstream V, extending the range to 6,570 nautical miles, able to perform 12 hour non-stop flights with seating for up to 19 passengers.
Although it's approaching it's 20th anniversary on the market, the Gulfstream G550 remains one of the most popular business jets among executive and VIP travelers.
The Global 6500 was released in 2019 alongside the Global 5500, upgrades to Bombardier's line-up of ultra long range jets.
A pair of  Rolls-Royce Pearl 15 engines and redesigned wing profiles deliver a range of 6,600 nautical miles while reaching speeds of up to 690 mph.
The cabin will include many features from the 7500, with seating for up to 17 passengers.
The Gulfstream G600 succeeded the Gulfstream G550 in 2019 with a 6,500 nautical mile range and speeds of up to Mach 0.925.
The cabin offers additional 2 inches of headroom and 7 inches of width compared to the G550, with up to four distinct areas available and seating for up to 19 passengers.
If speed is what you're after, then this might be the right jet for you – the G600 delivers an unrivaled 5,500 nautical mile range at speeds of Mach 0.90 (690 mph).
Known simply as the "G5", the Gulfstream V is an icon in luxury aviation.
Gulfstream began designing and developing the GV in the early 1990's to compete with Bombardier's Global Express.
The result was Gulfstream's first ultra-long range business jet, an upgraded version of their flagship aircraft with a range of 6,500 nautical miles, all while maintaining superior comfort for up to 16 passengers.
reaching a top speed of 675 mph
Dassault makes their first appearance on the list with the Falcon 8x, the longest range and largest cabin aircraft offered by the French aerospace manufacturer.
Powered by three Pratt & Whitney turbofan engines, the Falcon 8x offers an impressive range of 6,450 nautical miles with a maximum speed of 690 mph.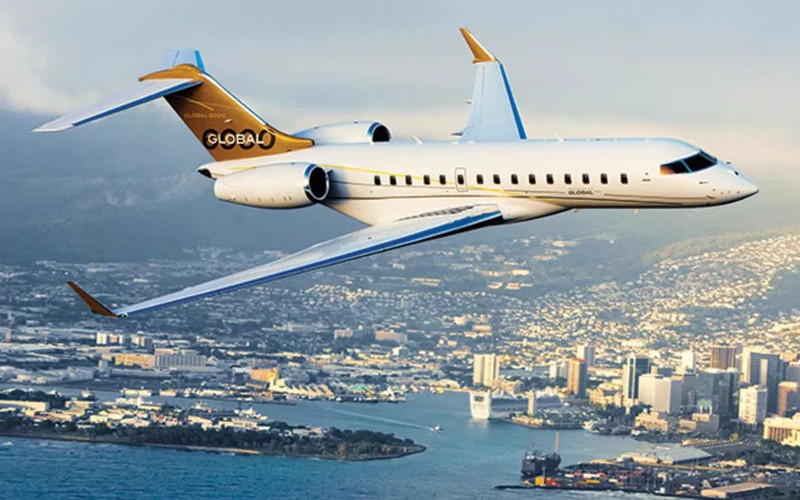 The Global 6000 is an original pioneer of long-range jet travel.
When it first hit the market in 2012, it offered the largest cabin in its class with non-stop travel from New York to Tokyo, Paris to Singapore, Los Angeles to Sydney, and similar transoceanic routes.
Dassault's first entry to the long-range jet category was the Falcon 7x, capable of 12 hour non-stop flights covering a distance of 5,950 nautical miles.
This connects highly-desired city pairs for private flights, including New York to Dubai, Miami to Moscow, and Los Angeles to Paris.
The stand up cabin offers comfortable seating for up to 16 passengers.